Fred Lisaius is a Seattle painter who thoughtfully portrays serene Pacific Northwest nature scenes that celebrate the beauty of flora, fauna, and sunlight. In our interview, we talk about his techniques, his love of nature, and the personality of flowers.
Clearly, time immersed in nature is an important part of your work. Can you tell me more about how it affects your well-being?
When I'm not in my studio, you are most likely to find me in my garden on a hike, kayaking, mushroom hunting, or taking a walk through a local park. The beauty, ingenuity, and tenacity of nature recharges me, makes me happy, and inspires me.
I think it comes through in your work! And what preparatory steps do you take before creating a painting? 
I start all of my paintings first by reflecting on a memory of somewhere I've been and how it made me feel. The wonderful thing about memories is that they are not detailed, they are mostly a collection of sounds, textures, temperature, and distance, and in that sense are more accurate than a photo.
And how firm is your plan when you put brush to canvas?
My plan when starting a painting is malleable. I make a lot of changes as I go. I like to discover my painting—it is more exciting that way.
You depict orchids, lilies, and daffodils with something like reverence. Do you have a favorite flower, and what enchants you about them?
I don't have a favorite flower, I think I love them all. Flowers have wonderful personalities and I invite them into my paintings when they contribute to the mood I am trying to achieve.
I like the technique you often use, of visually compressing a scene into two layers; branches, birds and flowers as a spatially unified top layer, and a deeper scenic background layer. It is a stylish way of depicting nature, where you introduce some control over the chaos and focus the viewer's appreciation in a more selective way. How did this technique evolve or come to be?
I love to play with the illusion of space in a painting. In my gold leaf paintings, I let the reflections in the leaf create the feeling of space. In my other paintings, I create the sense of space via color, detail, scale, value, etc. I want to invite the viewer into my painting, and I try to create the space for them to do that.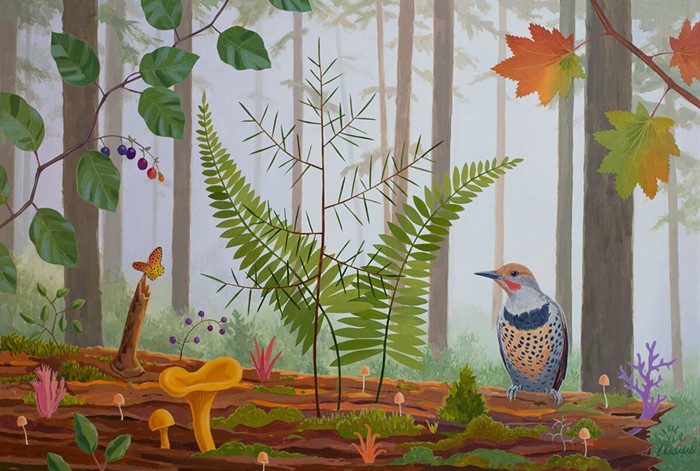 What are your goals for 2023?
I want to work big! I'll be creating a series of large paintings for my solo 2025 exhibit at Patricia Rovzar Gallery. I will also be creating paintings for other exhibits in Virginia and Minneapolis. 
---
Fred Lisaius' show Symbiosis is on display at Patricia Rovzar Gallery through March 28.
Find more of Fred's work at www.fredlisaius.com and follow him on Instagram at @fredl33.