Kristen Liu-Wong is an LA-based artist who works with acrylic and gouache to create vivid, sexually-charged scenes that reflect elements of Greek mythology, folk art, and modern American iconography. Her career includes extensive gallery shows domestically and abroad, as well as numerous commercial collaborations from murals to apparel. In our interview, we discuss the complexities of human sexuality, the power of mythology, and the dangers of censorship.
Your work seems to blend brutal nightmares with orgiastic fantasies. Does the mingling of sex and violence have a specific intention in your message as an artist?
I've always found myself drawn to more aggressive subject matters and imagery so it feels natural to explore the relationship between sex and violence. Sex can be a lot of amazing things, it can be loving, tender, pleasureful, fun, and funny but it can also be a way of controlling or exploiting someone and it can be a way of pushing your limits and exploring your most base desires, in an either positive or negative way. People and sex are complex and have the potential to be dangerous and it's that element of danger that can be arousing and intriguing. When I do paint more sexually explicit or violent imagery, I try to make sure it isn't just gratuitous—I'm not trying to glorify violence or paint pornography. Instead through my work, I'm trying to explore what it means to be human and the dualities, imperfections, and complexities within our own nature.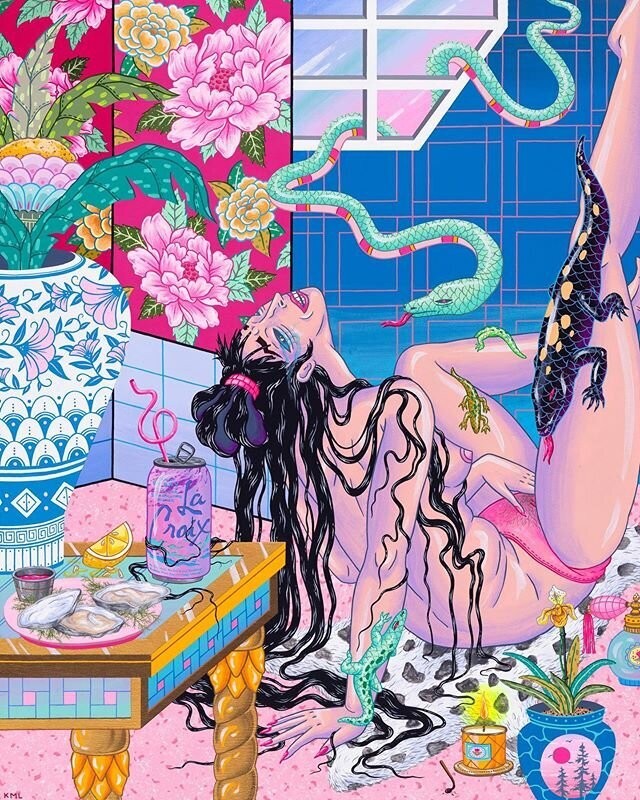 Having lived in San Francisco, Brooklyn, and currently Los Angeles, how do you feel each environment has informed your work?
Growing up in San Francisco definitely had a huge influence on who I am as an artist today. There were so many amazing museums I got to visit as a kid (my mom and grandma would take us on free days) and getting to see legendary artists like Barry McGee's work in the streets made me feel like I was surrounded by so much diverse and inspiring art. Growing up in a major city, you also get to experience different cultures and types of people and I think that's a big part of why I look at such a wide range of inspiration for my work. Brooklyn was where I first found my individual artistic voice while I was going to school for illustration. It was where I learned to be independent, both as a person and creatively, and it's where my confidence began to grow because, in NY, you need to be able to keep up. LA has been the place where I felt like my work has been able to really flourish. There's a really great community of artists out here and the gallery scene feels a little more open than New York's. I love being able to take walks and see all sorts of beautiful new plants every time and LA has some really cool gates/fences/ architectural elements that I regularly get inspired by for patterns, etc.
What kind of censorship have you faced in your career, certainly on Instagram, but perhaps elsewhere?
Censorship has always been bad for artists, and it has gotten so much worse on social media lately, which is sad because it used to be such an amazing way to share your art with the world; I've dealt with it my entire career and not just online but in real-world ways. I've had subway ads that I have completed work for that have been canceled due to censorship, I've had jobs that I've lost because clients like my work but ultimately it's too "risqué" for them (which is ridiculous because it's not like I exclusively paint violent, sexual imagery and I can certainly draw clothes on people), I've had jobs that I shared on IG as part of the job requirement that have been removed so I had to apologize to the client, it's been impossible for me to even share some work, even if it's been censored, because it just keeps getting flagged as "adult sexual solicitation" and I've had companies that have problems even printing my artwork because they either can't depict nudity because they're "family-friendly" or because they're in a country that has more conservative standards regarding what is printed. A principal just got fired for showing her middle school class the statue of David so if Michelangelo can't even get a pass, how are modern-day artists going to be censored in this society?
Your iconography ranges from Greek and Shunga themes to hilarious pop culture jolts, like a giant canister of cheese puffs. It's a very fun and unique blend, can you talk about choosing these symbols and what some of them mean to you?
I've always been interested in mythology and folklore because of their ability to transcend time and cultural differences while simultaneously teaching you so much about what makes a culture and period of time unique. Growing up in a Chinese American household, I was surrounded by influences from both Western and Eastern cultures so it feels natural for me to blend those interests and imagery in my work. I'm also a postmodern woman and a child of the '90s so not everything is too serious with me and as you noted, my iconography isn't solely traditional—I like my pieces to have a sense of humor and I try to connect my work to the period it was created in by using everyday imagery that can ground the work in our reality and time. 
What are you listening to these days?
I've been on a Serge Gainsbourg kick these days, but I listen to a variety of music—some of my favorite artists are Nick Drake, Jonathan Richman, Cibo Matto, and Kate Bush. I also listen to a lot of podcasts while I work, I love the historical true crime podcast Buried Bones and I also just finished Finding Warhead, which was intense, but really riveting.
Goals for 2023?
To make it through the year.
---
Find more of Kristen's work at kristenliuart.com and follow her on Instagram at @kliuwong.