Rob Brooks is a Portland-based multidisciplinary artist and creative director who uses a camera and AI apps to compose photographic "encounters" with enchanting woodland creatures. While hiking trails around the Pacific Northwest with his family, he collects images to manipulate and share with the world. In our interview, we talk about riding a creative wave, finding balance in life, and the ethical complexities of generative AI applications.
How did this spark of an idea come to your mind? 
I had some time off work between Christmas Eve and New Year's Day and found myself with enough time to invest in my own creative projects. I had been hearing about all the generative imagery AI applications, and I thought it would be cool to see if I could use one to make a last-minute family holiday card featuring Sasquatch. I tend to go all out on my family holiday cards. I became obsessed with experimenting, finding myself awake at 4 am, testing different methods and prompts to achieve the desired result.
You said your initial goal with this project was to demonstrate how creatives could harness the power of AI in their craft, and work with it instead of resisting it. Was that successful?
The conversation around AI had been quite ominous and scary, so I thought demonstrating how it could enhance one's approach would provide some relief. I wrote about this idea on LinkedIn, and to my surprise, it quickly gained traction, reaching 100k impressions within a couple of days. I even received interest from the Intel AI marketing team about potential collaboration.
The majority of the engagement was optimistic, with many questions about my process and how I achieved a consistent tone and character style. Outside of the LinkedIn community, the comments and messages were quite entertaining, with countless people assuming the images were real sculptures and asking where they could find them in Oregon.
I still have mixed feelings about AI generative imaging, but I do acknowledge that it has helped me professionally thus far, particularly in selling ideas to clients that will ultimately be realized with the help of human artists.
While I grapple with the moral dilemma of generative imagery, which samples from millions of images and artworks in the digital world, and the legitimate concerns about misinformation and potential job loss in the creative industry, there are still numerous great opportunities to utilize it creatively without diminishing craftsmanship. I even used it to proofread this answer to your question.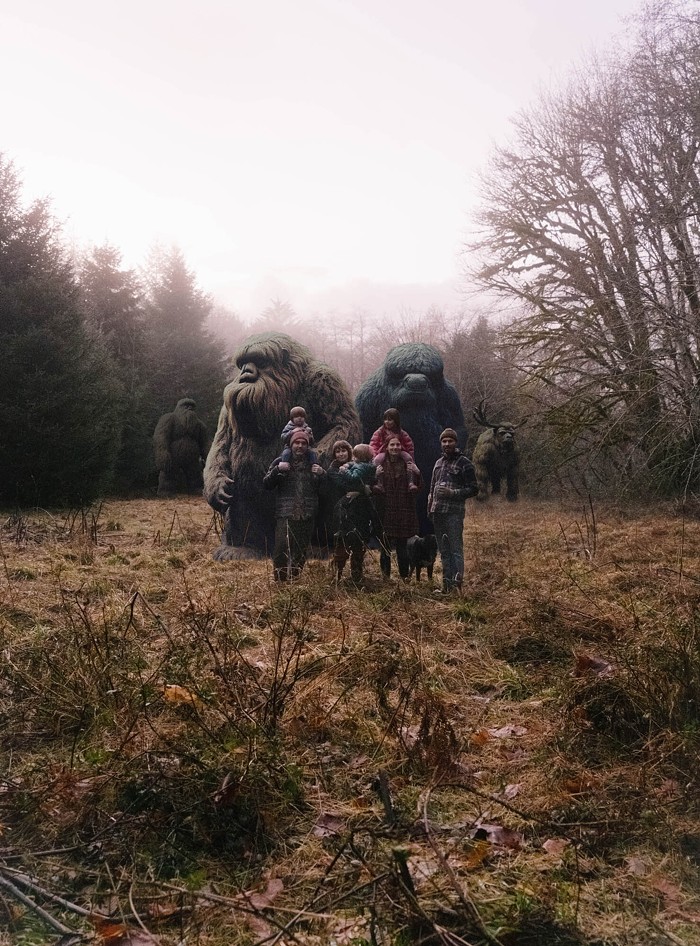 That's hilarious. Has the attention been fun? Overwhelming?
It has been both fun and overwhelming. It was a nice 5 minutes of regional internet fame and I am extremely grateful and humbled by the volume of nice comments and inspired messages. Had the timing been now, I would have been able to slow down and perhaps engage a little more with folks that were interested. 
What folks respond to the most is the endearing qualities of seeing the natural world through the eyes of my toddlers in a Where the Wild Things Are imaginative surreal lens. The woodland creatures to us are as magical as it feels for them to see an elk in the forest or a salmon in the river for the first time.
You're a busy creative director at Fort West, and a father of two, is it hard to find time to work on these images?
It absolutely is and this is partly why I took a break from doing this. What initially was intended to be a personal project became something that garnered a lot of attention and unfortunately came at a very busy and difficult time. The sheer volume of interactions around this project came at a time when my focus was already stretched thin, so I left many great messages unanswered. I had lots of requests for collaborations and many suggestions to turn it into a book, among other side hustle considerations. 
I do intend to dive back into it and would certainly consider collaborations or projects related to this if they are a good fit.
Are your twin boys always cheerful models or is it sometimes a balancing act?
Always a balancing act, and one toddler is more cooperative than the other. Sometimes they're cheerful, and sometimes they can be quite difficult. I usually tell them that we're going on a hunt for salamanders, frogs, mushrooms, and moles, which keeps them engaged for a while until they inevitably lose interest, which tends to happen pretty quickly.
I've taken a break from this project, and since then, they have turned 4. So, perhaps if I dive back into it, they might be more cooperative.
Where do you see this going?
One idea we had was to create an experience at our coastal cabin where people could spend the day with us, exploring the forest and having their own woodland creature encounters.
I'm also excited about the possibility of creating moving images using the same technique, and I look forward to incorporating it into the videos I make featuring the Brooks Brother twins. Perhaps a narrative will emerge before they grow too old for it to be as playful as it currently is and I can turn it into a book. For now, it is just fun to share with my small group through Instagram. 
---
Find more of Rob's work at humanrob.co and follow him on Instagram at @robb_blah_blah.