The Museum of Museums is closing.
This afternoon, founder Greg Lundgren broke the news in an email sent out to the museum's supporters: 
From the very beginning, when we set out to restore and re-imagine this mid-century medical building as an art center, we knew that our operations would be tied to the building's capacity to house us. Over the past 4 years, it has become increasingly apparent that maintaining a 77-year-old building comes with significant challenges. These obstacles have come at a high price, both financially and emotionally. Yet, our current issue extends beyond our ability to overcome. 

Late last winter our plumbing issues came to a head with unfortunate closures of our first floor while our team dealt with days of pumping and hauling gallons and buckets of water out of the building. After significant investments from both the museum and our partnership with Swedish Hospital, the plumbing issues have only worsened, demanding an investment that neither MoM nor Swedish can undertake. Unfortunately, our building's roof drains are connected to the main sewer line, which has collapsed and can no longer handle the rainwater efficiently. This impending flooding has left us with no choice but to close our doors. It feels like a ship with a hole in the bow; the deluge of Seattle rain will inevitably sink our ship.
This sucks. It's such a cool, strange space. There's art, or at least something neat to look at, covering just about every square foot. MoM is home to the tiny Supperfield Museum of Contemporary Art, it has one of the coolest gift shops in town, and they named their little theater—the Charles Mudede Theater—after Stranger Senior Writer Charles Mudede, for chrissakes!
 

 

View this post on Instagram

 
Lundgren told The Stranger via email that even though the part of the pipe that collapsed is under the Broadway sidewalk, building owners are responsible for lines between the building and the main connection and, "in this case, it's a six-figure replacement."
Relocating the museum would also be an expensive undertaking, he said.
"And… to where?" he said. "We decided to close instead of move because finding the right space is difficult, building out a space is very expensive, and it would take a long time, which would require laying off staff and canceling future exhibitions regardless."
MoM will be open for one more month—the last day is September 1. You MUST go see Emily Counts's current show, Sea of Vapors. Earlier this year we visited her at her studio for our spring Arts + Performance magazine and got a sneak peek of the show. It's stunning. And where did we host our launch party for A+P? AT MUSEUM OF MUSEUMS! 😭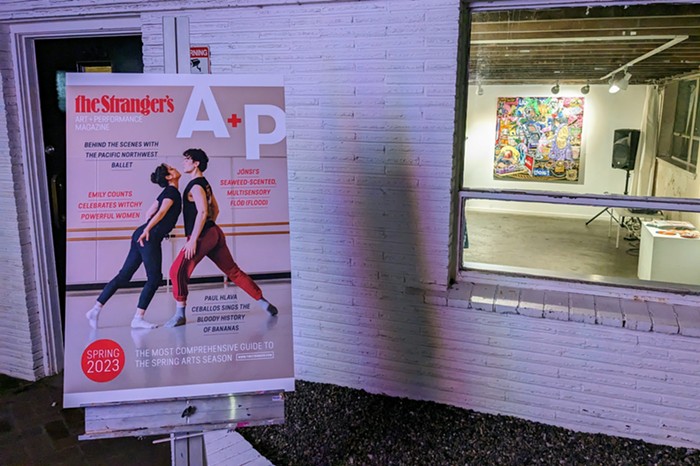 Counts told us she's currently working on some post-MoM options for her show, and also praised the community Museum of Museums was able to cultivate since opening in March 2021.
"The closing of MoM is really heartbreaking and such a loss for the Seattle arts community," said Counts. "I think about all the planned and potential exhibitions that we would have seen there in the future. But also about all that they were able to do and the artists that exhibited there in just a handful of years. From my experience with the MoM staff and volunteers, I know how much work and love has been put into the building and the support they offer to artists. A special community has been created around the Museum of Museums."
In the coming weeks, will the space host any kind of goodbye party? 
"We aren't sure," said Lundgren. "At present a funeral feels more appropriate, but I think we all need some time to process."
---
This story has been updated since its original publication to include quotes from Greg Lundgren.