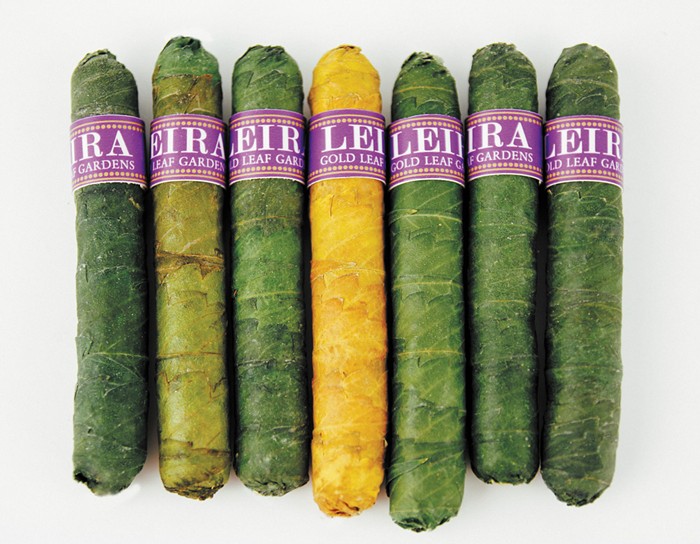 When I read that a cigar filled with an ounce of weed and seven grams of hash was sold for $3,600 at the Seattle pot shop Diego Pellicer on its first day of business, I immediately thought: That's some stupid shit.
Sponsored

Hello friends! Rediscover your local library this fall.
Why would anyone spend that kind of money on a blunt? I could buy a car for that amount. A five-figure weed cigar seems like the definition of wasteful opulence. It sounded like capitalist forces at their worst—one minute they're profiting off the racist war on drugs, and the next minute they're creating an artificial need for an expensive version of those once illegal drugs.
Then I got to take a couple hits off one of these fancy cannabis cigars, and suddenly my mind was changed.
My foray into fancy blunts was wholly unintentional. I just happened in on a group of people sharing a weed cigar made by Leira, the same brand of that $3,600 blunt I had scoffed at. The cigar was at least three times fatter than any blunt I have ever rolled, yet taking even the biggest hit was effortlessly smooth. As we passed the cigar around a circle, lazily puffing on it in the afternoon sun, I noticed the blunt was barely diminishing in size. In the time that an entire joint would be finished, this blunt hardly looked any smaller.
I still think these cigars are opulent as hell, borderline ostentatious, and wholly out of my price range, but I've come to realize they're also pretty interesting. Leira's two cigar varieties sell for $100 and $420—a steep discount on that crazy $3,600 version—and a couple other companies make even less expensive types. Something tells me these blunts are going to become a lot more popular at backyard barbecues and fancy parties. The ease with which they can be passed around make them one of the most comfortable ways to get a big group of people high.
Unlike the blunts that have been a favorite of stoners for years—which use the gutted tobacco wrap of cheap gas-station cigars—these cannabis cigars are wrapped in actual pot leaves. State law prohibits pot processors from mixing tobacco and cannabis together, so even if a producer wanted to sell traditional blunts, they would not be able to legally do so. And blunts have been falling out of favor with health-oriented modern stoners for a while anyways—Wiz Khalifa and Rick Ross don't even smoke blunts anymore!
The cannabis leaves are filled with ground-up weed, often with a cannabis concentrate mixed in to give the cigar an extra THC punch. Leira uses exclusively pot from Gold Leaf, the top-shelf producer they share a building with. Leira makes two versions of their "cannagar" blunts: a "cannarillo" filled with four grams of flower and half a gram of rosin ($100), and a "corona" filled with 12 grams of flower and three grams of rosin ($420). Rosin is a type of solventless hash concentrate.
Leira rolls its cigars around a skewer, which leaves a hole down the center of the cigar. This gives Leira's blunts their distinctly smooth hit and that endless smoking experience. "That helps keep it burning slow and also helps it burn smoothly," according to Ariel Payopay, owner of Leira. "Our cannarillos will last around an hour, and I've heard our coronas have lasted up to six hours."
This is one of the reasons I think these cigars are going to become popular for rich stoners and their friends. Plus, cigars have an effortless cool factor about them.
"There was always just blunts and joints and bongs, but nothing looked really classy, like for a wedding or something," Payopay said. "When you're all dressed up and smoking a joint, it doesn't look as fancy."
Leira isn't the only company making cannabis cigars in Washington. Prohibition Brands has a line of "La Cubana" weed cigars that are more affordable, usually around $30 a blunt. Seattle processer Sitka has a Sikar that occasionally pops up at shops around Seattle. Leira's blunts can be found at Lux pot shops and Ruckus Recreational on Capitol Hill.
Does the world really need another category of luxury drug products? Probably not. But anyone spending a lot on legal weed is also helping pay for state services—buying that $420 Leira corona means you're giving the state $113 in tax revenue—so at least rich people are paying for their sins.
Sponsored
Buy direct from Washington farmers every Saturday and Sunday. More info: SeattleFarmersMarkets.org