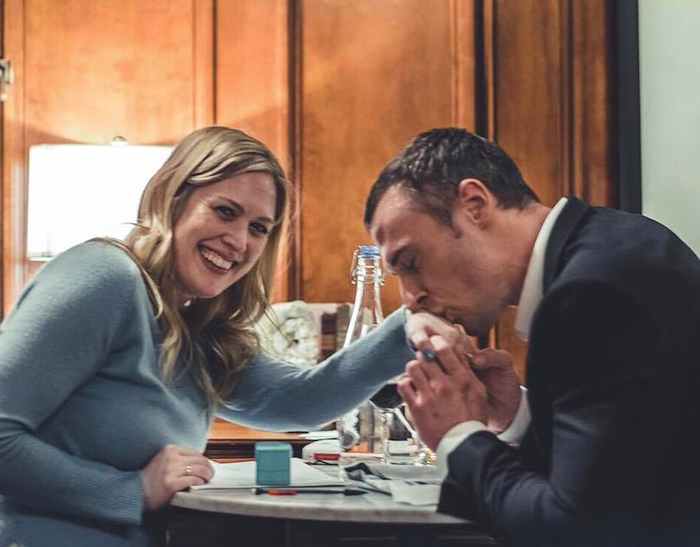 It happened a couple minutes before the party at the Sorrento Hotel last Wednesday. The only thing reading-party regulars may have noticed is that the piano playing started earlier than usual.
Every first Wednesday of the month, the piano starts right at 6 pm, and that is the signal to the crowd to quiet down and start reading. But last week, since it started early, the crowd kept on talking, some of them entirely missing the fact that the musician, Paul Moore, was playing "Endless Love," and that a man in the corner had changed into a suit and gotten down on one knee.
Ryan and Jessica, the couple in the corner (and in the photo above), have been coming to the silent-reading party for the last three years. When Poets & Writers magazine did a feature on the reading party in December 2016, Ryan was quoted in the story:
Why are these groups where "nothing actually happens" so popular? Frizzelle thinks it's obvious: "Reading is such an isolated activity," he says. "You're alone. The room is quiet. You don't have anyone to share what you're reading with. Which is all great, it's part of why we read. But sometimes you want to be where things are happening too, like a bar."

Ryan Molden, a regular attendee of Frizzelle's silent reading party, echoes this sentiment, but with a twist: "When I first started going, I had just gone through a really hard breakup and was looking for new ways to meet people. I love to read, so I thought I would check it out. Long story short: I didn't meet my girlfriend Jessica there, but when I asked her to join me, about a year and a half ago, we fell in love, and we just moved in together."

Molden adds, "The readings provided a great way to get to know each other. And seeing so many people engrossed in reading, in a time where reading is not exactly considered cool? That's inspiring. We're both so glad for the opportunity to share that time together. It's the kind of thing the world needs more of."
They fell in love reading by the fire. Who wouldn't want that love story?
These days, you have to get to the reading party about an hour early just to get a good seat. (You have to get there about half an hour early to get any seat at all.) Ryan and Jessica, who are there every month, know this. I got there around 4:30 last week, because Ryan had given me advance notice of what he planned to do, and because he'd enlisted a friend of his, Patrik, whom Jessica had never met, to pose as a reading party attendee and take photos when the time came, and I wanted to make sure he had everything he needed.
I was sitting there talking to Patrik when Jessica walked in and got a table. Unbeknownst to her, Ryan had come by the hotel hours before that to stash a suit in a downstairs changing area. Also unbeknownst to her, he'd bought a ring at Tiffany.
Ryan strolled in, in street clothes, about 30 minutes after Jessica got there, as if he hadn't already been by earlier that day, as if nothing was up. They live together on the Eastside, and the party is one of their standing dates in the city.
A while later, Ryan excused himself, and when he walked back in he was wearing his suit. The flash from Patrik's camera started going off while I took video on my cell phone.
Footage of Ryan and Jessica, silent-reading party regulars, getting engaged at last week's party. pic.twitter.com/myTceMhqAS
— ChristopherFrizzelle (@TheFrizzelle) April 9, 2018
Later, I sent this video to Ryan, and he posted it to Facebook. "I like the waitress's reaction as she walks by," he wrote, "and the two ladies in the foreground with no idea that anything is happening."
As he showed Jessica the ring and then the two embraced, the room applauded. Employees of the Sorrento sent out complimentary treats, including tiramisu. Then the reading party started (and I had to go around shushing the overexcited, talkative crowd—something I almost never have to do).
While everyone read and Paul played piano, I kept glancing over at the newly engaged couple, who weren't doing a lot of reading this time. They spent most of the reading party whispering and laughing and eating tiramisu and occasionally sneaking a kiss. After about an hour, they got up to leave, and I shook his hand and gave her a kiss on the cheek, curious to know what she made of it all—but, you know, unable to talk, since silence lasted another hour.
Has she said yes?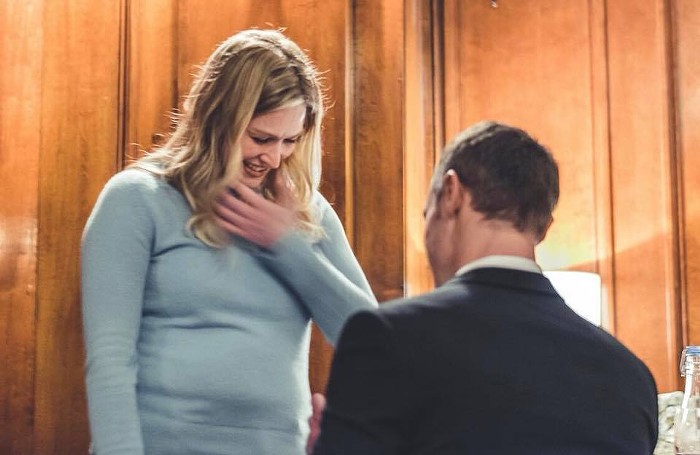 Later that night, I found out by checking her Facebook page.
"I'm so excited to get to marry my best friend and love of my life! Ryan Molden gave the sweetest proposal ever! There is no man I'd rather spend my life with than him," she wrote.
Yesterday, I checked in with Ryan to ask how it all went down from his point of view, and also how the last five days have been.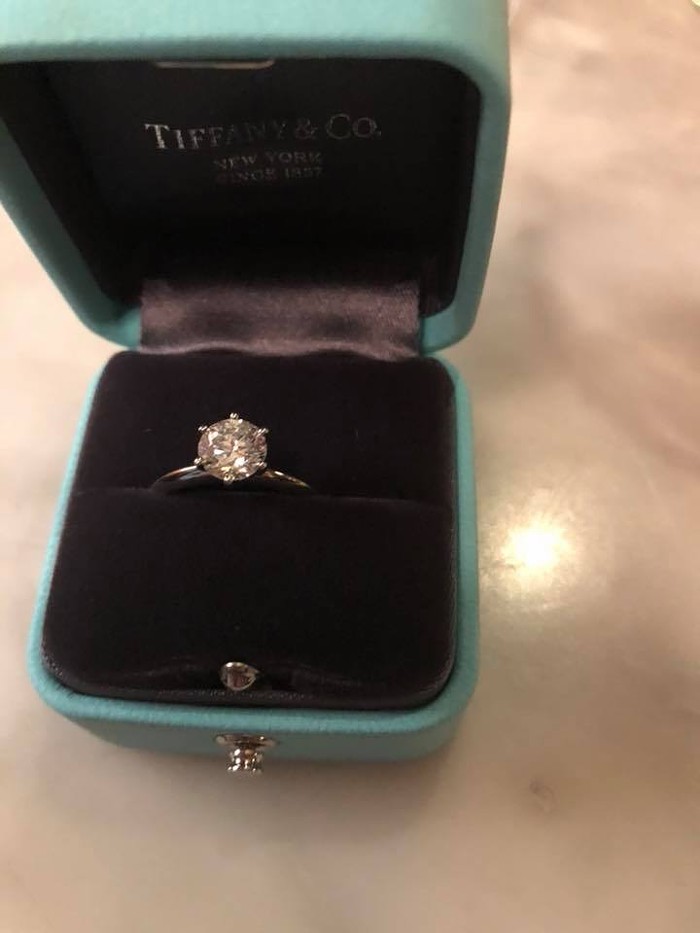 "It's been great, we just are joking about everything like, 'Wow, seeing my first movie with my fiance.' I think it went well. She loved it. We went to get her ring sized and I told her if she saw another one she liked better she could always get that one. She looked at a bunch and decided I had picked the best one, so I felt good about that."
I also got a chance to ask Jessica about it. She remembered that the silent-reading party was "one of our first few dates," and that it had been Ryan's idea. "We both love to read so I thought it was such a unique date idea. Where else do you get to surround yourself with such great ambiance, a room full of people, and yet be able to silently read to yourself? The fireplace, dark wood, dim lighting, and piano provide a romantic and peaceful environment in which to sneak coy smiles at my crush."
She added, "I still remember what he was wearing on our first date there, a gorgeous blue blazer, white button up shirt, and jeans. I was smitten from the day I first hung out with him while volunteering, but my feelings for him grew quickly day by day and I hoped that that one day I would get to be the lucky lady to spend my life with him. I had fantasized at one point that the silent reading would actually be the perfect place for someone to propose, so when Ryan surprised me that night, I couldn't believe it was actually happening."
Congratulations to the coolest couple out there.