Pacific Northwest Ballet's Boundless, which opened on Friday and runs through the weekend, featured three different contemporary choreographers premiering different ballets that all pushed the boundaries of the form in wildly different ways.
In my unhumble opinion, to varying degrees, a couple of the pieces could have used a liiiiittle more time in the shop. But watching the company's dancers breathe life into new roles for the first time made for an exciting evening that's well worth your time—especially if you take advantage of the pay-what-you-can Thursday deal I keep screaming about.
But first, a gripe. I'm tired of seeing every piece of art through the lens of the pandemic—just as I was tired of seeing every piece of art through the lens of the Trump administration even before the country elected him—but some stuff is so big that it's inescapable, as evidenced by the fact that I literally contracted COVID while writing this review. (Consider this your exposure notification, Friday's audience. Sorry!!! For what it's worth, I didn't start experiencing symptoms until Monday. And I could have picked it up anywhere—I've been a bad kid all month.) 
Anyway, all of that is to say that I couldn't stop myself from noticing the theme of a kind of Janus-faced renewal winding through these new pieces from Penny Saunders, Jessica Lang, and Alejandro Cerrudo. Each ballet looked back even as it leapt forward, and each featured characters questioning their place in the world in this moment when we're past the peak but still recovering, still trying to reconnect or find new connections. PNB, for instance, has been up and running for a while now, but it's still at nowhere near pre-pandemic attendance levels, according to a letter from Executive Director Ellen Walker in the program. 
That idea resonated most strongly in Saunders's Wonderland, but how could it not? The piece first premiered digitally during PNB's 2020 plague season, and for this performance, she adapted it for the stage. In the show, dancers in Melanie Burgess's sleek, circusy costumes bust through the 4th wall. They pop out of the orchestra pit, hand-jive beneath the curtain, float up the aisle, and dance in the box seats. It's a free-for-all, a performer's rumspringa. Even principal dancer Dylan Wald, who's been out with an injury, made his return with a fun bit in the first section. 
But in that box-seat-dancing moment, lights threw the dancers' shadows onto the stage curtain as weepy music from Jean-Philippe Goude played. The passage recalled the pandemic's many shades—the dances not danced or else danced alone, the friends not made, and, of course, the COVID dead themselves. 
In another scene, dancers wheeled around spotlights onstage, shining them at one another and at the audience, underscoring the anxiety of returning to the work of performance and the work of being in the audience.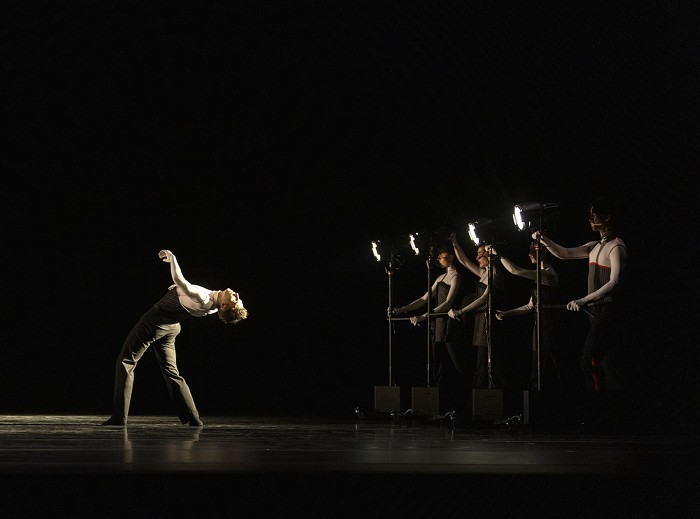 But just because I couldn't get the pandemic out of my head while watching Wonderland doesn't mean everyone else will suffer the same affliction. This stage version also works wonderfully as a ballet about the uncertainty, loneliness, and otherworldly beauty that attends the life of a performer. Though the piece was enthralling, I did miss some of the spectacle and surprise contained in the digital production, but, luckily for us all, that version still exists. 
The evening's second show, Cerrudo's new Black on Black on Black, leads me to another gripe: I resent social media platforms and their influence on life in general, but I couldn't help seeing this ballet as a particularly elegant TikTok feed. 
Cerrudo breaks the bounds of the art form by literally shifting the stage's borders. Curtains, scrims, and rigs fly up and down and left and right, as if some invisible thumb were swiping up for the next post. (Kudos to the stagehands, who executed the quick transitions flawlessly.) Like TikTok, the content inside the frames was both connected and disjointed. And, like TikTok, I had no idea what was going on but I loved every second of it.
The piece began with approximately 10 or 15 dancers in black Matrix outfits sprinting all over the stage. Then the borders started to shift, and we started witnessing classic Cerrudo scenes, with women in colorful costumes and men in black melting all over each other in hopelessly romantic, super-fluid duets. He also tossed in a couple surreal set-pieces, including one where a bunch of dancers lined up across the stage and then slid corps de ballet dancer Yuki Takahashi in between their legs. In the last three minutes or so, the vibe fully shifted from sensual fluidity to a sexy-goofy springtime hoedown as Timber Timbre's "Demon Host" played. 
On opening night, it was easy to pick a standout: Corps de ballet dancer Noah Martzall captivated with an athletic, vulnerable, funny, nervous solo in the spotlight toward the end. He only danced for 15 seconds or so, but he packed so much dynamic movement into it. Stunning, perfectly executed acrobatic duets from Christopher D'Ariano and Leah Terada, and also Luther DeMyer and Elizabeth Murphy punctuated the night as well. 
The abrupt tonal shift at the end followed by a sudden closure made Cerrudo's ballet feel unfinished to me, but even that made sense within the TikTok framing. TikTok never ends, you just shut it down and accidentally drop your phone on your face when the dopamine hits drop off. 
Jessica Lang's Let Me Mingle Tears with Thee looked like a church full of those big, velvety Renaissance paintings brought to life. 
The ballet emerged from an 18th-century treatment of a 13th-century Latin hymn called "Stabat Mater." The first half told the story of Mary mourning her son on the cross, and the second half sprang to life with the joyous celebration of Christ our Lord. 
A buttoned-up religious piece featuring a giant cross felt like a real sharp turn after the sensual frenzy of Black on Black on Black and the dark, introspective magic of Wonderland, and so it probably would have hit me harder on a different night. After all, choral music and hymns crack open my heathen soul, and Soprano/PNB piano player Christina Siemens sang like a mountain thrush.  
But programming choices aside, the ballet felt like the most complete premiere onstage that evening, and some of the scenes were just jaw-droppingly gorgeous. The decision to cast all the dancers as both Mary and Jesus drove home the idea of radical empathy that wove throughout the dance, and it broke boundaries in the sense that it disrupted the expectation of single dancers playing single characters onstage. In this way, everyone onstage and in the hall shared Mary's grief and Christ's pain—and their joy, albeit one haunted by sacrifice.