I'm not afraid to bring down the mood and keep it there. I sing Fleetwood Mac's "Silver Springs" at karaoke and I do not feel ashamed. I regularly listen to doleful music for sad boys. I fucking write poetry. So I'm open to a night of chill, contemplative ballet, especially on the eve of the great darkness that will consume us all until summer. 
But by the end of Love & Loss, a trio of works made especially for Pacific Northwest Ballet that runs through Nov 12, I was reaching for a cup of coffee. I attribute 80% of that sleepy feeling to the closer, a 2019 piece from veteran choreographer Donald Byrd that shared its title with the evening's program. Though that show still doesn't work for me, Australian choreographer Dani Rowe's sleek and subtly creepy world premier, The Window, very much did, as did several standout performances.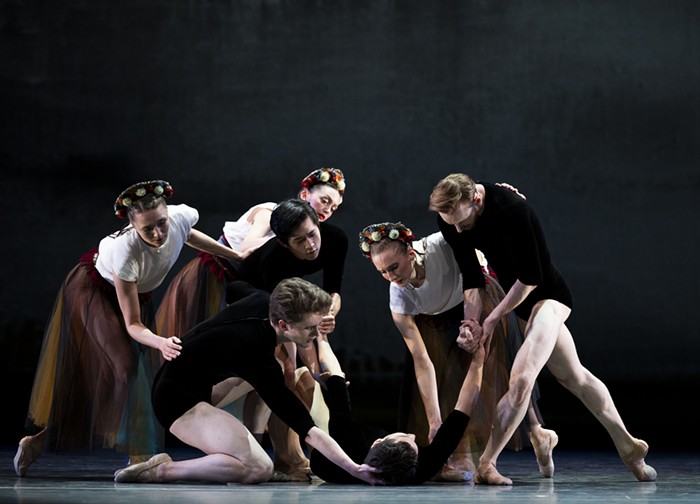 The evening kicks off with Alexei Ratmansky's Wartime Elegy, a bright and joyous celebration of Ukrainian folk dance sandwiched between dark and mournful contemporary movement. As I mentioned in my review of the piece last year, the story follows a pattern familiar to writers of lyric poetry, where we begin in the gloomy present and then travel back to the past, where everything is happy and perfect until the future cuts in with all its death and destruction, ruining our nostalgic revelry.
The lively folk-inspired sections, which feature a boys dance and a girls dance, retained their refresh value. In the fun-and-games section for boys, principal James Kirby Rogers wowed the crowd by spinning a million times, and newly promoted soloist Kuu Sakuragi impressed with his big jumps, his swift precision, and his charming acting. The moment when the four dancers create a rainbow-shaped perpetual motion machine with their bodies defies basic laws of physics—I could watch them do it for hours. In the fun-and-games section for girls, soloist Madison Rayn Abeo stood out with playful bursts of energy and exceptionally strong lines. 
Rowe's brand new ballet, The Window, made the whole evening worth enduring the traffic on Mercer. (I KNOW I SHOULD TAKE THE BUS, but I can't rely on Route 8 on a Friday evening, I'm sorry. We should do something about that...)
Anyway, The Window tells the story of a character called the Watcher, who lives vicariously through a couple she spies on through her apartment window. As the Watcher watches the Man and the Woman woo, argue, dance, and sleep, she battles the demons of loneliness, insecurity, jealousy, anxiety, and guilt as they swell up inside her and rattle her to her core. When the Man disappears, grief brings the Watcher and the Woman together for their first shared moment, leaving the audience with the question of the size of the imagination's role in the act of love. 
Reed Nakayama's lighting design and Emma Kingsbury's costumes set the mood perfectly. The pale light of a window cut through the dark abyss of the stage, sinking us into the Watcher's psyche; the couple were the only two things in the world. Steely blues and greens accented the otherwise pitch black palette.  
The opening night cast knocked it out of the park. Corps de ballet dancer Melisa Guilliams played the Watcher, principal James Kirby Rogers played the Man, and principal Elizabeth Murphy played the Woman. If it weren't for the incredible acting from Rogers and Murphy, Guilliams would have stolen the show outright. She made the Watcher seem less like a Peeping Tom (or a Peeping Tammy in this case, I guess) and more like a ghost cursed to haunt a life she'd never live. And yet she brought such physicality to the role, striding across the stage with a light step while still projecting an iron strength that would bend and nearly break every time she tried to shake herself free of her obsession. Just wild levels of sophistication coming out of a corps dancer, and a perfect twin and foil for Murphy, whose casual mastery was on full display Friday night. She floated around the stage like a cloud, thanks partly to Kirby executing effortless lifts, but she turned into a mech warrior when the time came to nail the ballet's complicated footwork. 
Donald Byrd is a legend and a genius. I've loved his choreography in the past, I will love his choreography in the future, but Love & Loss, the evening's titular ballet, just did not do it for me. The whole thing sort of looks like a bunch of middle managers dancing in a bank lobby, doomed to have unfulfilling relationships with one another in a balletic way. The slow, repetitive strings from Emmanuel Witzthum's Songs of Love and Loss sounded like hold music. The choice to position dancers in the half-dark upstage area a few moments before they step into the light, like ominous cuckoo birds marching out of cuckoo clocks, made me keenly aware of the passage of time. The dancers performed well, but they seemed kind of aimless, except for when they formed the "Flying 'V'" at one point, which was cool. But otherwise, this one flew over my head. 
To end on a less bratty note, on Friday PNB promoted Clara Ruf Maldanado to soloist and Sarah-Gabrielle Ryan to principal, news I greeted with lots of chest-thumping and whooping and hollering. You can just always tell when Ryan is onstage—boundless energy, technical prowess with a light touch, and a versatile skill set that will make her a joy to watch for years and years. She excels in humorous roles, romantic roles, technically challenging roles—anything they throw at her. Maldanado first popped up on my who-the-fuck-is-that radar in 2018, when she danced a tender duet with soloist Ezra Thomson in a premiere that year. She'd go on to show admirable tenacity in Jessica Lang's Let Me Mingle Tears with Thee, and blow me away in Jiří Kylián's Petite Mort. Along with the promotion of Kuu Sakuragi, who I already gushed about, PNB's future is looking bright.