Welcome to Unstreamable, a weekly column that recommends films you can't find on major streaming services. Find our other recommendations here.
Listen, I know I'm late to this one, but
The Stranger
's Charles Mudede cowrote one of the tenderest crime films of all time.
Police Beat
follows a Senegalese bike cop in Seattle named Z (Pape Sidy Niang) as he narrates—in his native Wolof—his desire for his American girlfriend, Rachel. She has left on a camping trip with vague promises to call. He grows anxious and paranoid, all while working, responding to incidents around town, which are based on real-life police reports Mudede wrote about in his retired
Stranger
column, also named
Police Beat
.
Z has a softness to him, a face that's both bewildered and reserved. Like what on earth am I doing here? Niang is a joy to watch, a natural and enigmatic presence on-screen. The city is the second-most important character in the film—leering, seedy, with all those blues and greens. It's a reflection of a very different Seattle. It feels true. And a little slimy.
I loved POLICE BEAT so much when it screened at the SF Roxie that I saw it twice. Regional cinema uncompromised — new wave aesthetics, the immigrant experience, a beguiling Anna Oxygen. Much to ponder in @mudede's piece. And a simple, warm obit to the great Pape Sidy Niang ♥️ https://t.co/pIEPUaodbd
— Barry Jenkins (@BarryJenkins) March 27, 2018
There are only two copies in the city available for rent on DVD: one at Scarecrow Video and the other at Reckless Video in North Seattle. Reckless has it in storage, so you'll have to call ahead so they can pull it for you. It should be everywhere, especially considering Oscar-winning director Barry Jenkins loved the movie so much, he saw it twice. If Barry Jenkins sees your movie twice, then your public library should at least have two copies of your movie. That's the rule.
Police Beat
is even in the permanent collection of the Museum of Modern Art. Meaning, Mudede is in The Archive. Thank god. Wake up, Seattle—this is mandatory viewing!
JASMYNE KEIMIG
Available for rental on DVD at

Scarecrow Video

,

Reckless Video

, the MoMA storage facility, and "somewhere" in Charles's basement. Stranger

staffer Lester Black ordered two copies after a screening last year and says you can borrow one of them.



Does Yayoi Kusama's name ring a bell? Were you on Instagram during the summer of 2017? If you were, you would have seen an infinite amount of millennials taking selfies in something like this:
Instagram users from Seattle to Cleveland flocked to Kusama's touring
Infinity Mirrors
exhibit for the fleeting chance to get a selfie in one of her glittering traps. Seattle Art Museum was so busy, people were seen crying outside because they couldn't get a ticket. When is the last time a teen publicly sobbed because she couldn't see contemporary art? It was insanity.
Infinity Mirrors
had the charisma of a cult leader. But did anyone want to know about Kusama herself? Her life is equally as interesting as her peculiar, infectious, maddening dots.
I say all this because it's clear her work has fans, and this 2008 documentary is made for them. It's emotional, thoughtful, thorough, but slow. CHASE BURNS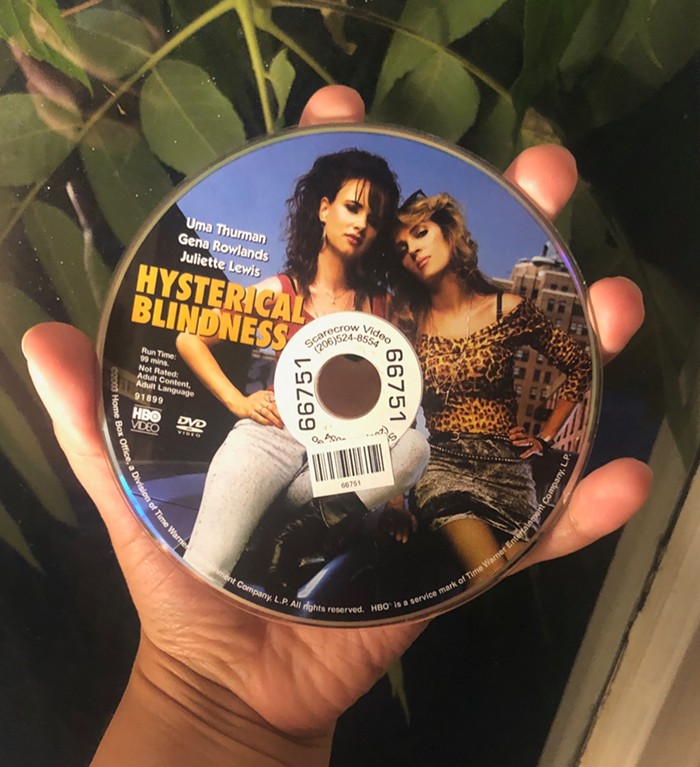 Wow, this movie is
actually
hysterical. It's 1987 and Jersey girl Debbie (Uma Thurman) is falling apart. For one, she found out she suffers from "hysterical blindness," which causes her to lose sight for short periods of time. For two, her best friend Beth (Juliette Lewis) keeps flirting with the fucking asshole bartender at their favorite local dive. For three, Debbie's mother (Gena Rowland!) is starting to settle into a stable, healthy relationship after decades of dating shitty dudes. It shouldn't annoy Debbie, but it does. IT DOES, AL LRIGHT?!
THEN
Debbie totally misjudges the level of interest a hot construction worker (Justin Chambers) has in her, so she's forced to think about the role male approval plays in her own life. Debbie's level of desperation for affection irked me with its familiarity. Thurman and Rowlands both received a Golden Globe for their performances in this middling-to-good Mira Nair-directed HBO flick.
JASMYNE KEIMIG
WILD ZERO
Japan, 1999, 98 min, Dir. Tetsuro Takeuchi
Fans of zombie movies or Japanese greaser style will find plenty of things to love in this underrated cult B-movie. It oozes gunfights and exploding heads and aquamarine-colored zombies who look like Gumby. The film was basically created as a vehicle for the Japanese garage band Guitar Wolf, who also stars in the film, but there's one story line that really sticks with me: The central romance of the movie features a trans character! In 1999? And it's handled maturely?! Right after the film's straight male lead realizes he's fallen madly in love with a trans woman, Guitar Wolf appears as an apparition and yells "LOVE HAS NO BORDERS, NATIONALITY, OR GENDERS." And that's that! The straight dude overcomes his transphobia and the two fight off zombies together so they can suck face. It was progressive for 1999, and it's progressive for 2019. Good job, Tetsuro Takeuchi!
CHASE BURNS
Available for rental on DVD at

Scarecrow Video

and an illegal stream on YouTube.