It took almost three years longer than expected, but Northwest filmmaker and musician Clyde Petersen has finished Even Hell Has Its Heroes, a 108-minute documentary about the innovative Seattle rock group Earth. The world's inundated with docs about musicians, but Petersen's opus avoids overfamiliar tropes of the art form and captures the majestic and enigmatic essence of this Pacific Northwest institution with an approach that's as oblique as Earth's music, plus a few moments of levity among the compelling gravity of Earth's conflict-riddled story.
Eschewing talking heads and cameo commentary from high-profile music-biz personalities, Petersen—who's also directed the short film Torrey Pines—instead interviews nearly everyone who's played, produced, and released Earth's heavy and cinematic music. The interviews are invariably interesting and sometimes revelatory, and yes, Earth leader Dylan Carlson talks about his friendship with Kurt Cobain. Petersen cleverly portrays each musician's idiosyncrasies through the settings and actions of their Q&A sessions. What makes Even Hell unique is that Petersen arranged for each musician he interviewed to compose a piece for the soundtrack, and then uses said piece to score their segment.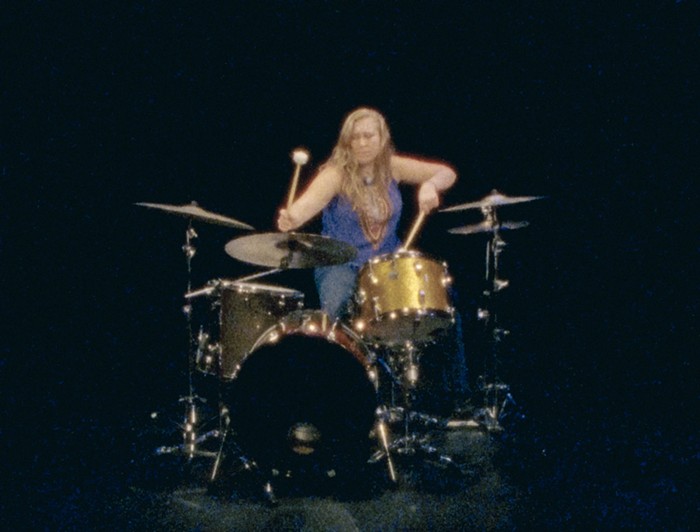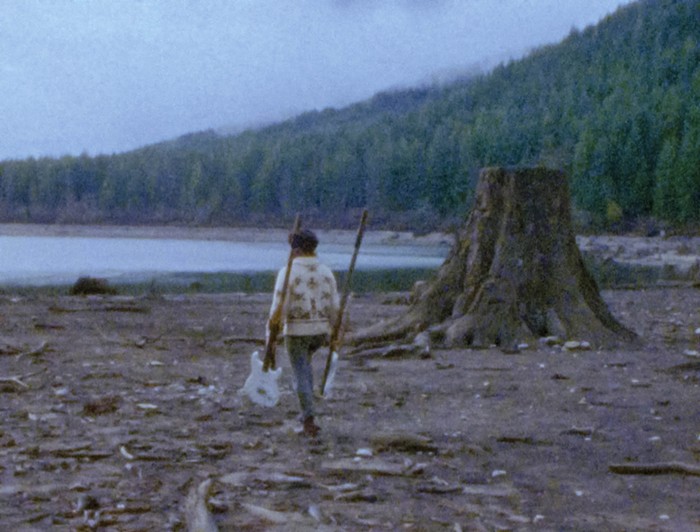 Petersen managed Earth from 2008-2013 and has been a fan since the group's early-'90s origins. Nobody's better suited to depict Earth's singular path as pioneers of ambient metal, hard-rock minimalism, and zoned Americana than he is. Petersen took time out from preparing his large-scale sculpture for Seattle Art Fair to answer some questions about Even Hell Has Its Heroes by email.
THE STRANGER: When I interviewed you for Slog in 2018, you expected to complete Even Hell Has Its Heroes in a little over a year. It obviously took longer than that to complete. What caused the film to not be finished till 2022?
CLYDE PETERSEN: I was able to film a large portion of the film in 2018 and 2019, but at the end of 2019, I was diagnosed with Type 1 diabetes and got really sick for a while. Bouncing back took some time and then a global pandemic hit, and my house in Seattle got evicted. So the short answer is: life. By that point, I was resigned to go a bit slower on it since the pandemic shifted everything in terms of travel. I had to get folks in London, Montana, and LA to help me film a few scenes and interview people over the phone or Zoom. I was mailing a camera all over the world with blank rolls of film. What I felt the most lucky about was that we did record the soundtrack in 2019, so we got it done before the pandemic.
Did you make the doc to appeal to hardcore loyalists or with a goal to gain Earth new fans? My sense is that it is more the former, as there is no narrator guiding you through the band's career and imposing a linear career arc on the audience. You pretty much have to have some familiarity with Earth to get a foothold on what's happening.
My goal was to work with Super 8mm film and collaborate with Earth on a piece that represents them. I don't particularly work on projects with an audience in mind—rather a goal of creating a piece of work that I am proud of. I try not to dwell on what folks will think about the film. I consider it a time capsule more than a traditional talking heads, linear sort of documentary. I don't enjoy watching films that hold your hand the entire time. I want folks to watch the film, take what they want from it, and let it lead them to their own understating and relationship to the music of Earth.
Was the soundtrack entirely composed of new works commissioned for Even Hell? If so, that was a radical decision, as one would imagine many Earth fans wanting to hear old favorites. One funny observation: I Shazamed the music running over the end credits and the app told me it was "Deepest Healing Intense Phase 2" by 528 hz. WHAT?!
I love that you Shazamed that and that's what came up. [The track is actually Earth's "A Glorious Defeat."]
Making a documentary about a band like Earth, with so many albums on so many labels, can be very expensive in terms of paying to use the masters of the songs. Most labels own the masters for a lengthy time, so rather than dwell on fundraising to pay for old tracks, we took it as an opportunity to create a whole new album. The soundtrack will be released in the future as well. Plus, then hardcore Earth fans get new songs to enjoy. The music of Earth is such an ideal cinematic experience. At the studio, I was able to show them footage or rough cuts and they composed for the film.
Some people who didn't appear in Even Hell include Joe Preston (bass/percussion on Extra-Capsular Extraction), Kelly Canary (Extra-Capsular Extraction), Nick Cambern (drummer on one track from Phase 3), Ian Dickson (bass/guitar on Pentastar), Sean McElligot (guitar on Pentastar), Mike Deming (organ on Pentastar), Dave Harwell (bass on Earth 2), Dan Tyack (lap and pedal steel on Hex), Kevin Martin (aka the Bug, who collaborated with Earth on Concrete Desert), Rabia Qazi (vocals on Primitive and Deadly), and the late Mark Lanegan (vocals on Primitive and Deadly). Any interesting reasons why they didn't get screen time? Any particularly heartbreaking omissions among them?
I wanted to include as many people as I could. Some folks declined; some were interviewed but dropped off the grid and never signed the film release, so I couldn't use their interview, and some folks died. Mark Lanegan was lined up to do an interview, but it didn't happen in time. That was a really sad experience. Sean McElligot passed a while back, but Michael McDaniel told me amazing stories about him. A few folks just never responded. A few people took years for them to be ready to talk, but they eventually did. Bands are like families. They often hold a lot of emotions and baggage. Some people don't want to travel backwards in their minds. It's a big ask. Not every memory is good.
Why did you decide to shoot the opening scene at the Wayside Chapel in Sultan, Washington?
I was born in Index, Washington, and grew up driving past that tiny church all the time. It was originally built for the World's Fair in Seattle, so tourists on their way to the city could "Pause, Rest and Worship," as the sign says. It's always been an interesting space to me. I see Earth as a band that worships music, so it felt appropriate to ring Dylan and [longtime Earth drummer Adrienne Davies] there to perform. It's part of our Northwest history.
What was the inspiration for Angelina Baldoz to set those guitars on fire?
I think that Angelina is the most experimental musician to play in Earth throughout the years. She reaches into spaces that most musicians can't imagine. The sound and visual of guitars on fire seemed the most appropriate for her interview. For the scene with her interview, we filmed at Golden Gardens on a summer night. The guitars we burned had previously used by Jonas Haskins as boat oars in an earlier scene at Rattlesnake Lake. 
Did making this film change any thoughts you'd had about Earth's music or the people behind it?
My main takeaway in this project is that capitalism is a brutal beast. No one survived the grunge era and the hype it created unscathed, if they survived it at all. People lost dear friends or their own lives; so many folks struggled with addiction and went through really hard experiences. The people that remain—not all of them want to remember that time. It feels like, as much fun as it was, it took twice as much from them.
In our 2018 interview, you said you wanted to make the Pacific Northwest a character in the film, and I think you succeeded. What feature of the PNW do you think is most reflective of Earth's music?
There is a slowness, heaviness, and patience in the music of Earth that can be found in the Northwest landscape—in particular as you head out toward the peninsula. The members of Earth are old growths in the landscape of a changed Seattle. Like the rings of a tree, they hold memories of spaces and people that no longer exist in our realm.
Other than financial difficulties, what was the most challenging aspect of making Even Hell?
In many ways, I feel like I have just wiped some dust off the jacket on the book of Earth. I could make this film forever. When I finished it, I thought, well now I can see in retrospect what I would do differently the second time around. Maybe someday we'll make a book with all the ridiculous tour stories. I have 40 hours of interviews, but the movie is just 108 minutes. It was deeply challenging to choose what could stay and what had to be cut for time. I would love to make a longer piece someday. There's never enough time or money or energy all at once.
Another challenge in making the film was to create a space where people could talk about anything and feel safe doing so. I do this work because I care about them as people. Separating their actual experiences from the myth surrounding the band was a big part of the interview process. Being open about hard events or grief within the story of Earth was something I hoped the band would be willing to do, and we found our way there, but that was a part of the groundwork that went into it, for sure.
Will Even Hell screen in Seattle any time soon? Do you have a premiere confirmed?
I'm submitting to the larger film festivals this summer, but you can never can control that sort of thing. Festivals are a fickle sort, and they often require an exclusive premiere statutes. Maybe some experimental film nerd will be on the panel at Sundance and help me out. You never know. Northwest Film Forum has been really supportive and is excited to screen it in 2023. My main goal is to get it into the hands of Earth fans. They are the people that supported the project, cheered me on, and helped me finish the film. And if Errol Morris and John Lurie somehow watch this movie, that would make me pretty happy. 
What are you working on now and in the near future, cinematic or otherwise?
I built a large-scale sculpture for Seattle Art Fair. It will be on display from Thursday through Sunday. After that, I head into the recording studio to finish the new Your Heart Breaks album for Kill Rock Stars.
The Earth film will also have a special release with a 100-page book of film stills and a DVD. I'm designing that and will ship it off to press this fall. You can pre-order it here.
After all of that, I'm going to lay down for a month and sleep and read a pile of books. I have another stop-motion feature film in the works, Our Forbidden Country, but I'm going to take a small break before returning to that.