At the July 12 soft opening for new Tacoma bar/restaurant Busy Body!, over 100 attendees have packed into the groovy space and are generating enough noise to equal that of the Roy Lee Johnson song—covered by hometown heroes the Sonics—after which the business is named. The boisterous night bodes well for Busy Body!, whose four owners aim to earn that exclamation mark while paying homage to Tacoma's rock-and-roll history.
As I talk to proprietors Chris Jones, Dave Flatman, Maxwell Edison, and Nathan Chambers, we're surrounded by Tacoma-centric rock memorabilia on Busy Body!'s walls, including a velvet painting of garage-rock legend Gerry Roslie of the Sonics and a promo pic of the more obscure Sweet Rolle. A vintage Wurlitzer jukebox sits in one of the very IG-friendly bathrooms. Hard Rock Cafe this ain't.
These guys go deep with their rock-and-roll, and that depth extends to the bar selections and food menu. Even the red and purple color scheme here reflects their love of the indie label Etiquette Records, which was run by legendary Tacoma garage-rockers the Fabulous Wailers.
Jones and Flatman also co-own the Belltown "Rock & Roll Utopia" bar Screwdriver at which Edison is the resident DJ. For Busy Body!, the latter will use his acumen—derived from years of immersion in the music scene—to select elite selectors to spin records multiple times per week. Non-DJ hours will be filled with an Edison-curated playlist, to keep the world-class rock vibe flowing continuously. An ex-talent buyer for Chop Suey, Chambers now works at Tacoma venue ALMA. He will serve in a managerial capacity at Busy Body! while helping Edison with marketing.
The plan to open Busy Body! hatched during the height of COVID, about a year and a half ago. Tacoma residents Chambers and Flatman were aware of the abundance of great bars and restaurants there, but, according to Flatman, they "wanted to do something that was very community-focused in a more mid-level... between just like a standard neighborhood bar and a nicer restaurant, something a little more elevated."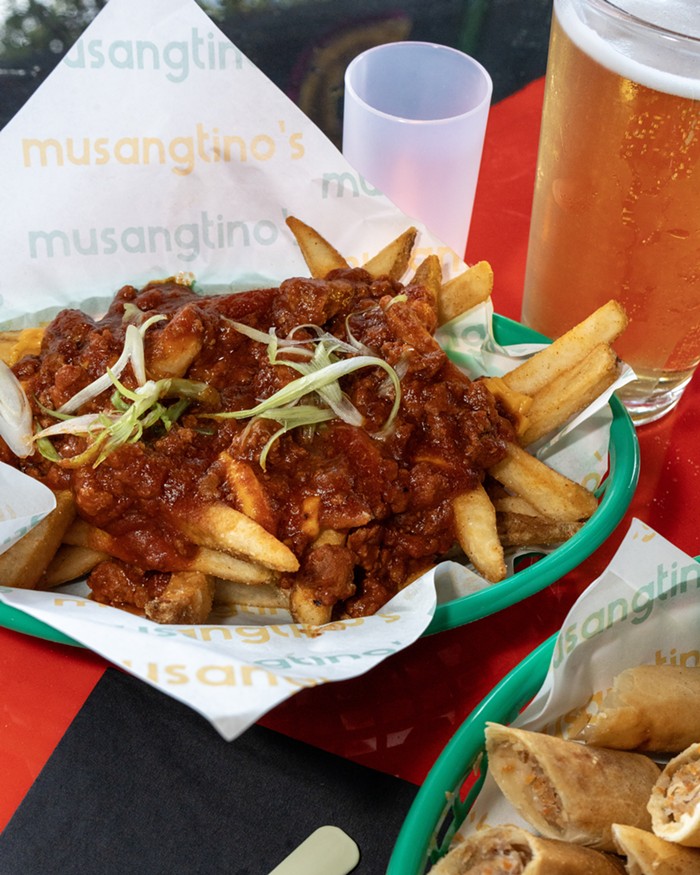 To that end, Busy Body! partnered with Melissa Miranda's Musang, a renowned Beacon Hill spot that specializes in creative Filipino food. Jones, Flatman, and Miranda had worked together in the mid-'00s at the defunct Del Rey in Belltown, so they already had chemistry.
The in-house restaurant is called Musangtino's, which originated at the Beacon Hill location as a pop-up throughout the pandemic. Flatman praises Miranda's concept as "a super-simple bar-food menu with really cool Filipino flavors. It's definitely different from any other food you're going to get at bars in the area. We're hearing a lot of buzz around town about the food already." Vegan options such as the bryant burger and taMa fries sit alongside dishes like luMpia burger (shrimp and pork patty) and spaghetti Mang (with pork and banana ketchup). Bonus: the kitchen will be open till midnight every night, crucial in a city hurting for late-night-grub options.
As for the bar, resident "expert of the cocktail world" Flatman has concocted distinctive pours such as Zig Zag (mezcal, Xila agave liqueur, lime, grapefruit, demerara, bitters, soda) and the Witch (gin, Suze, Zucca Rabarbaro, orange bitters). The latter is named after a classic single by the Sonics, of course. The bar also has its own beer, the E9/Busy Body! Pilsner. Jones says that Flatman can flaunt "his wildest imagination with the cocktail program now. We didn't have time or resources for that back in the [early days of Screwdriver]."
Flatman adds, "In every aspect of [Busy Body!], everything is more thought-out. We learned a lot by doing things the wrong way first."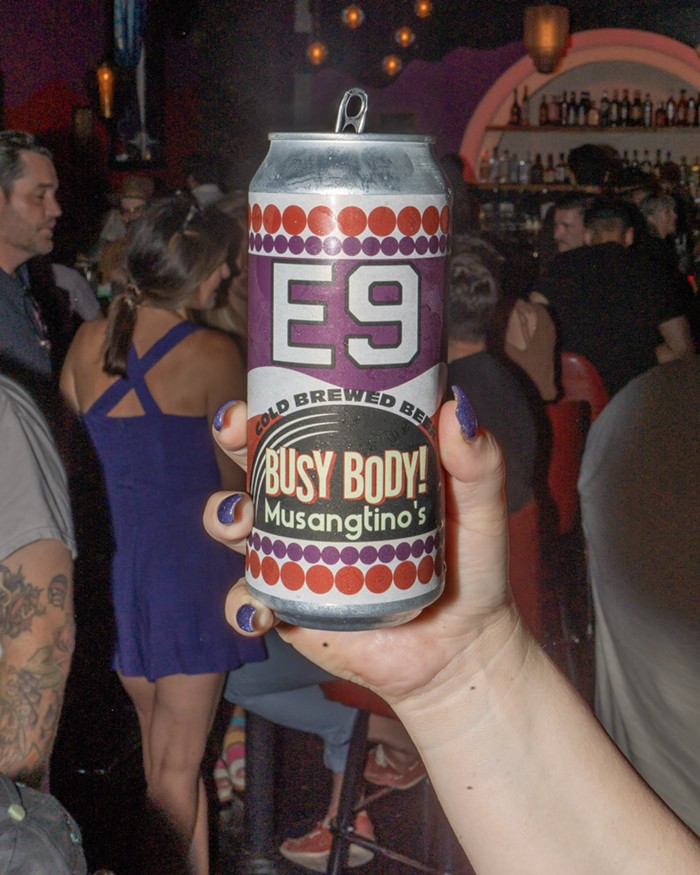 Jones—who also co-owns Nashville's Hubba Hubba Tiki Tonk—says that Screwdriver and Busy Body!'s "philosophies will be the same in terms of customer service, community-based, everybody's welcome, all that. But Screwdriver is more like our house, whereas [Busy Body!] is a more focused bar/restaurant. Screwdriver was so DIY and we didn't know what we were doing. It's like taking a woodworking class in high school as a freshman versus taking an apprenticeship when you're 30. In the service business, experience shaves off months of time.
"We didn't have any help [with Screwdriver]. Dave had to learn plumbing and electrical stuff. Maybe if we had the money to hire people... But that is why we take so much pride in Screwdriver—we did it all ourselves and learned from our mistakes. Screwdriver walked so [Busy Body!] could sprint."
With Hi-Voltage Records and the Jazzbones club across the street from Busy Body!, the businesses form a power trio of musical might on the main drag of Sixth Avenue. BB musical director Edison plans "to add new concepts, but use the same idea [used at Screwdriver] of bringing in community from Seattle and Tacoma and lifting people up to do their thing. 
"So far, we have Taiga, who owns Janku Land, doing a night, which is gonna be [July 20], where he picks a theme and then he and his crew come in and they invite people to grab several records each and everybody gets to play some. It's garage- and surf-rock for this one. [The '60s go-go party] Boots! is going to do a Tacoma version.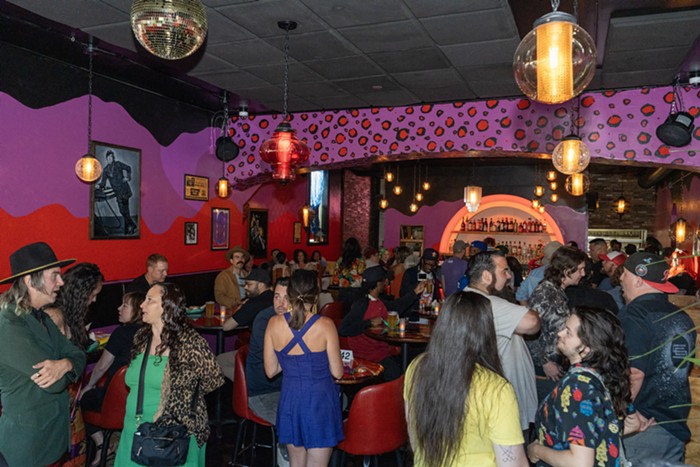 "I have different ideas I want to try out that are going to be super fun. Maybe we'll get some happy hours going again. Emerald City Soul Club might do something out here. You're gonna hear the best music and also learn about music." However, live music will not be a part of the mix, as residents live above the business.
One wonders if the members of the Sonics know about Busy Body! Jones thinks so, "because there are a lot of old-timers, friends that I know, their parents from Tacoma have hung out with them. That scene has been talking us up a little. The Sonics guys hang out at Easy Street and I know that Matt Vaughn has been talking us up. Jordan Albertsen, who did a Sonics documentary [BOOM! A Film About the Sonics], he and I chat a little bit. We sporadically talk about doing something here, whatever that entails."
"We haven't gotten a cease-and-desist letter," Flatman quips.
"Those Sonics guys should be stoked," Jones says. "This is clearly a place of reverence. We're keeping those things alive."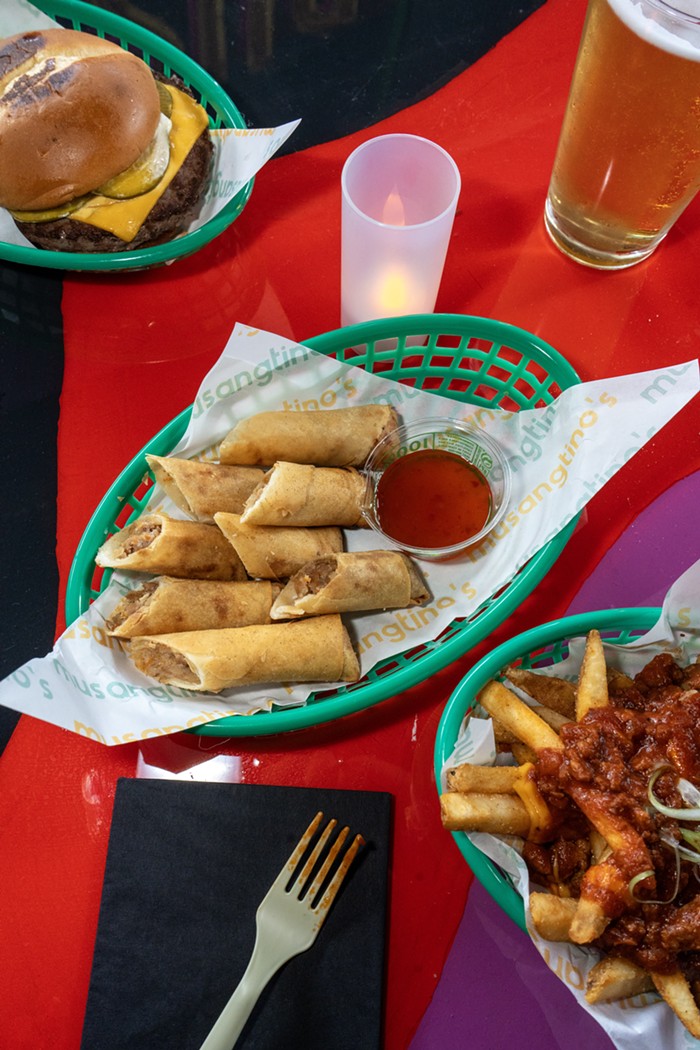 Jones admits that he had some preconceptions about Tacoma debunked since he started working on Busy Body! "I had always thought Tacoma was a rougher and more blue-collar version [of Seattle]. But I didn't really know too much about it. From living in Seattle for 20 years, I heard about the smell of Tacoma and I know Seattle picks on Tacoma.
"But coming down here during the build-out has been the most wonderful surprise. I love it down here. I get why [Flatman and Chambers] moved here. Sixth Avenue has this Main Street feel to it, like West Seattle Junction. It feels like a community—people walking, all the great shops. It's extremely pleasant, the people are nice. It reminds me of what I fell in love with in Seattle 20 years ago.
"We like cities where rock-and-roll is extremely important. That's where our concepts work, that's where our interests lie. We're not doing these things just to open more stuff. We love each one, we're deeply invested in them. We go to places where it starts with the community. It feels like [Tacoma's] community is pulling for us. Which is really cool and not necessarily how it can go in bigger cities."
---
Located at 2717 6th Ave, Busy Body! hosts its grand opening Friday, July 14. Open daily 4 pm-2 am.