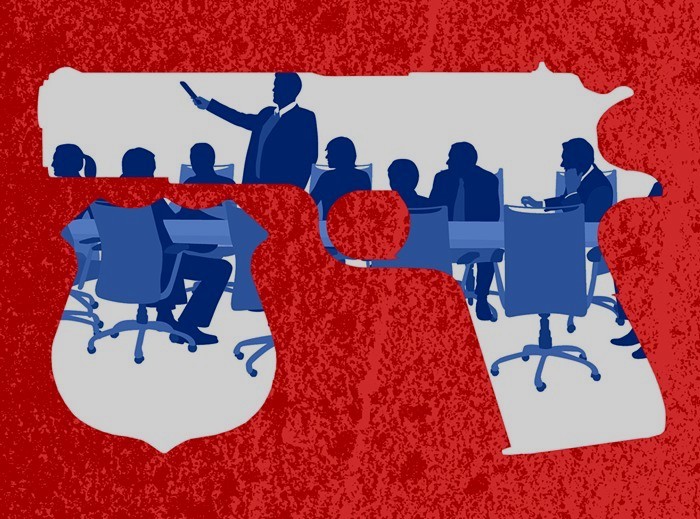 Washington State's extreme law on police deadly force, which all but immunizes police from prosecution for murder, could finally be changed if the state legislature honors expected recommendations from a task force set up to examine the law.
The Joint Legislative Task Force on the Use of Deadly Force in Community Policing meets for the final time on Monday in Olympia. Currently, if a prosecutor wants to charge a police officer with murder, state law requires that prosecutor to prove the officer acted with "malice" when killing someone in the line of duty—a state of mind that is virtually impossible to prove.
To get a sense for why the law should change, here's a shortened version a gripping presentation that the ACLU's Jeff Robinson delivered during the last task force meeting:
Sources on the committee say there's an overwhelming majority among the task force's 26 members that's supportive of removing the "malice" clause from current state law. That group includes community advocates, racial justice leaders, public defense lawyers, county and municipal prosecutors, and the Black Law Enforcement Association of Washington.
According to task force documents obtained by The Stranger, Snohomish County Prosecutor Mark Roe recommends removing the malice clause in order to "bring Washington law more in line with other states." He also wants to modify the "good faith" clause, which requires prosecutors to prove an officer acted in bad faith in order to charge that officer with murder. Roe's recommendation is intended to make the "good faith" clause more precise and objective.
Community advocates recommend removing both clauses and requiring police agencies to adopt de-escalation policies.
About four task members are expected to vote against making any changes to the law: State Senator Kirk Pearson (R-Monroe), who had resisted debating the law in the first place, and the representatives of a few police unions and associations.
Pearson, the Washington State Fraternal Order of Police, the Council of Metropolitan Police and Sheriffs (COMPAS), the Council Patrol of Police and Sheriffs, and the Washington State Troopers Association reject the idea of changing the law at all. They call only for more funding, staffing, and training for police.
"Any change to current law will be based on emotion and unsupported opinions," wrote Kerry Zieger, a Seattle police officer and trainer who represents COMPAS.
At the end of the last task force meeting, Republican Representative David Hayes, who is also a Snohomish County Sheriff officer, explicitly threatened that changing the law would have a "chilling effect" on police officers "to get out there and do their jobs."
"That's going to be a fact," Hayes said.
Another task force member, Captain Monica Alexander—the first female African-American captain in the history of the Washington State Patrol—said that fear is real among some officers. But, she affirmed, "Every day, regardless of the what the law is… I'm going to do my job."
Meanwhile, activists gathering signatures for a ballot referendum to remove both "malice" and "good faith" from the law, regardless of what the task force does, recently got a boost from Washington Senator Patty Murray. Murray signed on as a "proud" endorser.
The final task force meeting takes place on Monday in room HHR A of the O'Brien Building at the Washington Capitol in Olympia, from 9:30-4:30 p.m. TVW has aired previous proceedings of the committee live.