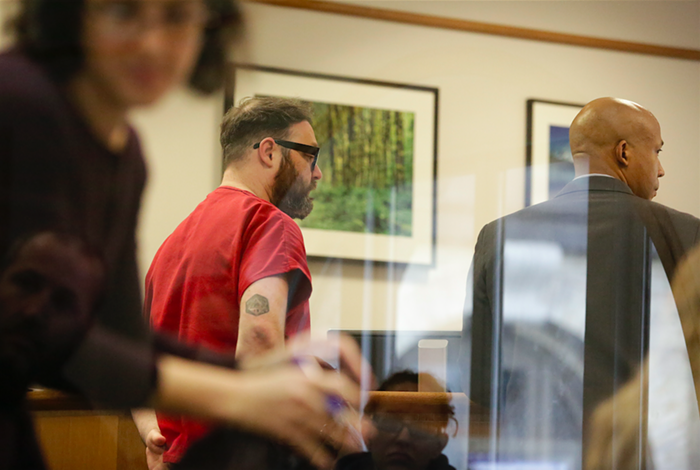 Matt Hickey has seen his first day in court. After more than a month in a Nevada jail, the alleged rapist, who has also been accused by multiple women of posing as an online porn recruiter to lure them to his home, stood in front of King County Superior Court Judge Julie Spector. Hickey pleaded not guilty to all of the charges against him—a total of three counts of rape in the second degree.
Earlier this year, six women told The Stranger that Hickey had posed as a female porn recruiter online and used his online persona to try to con them into participating in a fake, sex-based "audition." Hickey's online persona turned out to be a composite of the identities of two women, neither of whom had any idea of what Hickey was doing. After the six women came forward to accuse Hickey of running this scam—with two of those six women alleging that he raped them during their "audition"—three additional women told The Stranger that Hickey had raped them outside of the "audition" scam. In response to questions from The Stranger, Hickey denied the later rape allegations.
Four months after we published our first Hickey story, King County prosecutors charged Hickey with three counts of rape in the second degree for the alleged sexual assaults he committed outside of the "audition" scam. Two of these charges involve accusers who had already shared their stories with The Stranger. Charging documents show that the third accuser claims Hickey raped her after she agreed to shoot non-nude photographs with him when she was 17 years old. The documents say that Hickey gave her a drink after telling her "she looked nervous," and that she doesn't remember very much—other than brief flashes of Hickey penetrating her—after that.
Hickey's arraignment in King County Superior Court was initially postponed because Hickey had relocated to Las Vegas (after being contacted by The Stranger about the rape allegations). In Las Vegas, after his arrest, Hickey refused to sign an extradition waiver. Today, Hickey's attorney, public defender James Bible, told Judge Spector that Hickey had not been made aware of what the extradition waiver actually meant, and that's why he delayed signing it. Bible asked the court to set Hickey's bail at $15,000. Prosecutors, citing our reporting on Hickey's post on FetLife saying he was looking for "sluts" in Las Vegas, asked the judge to set bail at $200,000 instead.
"The state's concerned both that the defendant represents a flight risk and a danger to the community, particularly women," King County deputy prosecutor Bridgette Maryman told the judge. "The certification for determination of probable cause outlines a pattern of behavior that indicates that the defendant has preyed upon women for over a decade. It's the state's position that the defendant remains a threat to women and should remain in custody."
Judge Spector set bail at $200,000. She also issued sexual assault protection orders on behalf of Hickey's accusers. Hickey has hired a private attorney, according to King County prosecutors, and potentially faces more than a decade in prison based on the current charges. Prosecutors also told Judge Spector that they are continuing to investigate the possibility of additional charges.
Hickey's next court date was tentatively set for December 13, but that will likely change. It remains to be seen whether Hickey will push for a trial over a plea deal.