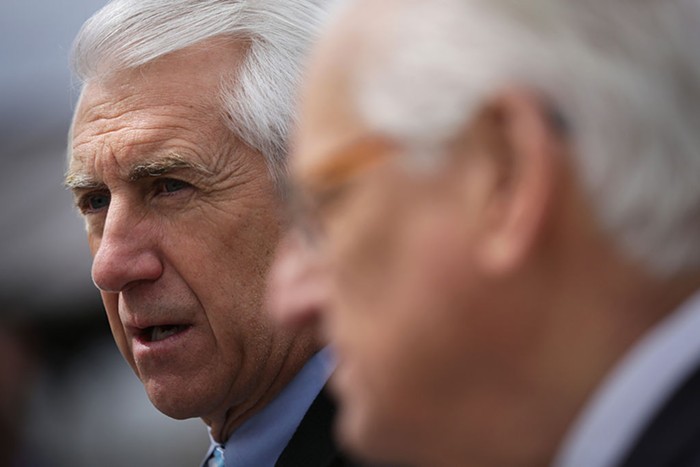 After an exhausting few months hiding from his constituents, refusing to demand Donald Trump's tax returns, and voting to strip people of their healthcare, Republican Congressman Dave Reichert announced today he will not seek re-election in 2018.
"After spending time during the August work period with family and friends, reflecting on the past, discussing the future, and celebrating another birthday," Reichert said in a statement, "I have decided this will be my last term and I will not run for reelection in November, 2018. It was not an easy decision but I believe it was the right one for my family and me."
The seventh-term congressman lives in Auburn and serves on the House Ways and Means Committee. He seems to derive most of his tough-guy-who's-still-too-afraid-to-host-a-townhall identity from his years as King County Sheriff. But, if the repeated protests outside his office are any indication, a decent set of Reichert's constituents have grown tired of his schtick. With the incumbent now out of the running, they could have the chance to replace him with a Democrat.
Washington's 8th Congressional District was redrawn in 2012 to become more conservative but is still not a Republican stronghold. Neither Barack Obama in 2012 nor Hillary Clinton in 2016 won majorities in the district, but both won more votes than the Republican candidate. The Democratic Congressional Campaign Committee has targeted the district as winnable in 2018.
A bunch of candidates have already jumped in to challenge Reichert and Rich Smith has been talking to all of them. Read more about Tola Marts, Jason Rittereiser, Mona Das, Kim Schrier, Toby Whitney, and Tom Cramer.
Reichert Watch:
Every time Reichert takes a party line vote that hurts his constituents or introduces needless legislation or does anything at all, we'll add it to the list.
• This month, Reichert didn't respond to an invitation from his constituents to hold a town hall, so Congresswoman Pramila Jayapal stepped in and did the job for him.
• In May he voted against the latest version of Trumpcare, but only after it became clear the Republicans in the U.S. House had the votes to pass it
• On March 9, he voted for the GOP plan to repeal and replace Obamacare.
• A week later, after a Congressional Budget Office analysis found the plan could leave 24 million people across the country without insurance by 2026, he defended it.
• Before that, Reichert made misleading statements about threats posed by his own constituents.
• Recently, he voted for the SCRUB act, which creates a regulatory committee to identify and eliminate regulations that don't directly increase the GDP. The committee's goals align with White House chief strategist Stephen Bannon's plan to "deconstruct the administrative state," but the irony of commissioning a regulatory agency to cut back on regulations is lost on no one, especially not tax payers who are being charged $30 million for the favor.
• Reichert twice voted against forcing Trump to show Congress his tax returns (once in committee and once in a roll call vote), which may illuminate conflicts of interest and business ties with Russia.
• Reichert was the only Washington Republican who voted to gut the Office of Congressional Ethics.
• In 2014, he proposed a bill that would ban welfare recipients from using benefits to buy weed, despite the fact that such purchases were already illegal.
• In 2010, he voted to maintain "Don't Ask Don't Tell."
• That same year, Reichert suffered significant brain trauma when a tree branch fell on his head. The resulting hand-sized blood clot that formed in his brain went untreated for two months.
• In their 2006 endorsement, The Seattle Times Editorial Board applauded Reichert for his "conscience-driven independent streak," but, that same year, during a speech before the Mainstream Republicans of Washington, Reichert expressed his readiness to vote along party lines, saying: "when the leadership comes to me and says, 'Dave, we need you to take a vote over here because we want to protect you and keep this majority,' I... I do it." Though he has voted for some land conservation efforts, Reichert describes his pro-environment votes as "chess pieces, strategies" to hold his seat in a swing district. (RICH SMITH AND HEIDI GROOVER)