Washington State Quarterback, 21, found dead: Tyler Hilinksi was found dead yesterday in an apparent suicide. If you are struggling with life or know someone who is, tell someone. Get help. Call 1-800-273-8255.
Sponsored

From Oct 24th - Nov 6th enjoy diverse culinary menus at great prices in Tukwila!
Family of slain 19-year-old sues King County, claims racial bias: Tommy Le was shot by King County Sheriff's deputies last summer. Now, his family is seeking upwards of $75,000 in compensatory damages. They claim race — Le was Vietnamese American — played a role in his death. He was shot three times, twice in the back. The initial report said he was armed when he died. According to a report by Seattle Weekly, he was armed only with a pen.
Everyone knew Matt Lauer was a chode: Especially Ann Curry. Guys, I don't know if you remember the tasty drama of the Today Show back in the day (look, I'll admit it, I used to watch it every goddamn day), but there was tangible tension, I'm talking shit you could cut with a knife, between Matt and Ann. Until, mysteriously, Ann up and left. No forewarning, nothing. And ohhh, we all knew. We could see it on Matt's smug little face as he tried to look sad. But we knew. Now, Ann Curry is speaking out. Or, she's starting to. Watch:
Do you believe that Matt Lauer abused his power?
"I can tell you that I am not surprised by the allegations ... I can say that I would be surprised if many women did not understand that there was a climate of verbal harassment that existed" @AnnCurry @CBSThisMorning pic.twitter.com/3OEXIfwEIN
— Norah O'Donnell🇺🇸 (@NorahODonnell) January 17, 2018
Ann is obviously a bigger person than all of us. Still, that little nugget of information will get me through the day at least.
Seattle is now the new land of opportunity Behind Silicon Valley, of course. For tech, we're the Next Big Thing, and the Seattle tech market is drawing 40 percent of its labor from outside the U.S. Half of the people that make up the gig (haha) of software developer alone are immigrants. I guess we're pro immigration when they make apps.
Durkan not a liar, yet: As she announces plans to set aside $10 million of a city-owned property to fund new rental assistance and short-term housing for the homeless. I'm always surprised at how slow anything moves in politics, 'cause this deal Durkan's talking about won't close until next summer. God, I'm impatient.
The federal government is going to fund something??? A House bill would send $2.6 billion of federal cash to help railroad companies install train-stopping-technology (i.e. brakes). Nothing more can be built until these safeguards are in place. It's the cynic in me, I know, but it's definitely just because we had a disaster that made headlines. "Bad press," you know?
Update, I just want you all to know I'm sad about the weather: Because across the country there are snow days. Here, what bullshit is this? A slight drizzle? January, I want you to come hard or not fucking at all. I'm sorry. I'm sorry, I'm from California (I know, I'm one of them) and I love the rain but, the snow. Oh, the snow. What we could have had! Look at this and tell me you're not a little angry:
It has now officially snowed more in New Orleans than Seattle in 2018. Look at the incredible lows across the SE; some even colder now: Atlanta 14°, New Orleans 20° pic.twitter.com/BfDOYaj7JY
— Scott Sistek (@ScottSKOMO) January 17, 2018
I've seen a lot of outrage over the soda tax: How do we bypass it? Where are the sugary drink life hacks? Has anyone started a YouTube channel of those yet? No. No, guys. Just don't drink soda, you'll live. Actually, apparently Costco is instructing shoppers to stores outside city limits to avoid soda taxes, but this article is from Fox News so, you know, do with that what you will.
More on the Olympics abuse case: Yesterday, the sentencing hearing against Dr. Larry Nassar began and hundreds of women are expected to testify. News broke that if Olympic gold medal gymnast McKayla Maroney spoke out she would face a $100,000 fine for violating the NDA she signed. Chrissy Teigen — a cookbook author, model, and Twitter superstar — took to Twitter in protest.
The entire principle of this should be fought - an NDA to stay quiet about this serial monster with over 140 accusers, but I would be absolutely honored to pay this fine for you, McKayla. pic.twitter.com/lsBEgEqZpD
— christine teigen (@chrissyteigen) January 16, 2018
Now, the USA Gymnastics team
has revoked
the fine. To my editor, I just want you to know this counts as local news because Teigen went to Snohomish High School. Thank you.
To everyone who saw Betty White was trending: It's her birthday, you pessimistic fucks. She's not dead. She's 96 now and stronger than ever.
Started celebrating my birthday a little early with @ParadeMagazine. That's a LOT of candles!!! pic.twitter.com/uCIgVfYRkr
— Betty White (@BettyMWhite) January 5, 2018
In sports news: There's a huge football story today and my 12-year-old brother filled me in on it:
My 24-year-old brother, on the other hand, was skeptical. His prediction is Vikings and Jaguars. So, that's all the sports news for the day.
Do you know how you're spending your Hump Day? There are three awesome local events happening tonight that you can still get tickets for: a reading featuring National Book Award winner Jesmyn Ward, an Emily Wells concert, and the first night of Peerless, Jiehae Park's Macbeth-inspired play about affirmative action. Busy tonight? Check out our complete Things To Do calendar for all of the events happening this week, month, and year.
Reader breakfast Wednesdays: There's nothing we care about more here at The Stranger than the well-being of our readers and what better way to be well than to eat the most important meal of the day.
Here's what some of you are eating this morning...
Two eggs for Allie

For Margaret, she's keeping it simple. Almond butter with half a sliced banana on whole wheat bread. She says it's boring but that's better than anything I've eaten before noon in sometime.
From Andrea, we have a particularly bold choice. I'm not going to breakfast shame but have you tried literally any other flavor of La Croix?
Michael went to town.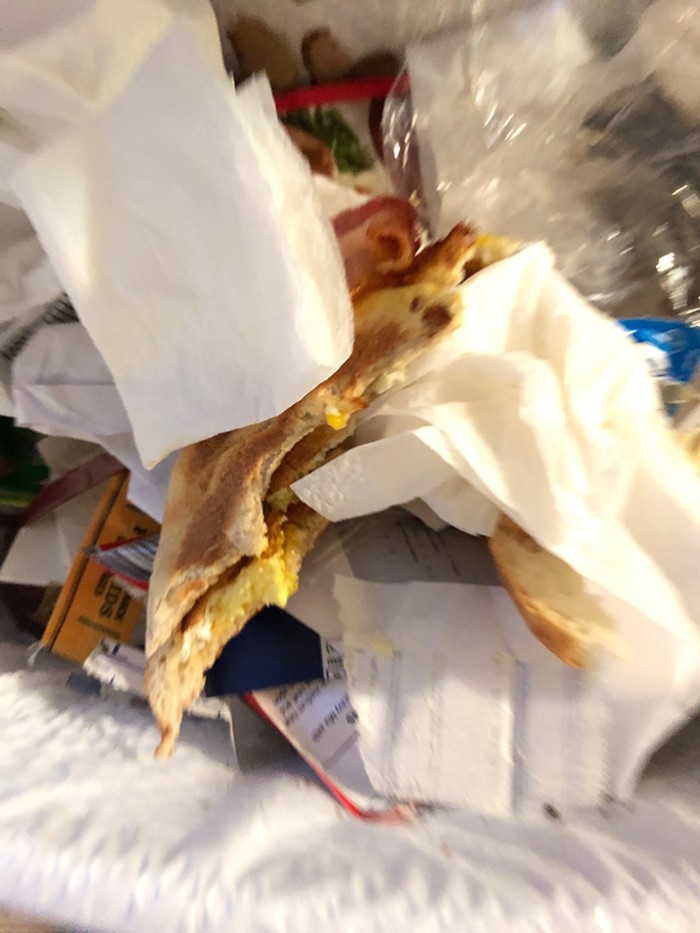 We do not advocate distracted driving.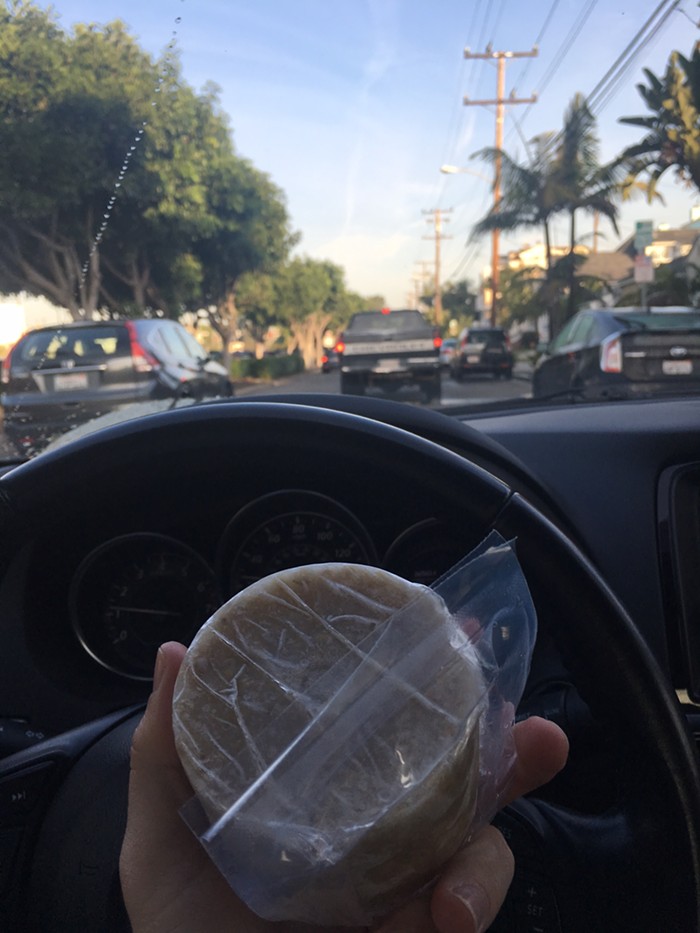 Our reader Tonio worries this might not be enough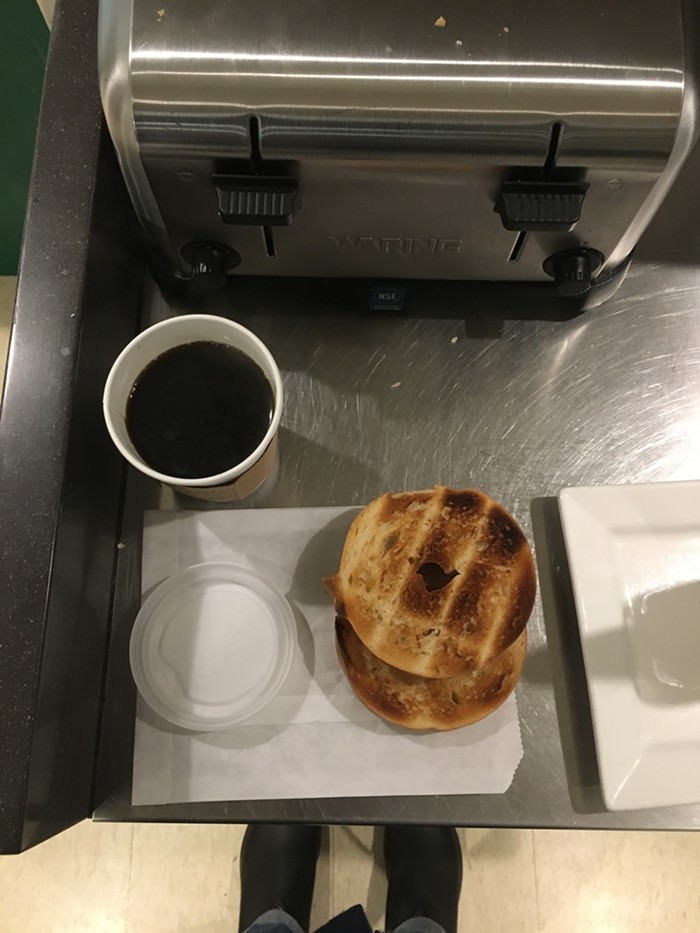 Sponsored

A weekend of art, performance, readings, & more! Festival ends at Seattle's sexiest Halloween party.