If you live in Seattle and enjoy going out, then chances are you have bought a drink from David Meinert. The Seattle businessman either owns or co-owns some of Seattle's most popular bars. For over two decades, Meinert's hands have stretched far and wide across the city.
But Meinert's business empire appears to be fracturing after five women accused him of sexual misconduct, including rape, in a story published by KUOW last Thursday.
Meinert denied the accusations in an interview with KUOW. He has not returned The Stranger's calls for comment.
Meinert's business partners on Capitol Hill were the first to distance themselves from the 52-year-old. The company that manages Comet Tavern, Lost Lake Cafe & Lounge, and Grim's has barred him from returning to his office or any of the businesses. Joey Burgess, Meinert's investment partner in Capitol Hill's Queer/Bar, said Meinert no longer owns the bar and is not allowed in the space.
Burgess, who is also the operations manager for the company that runs the Comet, Lost Lake, and Grim's, said he was shocked to hear the allegations against Meinert.
"I was completely gobsmacked. It was horrible and absolutely heartbreaking," Burgess said.
But Meinert's business empire stretches far beyond the confines of Capitol Hill's Pike and Pine streets, and many of his other business partners have yet to publicly distance themselves from the man.
Meinert owns Torch Northwest, a legal weed company in Tacoma. The pot company did not respond to requests for comment. Meinert is also the sole owner of The 5 Point Café in Belltown.
Meinert is still registered as a governing person for the Big Marios pizza chain, but one of his partners in that business, Jason Lajeunesse, said Meinert sold all of his shares.
"Earlier this year, David sold his shares and is no longer an owner in any of the Big Mario's companies," Lajeunesse said.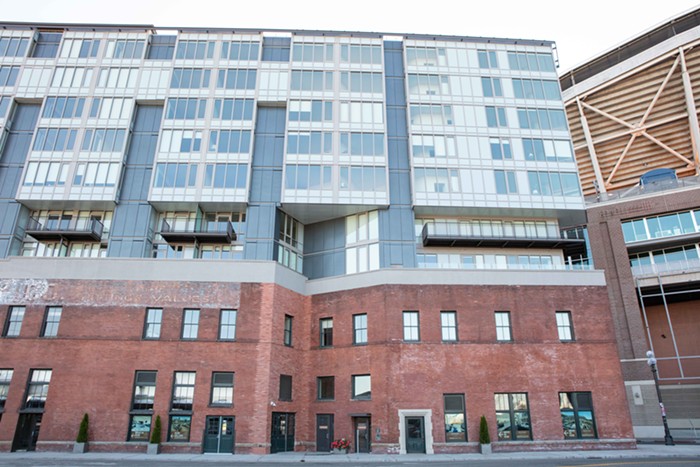 What might be the biggest business project of Meinert's career has yet to open for business. Last year, Meinert purchased 10,000 feet of retail space in the ground floor of the new Gridiron Building next to CenturyLink Field. Meinert told the Seattle Daily Journal of Commerce that he planned to put four restaurants in the ground floor of the building, which has seven floors of condominiums above the building's historic brick facade.
The Gridiron Building's marketing staff did not return calls for comment on this story.
Meinert's partners at his band management company, Onto Entertainment, did not return a request for comment for this story, but it's not clear that the company has any remaining bands after all three of their listed acts—Hey Marseilles, The Lumineers, and Andrea Gibson—announced that they were parting ways with his company.
Meinert co-owns a company called Seattle Event Solutions, which uses the trade names Showbox Sodo and Showbox Market, with Marcus Charles. Charles informed The Stranger over a text message that "David Meinert is no longer a part of SES."
Charles declined to answer follow-up questions clarifying how Meinert is exiting the business or what exactly Seattle Event Solutions does. The Showbox venues themselves are owned by the LA-based company A.E.G., which did not return The Stranger's calls for comment.
Charles also owns the Crocodile and co-owned the Capitol Hill Block Party with Meinert from 2000 to 2010. The two business partners turned the block party from a small neighborhood event into a destination festival that draws major headliners and tens of thousands of fans every year.
Lajeunesse—who purchased the rights to Capitol Hill Block Party from Meinert and Charles in 2010, and is a co-owner of Lost Lake and the Comet—said he could not speak to the veracity of the allegations against Meinert.
"I had no prior knowledge of the allegations against David before the article was published last Thursday," Lajeunesse said in an e-mail. "As I said before, while I can't speak to the veracity or substance of the allegations in the article (I will let David speak for himself ) I take all allegations of this nature very seriously and am working to address these allegations within our companies."
Lajeunesse and Burgess both said that Meinert was donating his share of profits from the Capitol Hill bars he owns.
"I can also tell you that it is my understanding (from Joey [Burgess]) that David [Meinert] will be donating his share of profits generated by our operating companies (Comet and Lost Lake) to several charities that deal with sexual assault, woman's issues and programs to heal the broader community—but you should confirm that directly with David," Lajeunesse said in an e-mail.
Meinert did not return a request for comment and neither Burgess or Lajeunesse could clarify any details about the donations. Would Meinert retroactively donate his profits from all the way back to 2001, when the first alleged rape occurred according to KUOW's reporting? Would it just be the profits since KUOW published the allegations last Thursday? Who knows.
Burgess said he believes the women's claims.
"Yes I am going to believe these women's stories, there's no waffling on that. It's paramount to who I am as a person," Burgess said. "I will never deny or discredit people's experiences that I wasn't a part of, that's not within my right and it goes against my core values and beliefs to even begin to question."
Burgess said he's concerned with the wellbeing of the 25 employees at Queer/Bar and the over 120 employees that run the three other bars after these allegations surfaced.
"The aftermath and the effects of the situation are extremely difficult and triggering for people and my sole concern right now is making sure those people get whatever help and resources that they need," Burgess said.
I asked Burgess if he had any suspicion that Meinert had assaulted any of the employees at their businesses.
"I don't know how to answer that better than saying I don't have any knowledge of anything and I really, really hope and pray that no one else has been affected or hurt," Burgess said. "I am praying that there isn't anything else."
Lajeunesse said he has had little contact with Meinert since the allegations were reported last week.
"Other than David immediately stepping away, he and I have not had much time since last Thursday to discuss or work on next steps regarding ownership of our companies," Lajeunesse said. "All I can tell you at this point is that he and I have begun that process and are still discussing details and next steps."