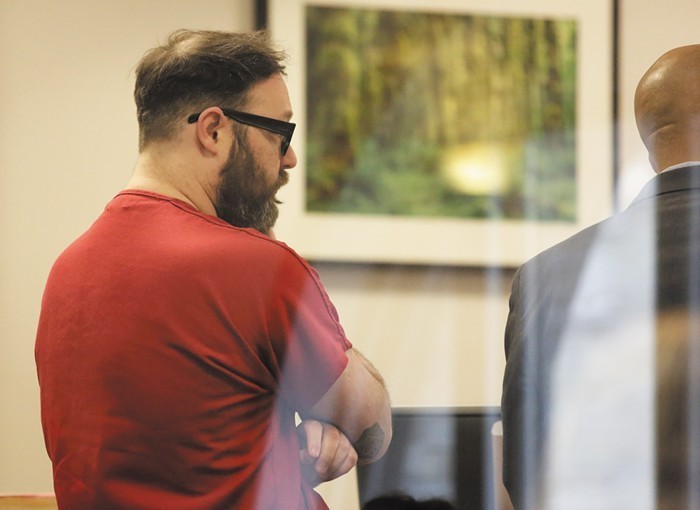 This post has been updated with additional comments from Hickey's victims.
Matt Hickey, the former tech journalist who masqueraded as a porn scout to trick women into having sex with him during fake "auditions," on Tuesday pleaded guilty to three felonies and fourth degree assault after six women came forward to accuse him of rape.
He faces up to 34 months in prison for his most serious conviction of indecent liberties, far fewer than he would face for his original rape charges. Still, his guilty plea means that he will have to register as a sex offender.
Hickey has been in jail since October of 2016, after he was extradited from Las Vegas while on the run from accusations that dogged him here in Seattle. Hickey had developed an online female alter-ego to lure young women into fake auditions where they were told they needed to have sex with him in order to find work. Hickey was busted when several women recognized their own experiences in posts that circulated online, and when one woman undertook a sting operation of her own to uncover Hickey's fake identity. Subsequently, an article published by The Stranger outed Hickey as a porn scout scammer.
The Washington State Attorney General sued Hickey over the porn scam, and a judge fined Hickey more than $300,000 in violations of state consumer protection laws.
After these women spoke to The Stranger, most of them going on the record with their full names, several more women came forward to accuse Hickey of raping them after getting them too drunk to consent. Two of the allegations did come from women who were lured to Hickey through his porn scam, but four other rape allegations came from women who met Hickey on dates or considered him a friend. One allegation that stretched back more than a decade had expired under the state's statute of limitations.
Prosecutors filed four rape charges against Hickey.
Hickey initially said he was innocent of the rape charges, and the counts Hickey has now admitted to are not the rape offenses with which he was originally charged.
Hickey took a plea deal instead: one count of indecent liberties and two counts of assault with intent to commit indecent liberties, and fourth-degree assault with sexual motivation. The indecent liberties charge, the most serious Hickey faces, is a sex offense that requires adding his name to the sex offender registry. The same count carries a standard sentencing range of 26 to 34 months, according to the prosecutors who charged Hickey.
This outcome means that the women who brought the charges against Hickey will not have to undergo a trial with cross-examination, a re-traumatizing experience for many rape survivors who often have their characters and sexual histories questioned on the stand. Instead, Hickey's victims will read victim impact statements at his sentencing, currently scheduled for late December, to help the judge determine Hickey's punishment.
One of the women who filed a rape charge against Hickey, and who asked to remain anonymous, told The Stranger she was glad the case was wrapping up, and hoped it would give her a sense of closure. "The one thing that was really important to me was that he be on the sex offenders registry, so I'm pleased that's happening," she said.
Jasie Jackson, another of Hickey's victims who was able to file a rape charge, said she was happy with the outcome.
"It seemed like a better situation than if a judge were to decide to split the cases up, making each individual count less strong, and creating the possibility of him getting off completely," she said. "I wouldn't necessarily have any problem being cross-examined, but if we can get some sort of punishment without putting everybody through that, that seems preferable to me."
Jackson added that she had been surprised by her experience in the criminal justice system, particularly in working with women detectives, prosecutors, and victim advocates.
"It's all very empowering to be able to talk openly with women who also are like, 'This is screwed up, and things need to change, and this is what we're trying to do for you guys and for the world,'" she said. "I felt supported and heard. Just hearing that he's pleaded guilty and has taken the plea, that's a lot more than a lot of victims get to see."
But not everyone who had accused Hickey of rape felt the plea deal would deliver justice. Haley Byrd, the woman who first contacted The Stranger about a rape allegation separate from the porn scam, couldn't file a charge because her allegation extended beyond the statute of limitations. When asked about Hickey's guilty plea, she said she was stunned, furious, and depressed.
"How they went from charging a sexual predator who had proven premeditated sexual intent with four felony counts of rape, each carrying a maximum/potential life sentence, to allowing him only consequences for what is basically the equivalent of getting into a bar fight and sending some unwanted dick pics is beyond me," Byrd said in a written message.
"I feel totally let down by our justice system and all of the people who claimed they were trying to help me," Byrd continued.
Byrd said she thought Hickey registering as a sex offender "seems more than appropriate," but expressed concern that Hickey would continue to prey on women in the future as he had done in the porn scam.
"My only remaining hope is that he receives the maximum possible prison time for all charges, is required to register as a sex offender for at least 10 years (less than the span of his sexual crimes), and has his location monitored via parole so that he can't just disappear (he already fled once), start a new life, and prey on women again," Byrd said. "This will be up to the judge now to give us the only justice possible at this point. I hope the judge will at least give us that."
Allysia Bishop, one of the first women who came forward with allegations against Hickey regarding both the scam and rape, said she had mixed feelings.
"I am somewhat disappointed that none of the rape charges stuck, but I am relieved he is experiencing more consequences than most rapists ever do," she said. "It's cathartic in a way that it's reaching its conclusion, but I'm still having trouble processing everything."
Hickey's lawyer, James Bible, did not immediately return a request for comment on behalf of his client.