Well well well, Seattle, you did not disappoint. If we smoked, we'd spark one in bed and pay for breakfast.
A whopping 3,600 of you spent seven minutes in heaven with The Stranger, telling us everything you've done in the sack–or, in many cases, the car, the train, and the airplane. You also told us everything sex partners have done to you, and everything you want to do to them, and you did it all for the sake of science–and PREMIUM cocktail party fodder. 
But enough foreplay. Let's hop in. We've selected some of the most interesting findings, but if you want to play along, then check out all the data here. 
WHO YOU ARE 
About 48% of our survey-takers said they were straight, 19% said they were bi, 10% identified as queer, 8.5% said they were gay (92% of whom ID'd as cis men), 6% said they were pansexual/omnisexual, nearly 3% said they were lesbians, and asexuals brought up the rear (in their own special way) at 1%. 
Cis women led the pack at 43% of all respondents, then cis men (42%), nonbinary baddies (8%), genderqueer folk (3%), and trans men and women at around 1% each.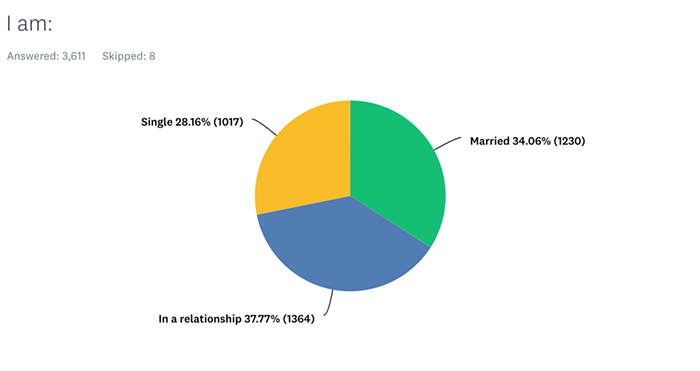 Nearly 40% of you fell between 26 and 35 years of age, 28% of you have survived to somewhere between 36 and 45 years, 13% of you were 46 to 55 years old, 11% of you were between 18 and 25, 5% were 56-65, and 3% were between 66 and 75-years-young. We do not commiserate, we congratulate you. 
SEX POLITICS
Somewhat predictably, respondents who identified as queer and asexual held the left-most political views. At 11%, anarchists were most highly represented among the queer cohort. Meanwhile, between 37% and 39% of lesbians, bisexuals, pansexuals, and queer people identified as socialists. Nearly 65% of gay men identified as Democrats, the largest share compared to any other orientation. 
Looking at gender, about 55% of cis men and women threw in with the Democrats, while trans men and women, genderqueers, and nonbinary people were more likely to march with the socialists.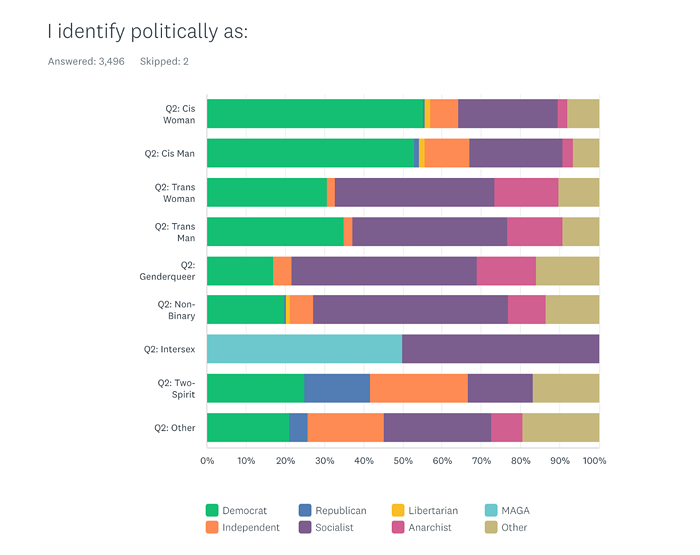 Note: 37 people identified as Republicans, and we highly doubt that any actual Republicans took this sex survey, so we assume we have a +/- 1% bullshit margin on all this. That said, if you were an actual Republican who took this survey, then congratulations on bursting your bubble, you beautiful but wrong-headed little freak!
OKAY, LET'S WARM UP WITH A GAME OF FUCK, MARRY, KILL
Most respondents expressed the urge to fuck the Statue of Lenin (40%), marry the Fremont Troll (45%), and Kill Vito's Stolen Cougar, Barbra (40%)–if they can find her, that is. 
Also, the people have spoken: We want to fuck bi Taylor Swift (50%), marry gay Taylor Swift (36%), and kill straight Taylor Swift (61%). Are you listening, Taylor?? It's safe to come out. 
HOOK-UPS AND LOCKDOWNS 
Nearly 70% of you said you were married or in a relationship, and just over half said you were monogamous. About 27% of people in monogamous relationships want to open it up, and 1% want out. (To those 15 people who prefer to be single: DTMFA and get free!!!) 
About 45% of single people want a monogamous relationship and about 38% seek monogamish or non-monogamous relationships, according to the survey results, so you basically got a 50-50 chance for either path.
The vast majority of people (60%) said they "usually" meet sex partners through friends. Straight people mostly meet through friends (57%), work (29%), parties (27%), bars or clubs (27%), or Tinder (25%). 
Gay men flip that script: 55% said they meet sex partners on Grindr and 32% on Scruff. Only 40% of gays meet through friends, and 8% meet through work. Nearly 20% of lesbians said they usually met sex partners on HER. 
SEX SEX SEX 
When it comes to the number of sexual partners, gay men outpace all the other sexual identities by a mile, which increases our confidence in the validity of these results. For straight people, the most common answer to the question about the number of sexual partners was "fewer than 10." For lesbians, the most common answer was "fewer than 10." For gay men, the most common answer was "now it just sounds like I'm bragging," which was the option after "fewer than 100."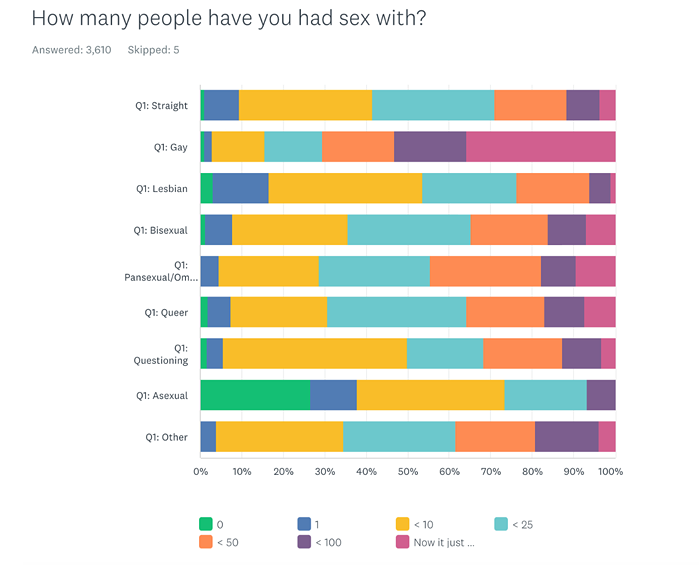 However: Though lesbians report some of the lowest body counts, they report the highest levels of sexual satisfaction of any other sexual orientation, with 29% feeling "very satisfied" with the amount of sex they're having. Caveat: A higher share of asexuals (64%) reported feeling "very satisfied" or "somewhat satisfied" with the amount of sex they're not having, but that seems like cheating.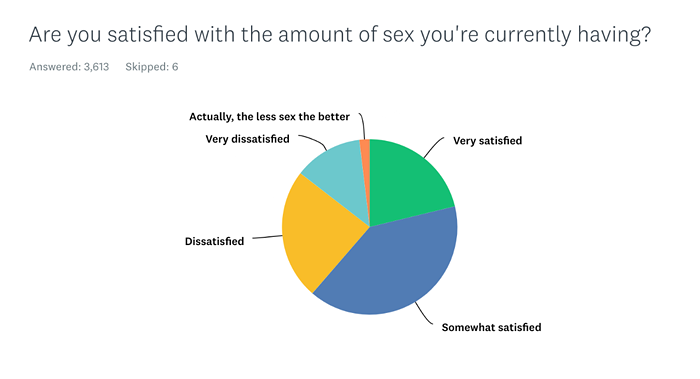 Speaking of cheating: Nearly 40% of respondents admitted to cheating on a partner, down from roughly 50% in 2019. Cis and trans men and women cheated on each other at about the same rates; nonbinary and genderqueer respondents cheated 10% less. Most people (68%) didn't disclose the affair to their partner. 
Also down from the 2019 numbers: orgies. Only 21% of survey-takers said they'd participated in orgies, which was significantly less than the 30% who engaged in group sex before a deadly pandemic swept the globe. Of those who said yes, 50% were cis men, 30% were cis women, 12% were genderqueer or nonbinary, 3% were trans men, and 2% were trans women. 
That said, at 65%, trans men were the most likely to report having had a threesome. Sixty percent of cis women have hopped in the sack with a pair of partners, while 55% of cis men had done the same, though the gays and bisexuals are really running up the numbers there. A respectable 84% of gays have had threesomes, and a majority have participated in orgies (55%). Most of those participants (55%) said that orgies were "correctly rated."
But self-love is love, too. When asked about masturbation frequency, the most common answer (38%) was "twice a week or more." Of the people who said they masturbated "every damn day," 62% were cis men and 21% were cis women. Of those who said they masturbated every damn day, 51% were L G B T or Q, and 44% were straight. Only 1% of lesbians reported masturbating every day. 
An astonishing 95% of cis women said they owned a vibrator, 59% said they owned a dildo, and 38% said they owned an anal toy. But in general, trans people, genderqueer people, and nonbinary people are armed to the teeth, reporting the highest levels of sex toy ownership. 
Somewhat depressingly: As respondents aged, they reported masturbating less often. They also reported less satisfaction with the amount of sex they were having. 
Nearly 72% of respondents said they watch porn. Most porn-watchers (37%) only indulge once or twice a week, while 9% of us are firing up PornHub "every day, baby." 
YOUR KINKS 
But maybe it's just because older people can't find enough partners to pee on them? Nearly 17% of people aged 56-65 and 23% of people aged 66-75 said pee sounded hot to them–the highest shares of any of the other age groups. 
In general, more than half of survey-takers said they were into spanking, domination/submission, and bondage *whip snap*. Group sex, exhibition/voyeurism, blindfolds, and nipple play landed in the 40% zone. Around 30% of people said they liked double penetration and consensual non-consent.
Sixty percent of gay men said they were into group sex, the highest share for gays compared to the other kinks listed. (Close second was exhibitionism/voyeurism at 57%.) Pansexuals are into feet, with 16% saying they like it with the socks off. Cis women and trans women are into spanking at equal rates (69% [nice]), and cis men and trans men are less into spanking (40% and 51%, respectively). Trans women were more likely to be geared up, with 58% saying they owned bondage equipment. 
And, congratulations! Nearly two-thirds of you feel comfortable enough to tell your partners what you want them to do to you–unlike Survey Monkey. For reasons we don't quite understand, the platform wouldn't let us pin the kink question to our results page, but you can check out the full graph here. 
YOUR HEALTH  
While taking care of all that business, people seem to be taking care of their health and having safer sex, too. Only between 4% and 10% of survey-takers said they currently had a sexually transmitted infection.
Gay men (65%) and people who identified as queer (67%) were much more willing than others to enter into a relationship with someone who had a long-term STI. End the stigma! 
Meanwhile, about 57% of gay men said they were vaccinated against Mpox, a virus that mostly hit men who have sex with men. 
FILLING IN THE BLANKS 
We asked readers to name the sexiest thing they did last year. We also wanted them to name the one sex act they want to accomplish before they die. Thousands of people wrote in their answers, and two major themes emerged; one surprising, and one not. 
Unsurprisingly, people really want to have a threesome before they die. Surprisingly, a fair number of people want to be pegged, and a fair number of people want to find someone to peg. People: If you want to get pegged or if you want to peg someone, just ask!! Chances are your partner will be into it!! 
Anyhow, here's a selection of the best answers to the following questions. 
What's the sexiest thing you did in 2022?
Fucked an older Seattle politician. [Eds note: Please email Stranger editor Rich Smith with the name of the politicians. I promise to keep you anonymous, I just need to know.) • A particularly intense BDSM impact scene on my birthday. • Wore a butt plug to a party with my partner occasionally "checking on it" during the event. • Spit-roasted by strap-ons. • Fucked on a whale watching boat. • Have sex on a kayak in the middle of a lake. • Fingerbanged on the highway while driving to Westport. • Someone went down on me during the day in the Costco parking lot. • Stopped chasing the person that was breadcrumbing me. • Bukkake. • Met someone while dancing tango at Century Ballroom and quickly left with them for a few rounds of very rough sex. • Started therapy. • Was tied up and choked and it was hot as hell. • Fuck a catboy on a stage with an audience, high on acid. • Skinny dipping in Puget Sound in the phosphorescence with my lover. • Fucked myself with a hairbrush. 🙃 • Jacked off in Husky Stadium. • Bought a Wartenberg wheel! • Scheduled my partner's vasectomy. • Got a hysterectomy. • Was an impact piñata at a party. • I had sex on a beach at dusk in Abu Dhabi after taking shrooms. Exhilarating. • Mastered the art of shower sex. • Threesome against the window at the Hyatt while people watched. • Learned to love my sexy plus-sized body in lingerie. • Fisted my own ass. • S/M sex in a cage followed by bukkake at CSPC. • Got married. • Got divorced. • A particular weed strain made me communicate with and turn into an intergalactic space slug vagina. • My first threesome! And then a couple weeks later my first foursome! • Just being left the fuck alone. • I hooked up in a flight simulator at a major airline's training facility. • Had honest conversations about my desires. (Sexy because that's new for me! And damn the sex was incredible after that.) • Kidnapping and chloroform roleplay. • Had my partner use my underwear to tie my ankles together. • Yanked my partner around the apartment by a leash and made them kiss my feet before riding them into a consensual forced orgasm. • Paid off my debt.
What is one sex act you want to accomplish before you die? 
Peg a dude I kind of dislike. • I want my wife to sit on my face. • Orgy commander. • Phalloplasty so I can FUCKKKKK. • Amazon position. • Orgy at a furry convention. • Edging in full bondage. • Six or more ppl bi orgy with everyone engaged. • Gloryhole. • Have sex a second time :( • Sleep with a prostitute. • Tied to the bed and ridden for 24 hours straight (with lots of water breaks). • A nice, friendly gang bang? • Have sex with a person from every continent. Only Africa to go! • A specific person on a specific staircase. • Basket fuck. • Cumming on my straight buddy's face. • Orgasm while my partner is talking dirty to me and closing off my nose and mouth. • Punch fist my husband. • I want my partner to euthanize me by sitting on my face. • Fuck Vin Diesel. • Threesome. • Foursome. • Gangbang with at least five men during which I'm restrained and blindfolded for at least a portion of the time. • ORGY ORGY ORGY! • Piss orgy. • A gay orgy. • Roman orgy with togas and wine and grapes. • Orgy with hairy furry fun bears/daddies in my house and garden. • Be in a train of men fucking each other in the ass all at once or receiving bukkake or fucking a bottom with a group of men bare one after another in a single file line. • I want to be beat up by a woman. • I WANT A GIRL TO FART ON ME. • Get tamed (I am an untameable brat). • Be a cumdump for 3-6 guys (not a bottom but trying!). • Group sex at 30,000 feet, and/or learn to fold a fitted sheet correctly. • I want to fuck someone in the classic lit section of the Seattle Public Library. • I would love to have sex in the Olympics. • Sex in Chinese balloon. • Fuck in a hot air balloon. • Give a blowjob on the Space Needle. • I'd like to have sex on a roller coaster. Probably just hand stuff, I'm not trying to die. • One of us dies of a heart attack/stroke during the act. The perfect ending. • Act and also direct a gay porn, but a happy nice one. • I'm done, thank you.
---
Thanks for taking The Stranger's Sex Survey! If you want to see all the raw data from this year's survey in attractive graph fashion, CHECK THIS OUT. Remember, you can help keep The Stranger going by making a small contribution, and we'll keep bringing you fun stuff like this sex survey!