We need your help. The economic fallout of the coronavirus crisis is threatening our ability to keep producing the stories you've come to love. If you're able, please consider making a monthly contribution to The Stranger.
---
The presidential election is nearly in a stalemate. And yet, shortly after 2:20 in the morning at the White House, Donald Trump spoke to a crowded room of maskless supporters and falsely claimed victory.
"I want to thank the American people for their tremendous support," Trump said, noting his successes in the battleground states of Texas, Florida, and Iowa. With no evidence, he then claimed that "a very sad group of people is trying to disenfranchise" the votes of his supporters. "We were getting ready to win this election," Trump said. "Frankly, we did win this election." With significant amounts of votes left to count in Wisconsin, Michigan, Pennsylvania, Georgia, and many other states, Trump had not won this election.
Sponsored
Custom framing, photo frames, printing on metal, paper and canvas.
"This is a major fraud on our nation," Trump claimed, wildly suggesting he would make the Supreme Court halt the counting of the rest of the votes. He rambled that "we don't want them to find any ballots at four in the morning," even though Trump will need more votes to win the election. At the moment of Trump's speech, Biden led in votes and pathways to victory.
TWITTER CAN'T WAIT TO BAN DONALD TRUMP
11:20 PM
With hundreds of thousands of votes still left to count in states across the country, it's too early to call anything presidential. It might be that way for several more days. In the meantime, Trump seems to have found his phone and blasted out more misinformation—this time claiming on Twitter and Facebook that "they" are trying to steal the election. Twitter and Facebook both added a label to the post indicating that it was misleading, with Twitter limiting likes, RTs, and replies on the post. Facebook, on the other hand, allowed users to continue sharing the message without restrictions. Just ban him!
Meanwhile, there's still a tight tie for control of the House and Senate. The New York Times estimates that Democrats have 46 Senate seats, Republicans 47, with 7 left in play. Over in the House, it's looking a little better, with 176 to 169. There are still 90 seats left to call. (The exact numbers vary a bit from one news outlet to another, but they all paint the same picture.)
If you need something to stress-read while you wait for more returns to come in, check out this FASCINATING thread about why there's an unusual strip of Democrat-leaning counties in the south that matches the shoreline of North America during the Cretaceous. It has to do with soil sediment, slavery, and the Voting Rights Act.
A Democratic blue swoosh running through the heart of the South. As if a painter just swiped a blue brush down the edge of Arkansas and Louisiana, and then swooped up through Mississippi, Alabama, Georgia and into the Carolinas. pic.twitter.com/kQtYdGPlpc
— Latif Nasser (@latifnasser) November 2, 2020
WHY DID A MAN WITH NO LEGAL EXPERIENCE WHO SUSPENDED HIS CAMPAIGN FOR WASHINGTON STATE SUPREME COURT JUSTICE RECEIVE 30% OF THE VOTE???????
10:30 PM
Alright, our brains are mostly mush, but we've gotta talk judges.
At least 31% of Washington is just fucking racist. Or sexist. Or both.
The Washington State Supreme Court races are turning out well, don't get us wrong. But, Richard S. Serns, the guy running against G. Helen Whitener, one of the two women of color running for re-election on the Supreme Court, received 31% of the vote. What the fuck? What the fuck? For one, Serns has no legal experience. The bigger thing, though, is that Serns suspended his campaign. So, clearly, people were voting based on name alone.
And, while we're at it, Raquel Montoya-Lewis, the other woman of color running for re-election and the first Native American ever to serve as a Washington State Supreme Court Justice, should have a way bigger lead over Dave Larson than 58% to 40%. At least Larson has legal experience, but he's unqualified! He's a small-time Federal Way judge. Both women expressed concern to the SECB about their races based on people voting just on a name alone. Be better Washington.
Meanwhile, in King County, Hillary Madsen, the progressive daughter of Washington State Supreme Court Justice Barbara Madsen, is beating experienced trial lawyer Andrea Robertson 55% to 45% for King County Superior Court position 13. The race for King County Superior Court position 30 between the incumbent with a bad record on race, Doug North, and Boeing lawyer Carolyn Ladd is tight. North is leading 51% to 48%. We'll see how these next ballot drops shake out for that one.
CAROLYN LONG CAN'T CATCH A FUCKING BREAK
10:20 PM
The Congressional races in Washington are disappointing but not catastrophic. Over in the 8th Congressional District, Kim Schrier's looking good with an 8.5-point lead over her opponent, Jesse whateverthefuck, thanks to an incredibly strong showing from King County.
Meanwhile, the business-friendly candidate in the 10th Congressional District, former Seattle Chamber of Commerce CEO Marylin Strickland, will probably end up filling Rep. Denny Heck's old seat. She's leading the progressive State House Rep. Beth Doglio by 14 points, with over 50% of the vote share. Strickland would become the first Black member of Congress the state has ever sent to D.C.
Washington State University - Vancouver professor Carolyn Long spent all day waving signs in today's "torrential downpour," she said during a post-ballot-drop statement, and came out tonight looking worse than she when she challenged Republican incumbent Jaime Herrera Beutler back in 2018. Long trails JHB by a little over 8 points. By this time in 2018 she only trailed by 4 points. If the later returns down there really swing her way, she might have a chance, but otherwise the prospects of flipping the 3rd are looking pretty bleak.
NOTHING TOO UNEXPECTED HAS HAPPENED IN THE SENATE RACES, SO WHY DOES THIS HURT
10 PM

Sen. Joni Ernst (R) has won reelection in the Iowa Senate race, fending off a challenge from Theresa Greenfield (D), according to Decision Desk. #IAsen https://t.co/vOAZ9XIXVq pic.twitter.com/rh3pMtDXau
— Vox (@voxdotcom) November 4, 2020
So far, the only seat to flip from red to blue has been in Colorado WHICH IS FINE... for right now. Republican incumbent and Trump lackey Sen. Joni Ernst of Iowa was declared the winner in her race against Democratic opponent Theresa Greenfield. This is something we expected and it was always going to be close. But the fact still makes our stomach hurt. Trump won Iowa a few hours ago and Ernst rode his coattails to victory in the Hawkeye State. We're still waiting to hear back from the battleground states of North Carolina, Georgia, Arizona, Montana, and Maine.
DEMOCRATS LEAD 9 OUT OF 10 STATE EXECUTIVE RACES
9:40 PM
Democrats
lead
in all but one of Washington's ten state executive races. All of those nine candidates finished Tuesday night with comfortable leads. But, it's not over yet for the Secretary of State race, the last Republican outpost in the state's leadership.
Our boy Jay Inslee hung onto the Governor's Mansion, Denny Heck (not the Dem we wanted) secured the Lieutenant Governor's race, Mike Pelliciotti absolutely blasted the Republican incumbent out of the State Treasurer's office, Pat McCarthy will live to see another day as the State Auditor, same with Bob Ferguson as Attorney General, Hilary Franz as the Commissioner of Public Lands, Chris Reykdal as the Superintendent of Public Instruction, and Mike Kriedler as Insurance Commissioner.
Gael Tarleton is still duking it out for Secretary of State with Republican incumbent Kim Wyman. Wyman leads 51% to Tarleton's 48%.
"I've been saying it since we got started," Tarleton told the SECB, "but it is critically important that we count every vote, no matter how long that takes. We still have a lot of ballots to count before we have official results, and I am looking forward to ensuring that every Washingtonian's voice is heard."
STRANGER PICKS AND ALSO FRANK CHOPP HAVE BIG LEADS IN SEATTLE LEGISLATIVE RACES
9:10 PM
In the 37th Legislative District,
Kirsten Harris-Tally
boasted 66% of the vote after the first ballot drop.
"Those are some definitive results when 66% has been counted and you see that margin," Harris-Tally told us over the phone. She pretty much called it right then and there. "That feels like a pretty solid determination if you ask me."
Harris-Talley called this a win for the district. "It means that folks understand we've built something with community for community," Harris-Talley said. She said her first priorities in Olympia would be pushing some juvenile justice bills across the line, passing that damn renters' rights bill that "should have passed last session," and making the rich pay their fair share, ideally with a capital gains tax. Get their asses, KHT.
Meanwhile, in Legislative District 11, David Hackney just trounced incumbent Rep. Zack Hudgins. Hackney said he believed The Stranger's endorsement "legitimized a first-time candidate against an 18-year incumbent."
Hackney picked up our call from the restaurant Joey in the South Center Mall, where he was eating with his friends. While he was cautiously optimistic after the primary results, Hackney said he was nervous because his opponent "outspent" him. "I wasn't sure what impact that spending would have," Hackney said.
Well, Hackney is sitting pretty with a 61.3% lead, so we don't suppose that spending mattered too much.
Liz Berry leads her competition and former book club partner Sarah Reyneveld 58% to 41%. Berry said Reyneveld hadn't contacted her yet. She does have 121 unread text messages—which is big, Berry said, because she's an "inbox-zero kind of girl." Her first text was from the third candidate in the race, Jeffrey Cohen, who we called "a cheery pile of protein powder." Cohen texted Berry, "Congrats! So awesome :)."
Over in the 43rd district, our favorite grassroots socialist didn't pull through. Sherae Lascelles ended up with around 33%. Rep. Frank Chopp, with nearly 67% of the vote, will stay the representative of the 43rd district. He didn't pick up our calls but he sent us this little text:
"I am grateful for the support of the voters of the 43rd. I am ready to continue working with our community to advance policies that will improve behavioral health care, childcare, affordable housing, and more. Thank you so much!!!"
Thank you, Frank. We are picturing you dressed as a battle dwarf forever and always. When we asked Lascelles whether they believed their campaign had an impact on Chopp, they responded plainly, "Well, this is the most left he's ever been."
OH AND, THIS ISN'T A SEATTLE RACE, BUT WE WOULD VERY MUCH LIKE TO MENTION THE FACT THAT Ingrid Anderson leads former bank executive and living blockade to progressive taxation/modest climate policy Mark Mullet by a little less than 1,000 votes in the 5th LD. If she maintains her lead, Mullet will have plenty of time to enjoy his ice cream shops and his new relatively moderately priced in-ground pool.
I GUESS WE SHOULD MENTION THAT MOUNTAIN ZADDY SCORED A THIRD TERM, AND BIDEN WON WASHINGTON
8:50 PM
One of the evening's few certainties: Jay Inslee defeated Loren Culp, the spawn of a Facebook algorithm and a slow news week at Fox. Inslee leads Culp by nearly 20 points, though a couple smaller red counties don't appear to have dropped their results yet. But no matter the outcome in those counties, the Gov will coast to his third term, according to the
Associated Press
.
The AP also called Washington for Joe Biden. At least he's winning something tonight.
SEX ED IS LOOKING SAFE
8:40 PM
Referendum 90 is leading right now with ALMOST 20 POINTS TO SPARE. The measure asked voters to approve a bill state lawmakers passed last session, which mandated—*takes a deep breath*—comprehensive, scientifically accurate, sexual health education statewide. Now, students across the state will have the opportunity to learn about how their bodies work, and how not to rape people or bully our LGBTQ youth.
At an online pro-R90 campaign rally, Democratic Rep. Monica Stonier said, "I go to sleep right now knowing thousands of victims, thousands of students, and thousands of would-be victims are not going to have the experience that many of us have had."
The bill will "make sure that young people can walk in as their full selves," State Sen. Claire Wilson said.
Republicans tried to use this bill as a turnout mechanism for their base, and right now it's looking like they just don't have enough base left in this corner of the country.
EVERYTHING WE SAID YES TO IS LEADING IN KING COUNTY
8:25 PM
Police reform is winning.
With over one million votes counted, King County is so far saying "yes" to all the Charter Amendments with pretty cushy margins. Charter Amendment 5, which would make the Sheriff an appointed rather than elected official, is leading 56.6 and 43.4, which sticks it to the Sheriff's guild, who wanted to maintain their iron grip over their budget. Charter Amendment 6, which allows the county to change the duties of the Sheriff's office, is leading 63% to 37%. The rest of the amendments don't do that much, but they're good to have, and they're all leading. King County Councilmember Jeanne Kohl-Welles, who helped lead the campaign, said she's "feeling wonderful" about the amendments. "Amazing margins," she added. About the Presidential contest? "So far highly nervous…" King County Councilmember Rod Dembowski gave us a "thrilled and honored."
King County Councilmember Girmay Zahilay said he was "so pumped" to see the results. "When I saw the police unions had spent $217,000 on a misinformation campaign to defeat the amendments, I did get worried. But this is a clear sign that King County is ready for change and true police accountability. These Amendments open the door for the future of public safety and I'm excited."
It's been an honor to campaign for all seven charter amendments with my colleagues @GirmayZahilay and @KohlWelles. We are honored with the strong YES vote for all amendments and are ready to get to work on meaningful reform. #Charter4Justice
— Rod Dembowski (@RDembowski) November 4, 2020
People seem to like to spend money on crumbling hospitals during a pandemic!! Again, we'll have a better idea later this week, but right now King County Proposition 1 is sailing to victory with a 77.5% of the vote share. The prop needs 60% in order to pass. If this share holds for a few more days, Harborview will get some more beds and some more protections against earthquakes.
Seattle is saying yes to transit. With 81.6% of the vote, it's looking like Seattle is more than willing to renew and slightly increase a sales tax to keep our transit system speedy and fair. Holy shit.
Transportation Choices Coalition Executive Director Alex Hudson says: "Seattle has proven once again that they want a transit system that works for people, works for the planet, and works for our economy. This is a big, important win for essential workers, low-income folks, the BIPOC community, and everyone who wants an irresistibly good transit system."
POLLS HAVE CLOSED IN THE WEST AND WE'VE GOT SOME RESULTS TO SORT THROUGH, BABY!
8:15 PM
Give us a second to sort through
this big ass ballot drop
. Check out King County's first batch of votes
here
. BRB.
VICTORY FOR THE SQUAD; QUEERS ARE TAKING OVER
8:10 PM
Some good news coming in: Alexandria Ocasio-Cortez won her re-election (never really in doubt) and Ilhan Omar is going back to Congress. In Illinois, Justice Democrats-endorsed Marie Newman won her House race. Democrats are narrowing the gap to win the House, and are currently tied with Republicans for control of the Senate.
The thing about Republicans putting four popular women of color on their ads across the country & acting as though they're running against us everywhere is... people kinda like what we fight for: healthcare, housing, climate, & justice for all. 💜https://t.co/Qp8XEchhlm pic.twitter.com/fS5u0CeubB
— Alexandria Ocasio-Cortez (@AOC) November 1, 2020
Meanwhile, The Victory Fund is reporting a slew of victories for LGBTQ+ candidates: Kim Jackson will be the first openly queer person in the Georgia state senate, Jabari Brisport is the first queer person of color elected to the New York state legislature, and in Delaware, the excellent Sarah McBride will be the country's first openly trans state senator. Hooray for them! Now back to nervously drumming your fingers about the presidency.
IF MACKLEMORE'S GOATEE HAS A NAME, WE DON'T WANT TO KNOW IT
7:50 PM
About 230 people turned in to watch the Washington State Democratic Party's party featuring Gov. Jay Inslee and Trudi Inslee, the entire Democratic Congressional Delegation, and a version of Mackelmore we haven't quite seen before.
The local rapper delivered a few bromides, acknowledged the importance of the current election, reaffirmed his support of the Black Lives Matter movement, and offered "peace, love, and much appreciation." What else could he possibly give.
The Inslees opened up the evening on a black-and-white polka-dotted couch in a wood-paneled room praising the act of voting. "Even before we count the votes we know it's a good night because we've had so many people vote," he said. He then congratulated the Democratic Congressional delegation, who would later appear Brady Bunch style to offer their praise of the party, and then he described the Democrats as the party who meet challenges rather than dodging them, like "the current occupant of the White House."
"I'm optimistic about tonight, I'm optimistic about our team," he said.
*Looks at the polls in Ohio.*
SHERAE LASCELLES IS "FEELING GOOD," DOES NOT GIVE US MUCH MORE TO WORK WITH HERE
7:45 PM
Sherae Lascelles, the challenger in the 43rd Legislative District giving Rep. Frank Chopp the first significant run for his money in decades, is currently hosting a livestream. We tried multiple times to get into the livestream. Unfortunately, it didn't work. However, Lascelles picked up the phone we called, then parsimoniously doled out descriptors of their evening. They said they were "listening to happy music" and "feeling good." When we asked them about the impending ballot drop, Lascelles said, "Anything is possible" and "regardless of the results, this isn't the end." Unlike in the
Stranger Debates
, Lascelles did not have a wall of their mailer-covered soup cans around them. Nor were they wearing a blue cheetah onesie like in the August primary.
Chopp did not answer our emails or calls.
THE TRANSIT ADVOCATES ARE HAVING A WHOLESOME GOOD TIME BEFORE BALLOT DROP
7:39 PM
We tried to covertly join the Seattle Proposition 1 Zoom party to fund the Seattle Transportation Benefit District (STBD), but they recognized us. We had to *gasp* unmute. But, it was fine. Everyone at this virtual party (hosted by Disability Rights Washington—Disability Mobility Initiative, Seattle Metropolitan Chamber of Commerce, Seattle Transit Riders Union, Share the Cities, Sierra Club Seattle Group, and Transportation Choices Coalition) was nice and passionate about buses.
One transit advocate was wearing a vintage maroon and mustard King County Metro sweater. Arm stripes galore. "That's a rad jacket," another transit advocate said. Someone pinned the sweater-wearer's video. This sparked a whole conversation about bus driver attire nationwide. Apparently, the Hawaii bus driver uniform is highly coveted. Someone launched into an anecdote about how, while phonebanking, they found someone who voted for Trump and for transit. A rare find!
Prop 1, if it passes, will maintain 15-minute bus service city-wide by boosting a pre-existing sales tax by 0.05% to a grand total of 0.15%. The measure was written before I-976, Tim Eyman's car-tab capping measure, was struck down as unconstitutional. Car tabs usually help supplement transit funding for the STBD. When we asked about Eyman, the Transportation Choices Coalition Executive Director Alex Hudson replied, "Tim who?"
Hudson said she and the other transportation advocates are "eagerly awaiting our victory." Hudson also said she will "absolutely cry tonight" since she's a Cancer and "crying is my love language."
LADY G KEEPS HIS SEAT
7:30 PM
Former Gov. John Hickenlooper (D) has won the Colorado Senate race, Decision Desk reports.

This is a key pickup for Democrats; he will replace Cory Gardner (R) in the Senate. #COsen https://t.co/EKaX7a8m3Y pic.twitter.com/RuX1W02OAc
— Vox (@voxdotcom) November 4, 2020
Ok, let's start with the good news. Republican incumbent Sen. Cory Gardner in Colorado has lost his Senate race to Democratic challenger and former governor of Colorado John Hickenlooper. Hickenlooper was widely favored to win the seat in the purple state, which is one of ten potential seats that could help flip the fucking Senate from Republican to Democrat. Boy oh boy, we don't think we've ever been this excited for a moderate bumbling politician to make his way to Congress. But it's the first step in the fraught road toward retaking the Senate.
Now for the bad: Trump henchman and Republican incumbent Lindsey Graham won reelection. It's not too much of a surprise—though Democratic challenger Jaime Harrison raised a boatload of money against him and the race was close, South Carolina was very much in the bag for Trump and thus Graham. Like in 2016, many analysts predicted that split-ticket voting this year would be less likely due to increasing partisanship across the country. Plus, Harrison had to appeal to the diverse coalition of Black, independent, and disaffected Republican voters in the Palmetto State. Despite Harrison giving Graham the "fight of his political life," it wasn't enough to stop the cretin's roll into his fourth term in the Senate. A fucking shame.
More expected bad news just coming in is Democratic incumbent Sen. Doug Jones of Alabama losing his seat to the former coach of the Auburn University football team Republican Tommy Tuberville. His loss makes the Democrats' chances of winning back the Senate that much more challenging.
HERE IS WHAT KHT IS EATING, WE'RE SORRY WE HAVE NOTHING ELSE TO OFFER, WASHINGTON'S STILL VOTING
6:55 PM
Kirsten Harris-Talley, former NARAL Pro-Choice Washington executive director and interim city council member (and
noted mage
), won the August primary for the 37th Legislative District by over 50%. Some would say she has it in the bag tonight as she faces off against Chukundi Salisbury, Seattle Parks engagement manager and Omari's brother. KHT is hosting a livestream at 7 p.m. She invited us to join in (
here's the link
), but every other campaign seems to be having a 7 p.m. livestream, too, so who knows where we'll pop in. Maybe everywhere. Maybe you can see our eyes bleed from too many Zooms LIVE on ZOOM.
Look, it feels bad to report on party finger food when the nation seems intent on giving Donald Trump electoral votes, but Washington won't drop ballots until around 8:15 and we have NOTHING ELSE to go off of here. So, enjoy THESE DETAILS: KHT is savoring some chicken tacos from Tacos Chukis, apps from Chef Kristi at That Brown Girl Cooks, and a delicious hot chocolate from Luis and Leona at The Station. She's fairly certain she'll cry tonight. And, if we were in-person tonight—and we'll never forgive COVID-19 for this—KHT would have a party with "so much karaoke." SIGH. We'll just sit here eating our Trader Joe's Sesame Stix thinking about what could have been.
If she wins, KHT says she'll put on "Joy in Resistance."
WASHINGTON STATE BATTLEGROUND DISTRICTS
6:30 PM
The Democrats will retain their large majorities in the State House and the State Senate. The only question this week will be what those majorities look like.
Democratic spokespeople for the House and Senate campaign committees say the party could pick up a couple seats in the Senate and either break even or pick up a couple seats in the House. The races to watch include...
SENATE
5th LD: A Dem on Dem battle between DINO Mark Mullet and psychiatric nurse Ingrid Anderson. We're looking forward to this one.
10th LD: Democratic hopeful Helen Price Johnson could upset one-term Republican State Sen. Ron Muzzall.
16th LD Democratic candidate Danielle Garbe Reser hopes to fill this open seat left vacant by Sen. Maureen Walsh in this typically red district. She's taking on Republican Walla Walla County Commissioner Perry Dozier.
17th LD: Democrat Daniel Smith takes on Sen. Lynda Wilson, an arch conservative who buys into anti-vaxxer bullshit.
19th LD: Dems will try to retain longtime Sen. Dean Takko in this coastal district, but the reddening region may prove too difficult to shake tonight. Takko trailed in the primary, but historic turnout could save him.
25th LD: Democratic Puyallup Mayor Julie Door is taking on Trumpy Republican incumbent Chris Gildon. Dems are hopeful Door will do better this week than she did in the primary, when two Republican candidates on the ballot perhaps drove more conservatives to the polls.
28th LD: Democratic challenger T'wina Nobles led the primary against Republican State Senator Steve O'Ban, which turned this Pierce County contest into the spendiest legislative race in the state, with PACs spending nearly $1 million against her. A Democratic Senatorial Campaign Committee spokesperson said she was "cautiously optimistic."

HOUSE

Over the last few cycles, Dems have picked all the low-hanging fruit in the state, kicking all but one Republican out of King County. They'll largely play defense this cycle, though a House Democratic Campaign Committee spokesperson thinks they could pick up a couple if things go really well.
Tough seats to hold include Rep. Brian Blake's seat over in the 19th LD, Dave Paul's seat up in the 10th LD, and Sharon Shewmake's seat up in the 42nd LD.
The Dems also need to hold three open seats, which they hope to fill with Jamila Taylor in Federal Way's 30th LD, Dan Bronoske down in Lakewood's 28th LD, and April Berg up in Snohomish's 44th LD.
Offensive plays take us back up to the 10th and the 42nd LDs, where Democrats think former Island County Commissioner Angie Homola and Psychotherapist Alice Rule have a good chance of winning. If things go well, Tanisha Harris could kick super-conservative Republican Rep. Vicki Kraft out of office down in the 17th. Over in the 6th LD Zack Zappone might pull a rabbit out of a hat, and in the 26th Jamie Smith might do the same.

SENS. MITCH MCCONNELL AND TOM COTTON LIVE TO SEE ANOTHER GODDAMN DAY IN THE SENATE
6:25 PM




There's not much worth saying on the presidential front just yet—Biden's ahead in the total number of electoral votes, but Trump looks likely to win some key swing states. There's just not enough information yet to say anything about that race, so you can safely ignore it for the next few hours rather than pacing anxiously. (In fact, it's possible there won't be anything definitive to say at all tonight.)

As we wait for some of our more contested Senate race results to come through, the dust has cleared on a few, more obvious races. Cryptkeeper and Senate Majority Leader Mitch McConnell won his bid for reelection in Kentucky and will be around for another wretched term in office (his seventh). Despite the Democrats and challenger Amy McGrath's $100 million attempt to unseat the troll, it looks like the people of Kentucky made good on whatever deal with the devil they made to keep McConnell in power for so long.

Trump 2.0 and incumbent Republican Sen. Tom Cotton of Arkansas (that name just sounds racist, doesn't it?) has won a predicted victory against Libertarian challenger and political newcomer Ricky Dale Harrington, laying "the groundwork for a potential 2024 White House bid." Suppose you're not familiar with the 43-year-old Senator from The Natural State. In that case, you might remember him from his New York Times op-ed, where he called on Trump to use the military to handle the "looting" and "rioting" in the wake of the murder of George Floyd in Minneapolis. Yeah, fuck that guy.

Overall, Democrats are slightly ahead in winning the Senate. Democratic Sens. Ed Markey of Massachusetts and Cory Booker of New Jersey both easily slid into another six-year term in the upper chamber of Congress.

In most of the other key races, it's still too early to make a call. I mean, you could make a call, and some outlets are frantically screaming their projections to anyone who will listen; but because the data is still so spotty those projections keep changing from one minute to the next so there's no point in listening. So for now, everyone will just have to suffer in suspense. Go eat your Halloween candy and play some Crash Bandicoot, we'll keep an eye on things for you.
This feels like a gender reveal party except one of the genders is "nuclear bomb."
— Carlos Maza (@gaywonk) November 4, 2020
LIZ BERRY'S MARGARITA RECIPE IS PERFECT
5:40 PM

We just squeezed OUNCES of lime juice into our SLOWLY HEALING FINGER WOUND. Thanks, Liz Berry, candidate for the 36th Legislative District, and your homemade, chalk-full-of-limes margarita recipe. Also, thanks for this entire margarita kit, which was a bribe for only one SECB member. Berry has made this cocktail her personality ever since we misspelled one of its ingredients in the primary; she even made one on-air during the Stranger Debate between her and her opponent, Sarah Reyneveld. We understand why. This is the best margarita we've ever had, Liz.

PRO-SEX ED TEAM DRINKS MINI PROSECCO, HOT COCOA, AND IS PLEASED THEY DON'T HAVE TO DEBATE WITH PRUDES ANYMORE
5:25 PM




Oh god, there's so much going on. We don't know what's happening. But, we just got off the phone with Courtney Normand, the tired Planned Parenthood spokesperson for Approve Referendum 90, the measure that asks voters' opinions on the comprehensive and inclusive sex education legislation that the legislature already passed. Normand just finished up a little election night Zoom—"our little virtual Westin," Normand said (she wore a gold sequined top to feel glamorous)—with the campaign, heard some words from science thot Gov. Jay Inslee and sex-ed champion Superintendent Chris Reykdal, whose palms are probably feeling a little sweaty ahead of tonight's ballot drop for his own race for re-election. Normand said the party was lubed up with tears. Happy tears, sad tears, frustrated tears.

The opposition campaign has rammed fucking nonsense about kids fucking and other sex-ed misinformation into Washingtonian's brainholes for months. Normand is optimistic about Washington voting to approve Referendum 90, but she's interested to see how effective the opposition's misinformation campaign was. "I have like a personal nemesis now…" Normand muttered, referring to Reykdal's opponent Maia Espinoza and her claims that Referendum 90 will teach fourth graders the Kama Sutra. Either way, she's happy she doesn't have to keep debating people whose real issue with the sex-ed bill was their opinions on the LGBTQ youth, Normand said.

Normand and the rest of the Approve Referendum 90 campaign will tuck into the goody bags she and her co-campaign manager from the ACLU dropped off. It contains mini Prosecco, hot cocoa, and confetti. Run yourself a hot bath, Courtney. Drown in some bubbles and sip that cocoa. In the meantime, we're going to drink our weight in homemade margaritas.

SEATTLE PARKS & REC EMPLOYEES PISSED ABOUT COPS USING PARKS VEHICLES DURING PROTESTS TONIGHT
5:15 PM




On Tuesday morning about 40 union Seattle Parks & Recreation employees signed an open letter to Parks Superintendent Jesús Aguirre objecting to the Seattle Police Department's plans to use Parks vehicles during election night protests, which some nervous Nathans believe may grow abnormally large.

The group said they learned SPD plans "to use a number of vans" from "community centers to facilitate deployment of SPD officers."

They argue cops using Parks vehicles for protests "makes SPR appear complicit in any violence against protesters that the police commit while using these vehicles," "undermines public trust in SPR and associates our public reputation with violence," and "puts SPR resources at risk during financial austerity." Plus, the employees argue, SPD has plenty of money—they can use their own buses and vans.

SPD often uses violent tactics and chemical weapons in response to ongoing protests. According to the Seattle Times, the Office of Police Accountability opened 128 investigations of alleged police misconduct at protests following 19,000 complaints leveled against the department over the course of summer.

A spokesperson for Parks directed me to Kelsey Nyland, a spokesperson for the Mayor's office, who confirmed that the cops plan to use vans from the Parks department tonight.

SPD "routinely uses City vehicles to monitor and respond to demonstrations," Nyland said, noting that "decreasing visible officer presence at demonstrations was one of the recommendations in the Office of the Inspector General review of SPD's crowd management policies."

According to that report, the OIG included "decreasing visible officer presence" as a possible way of "managing the actions of a large, stationary, volatile crowd." The crowds lately have tended to stay mobile.

Nyland said the City will cover the Parks logo on the vans and add SPD's logo "to ensure there is no confusion regarding the use of the vehicles."

NATIONAL VOTING PROBLEMS: DON'T BELIEVE EVERYTHING YOU READ
4:05 PM




Nationwide, today was a relatively boring day of voting—considering the state of things over the last few months—with only a handful of glitches and disruptions. We won't have any meaningful information about vote counts for another few hours, but in the meantime keep your wits about you when glancing at social media because there's a lot of misinformation floating around today. For example, Trump people passed around images that they (incorrectly) claimed shows illegal campaign posters hung at polling places. But that's not true; officials went and investigated and found that the supposedly illegal posters are a perfectly fine distance from the actual voting. So if you see someone tweeting about some outrage or another, just take a moment and ask yourself if maybe the person spreading it around has a particular agenda or axe to grind. To be sure, there have been a few cases of illegal activity: Robocalls urging people to stay home, delays in reporting due to extended hours, machines not working. But those issues were quite isolated, so there's no need to freak out. Relax, everyone. It's going to be a long night.

LET'S GET THIS PARTY STARTED, BABY!!
4 PM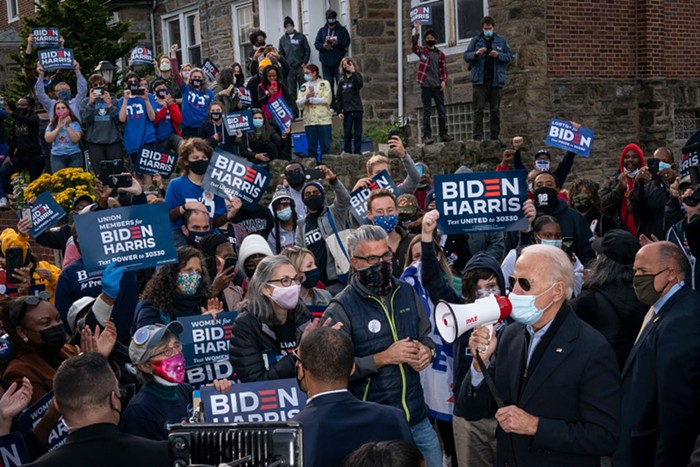 Hello Seattle! Welcome to what could be the last election night in the United States of America!! If Trump ends up winning this thing, the Stranger Election Control Board will move underground and start screen-printing revolutionary pamphlets for the Cascadia Resistance or whatever, but until then we shall remain strong and blogging.

Tonight, we'll start getting some answers to a couple vital questions: Do we have any shot of preserving what's left of democracy, or will we elect the dictator again? And will the Democrats rip the gavel from Mitch McConnell's lifeless claws, or will the orcs retain their control of Congress?

Nate Silver figures there's "probably" a 60% chance that Joseph R. Biden Jr. wins and we'll know at midnight PST, a 30% chance Biden wins but we'll know much later, and a 10% chance that Trump wins. He also puts the chances of Democrats taking back the Senate at 75%. Whatever the case, there is a 100% chance that the SECB will be up, a little toasted, and reheating strange teas until we know what we know and what we don't know.

Unfortunately, the third wave of the deadly pandemic will prevent us from hotboxing the Stranger's Mystery Van and crashing election night parties around town like we did in the days of yore, but a little COVID won't stop us from bringing you high-quality election night party content from the safety of our congregate housing settings and cluttered studio apartments!!

That's right, we've got a bunch of Seattle-area candidates on the horn, a bunch of Facebook live links at the ready, a bouquet of CBD oils to rub on our temples at crucial moments throughout the evening, and we're ready to write some fuckin' live posts!!!

East coast polls have closed, so we'll start seeing and tracking those results here shortly. We'll also keep you updated on the results of key Senate races throughout the evening. Around 7 p.m., we'll start turning more of our attention to Washington state. The first ballot drop happens sometime after 8 p.m., and we'll follow that with candidate reactions and snap analysis.

Here's what we're looking for: Will King County pass police reforms and save Harborview? Will churchy homophobes successfully repeal a bill designed to reduce sexual assaults and LGBTQ bashing? Will Dems sweep the executive seats? Will Democrats flip Senate seats in the 28th, 10th, 25th, 17th, and 16th Legislative Districts? Will anything weird happen with the judges? Will Seattle preserve transit? Will Sherae beat longtime Capitol Hill Rep. Frank Chopp and force most of the SECB to get tattoos??

We'll know more soon.