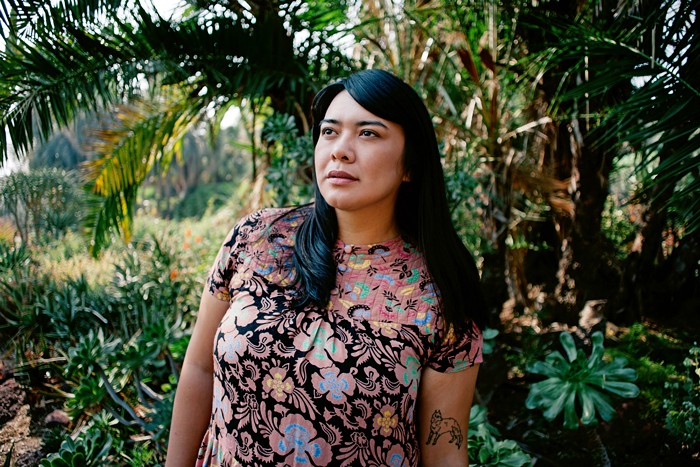 Scroll all the way down on the Seattle Art Museum's website and you'll find the following line: "The Seattle Art Museum acknowledges that we are located on the ancestral land of the Coast Salish people."
That act of land acknowledgment has been de rigueur for decades in Canada, Aoteaora (New Zealand), Australia, and many tribal nations, especially as a public statement to open an event. It's slowly gaining ground in the U.S. and is an obvious gesture of respect in a place like Seattle, the country's largest city named after an indigenous person. Indeed, Seattle is experiencing a renaissance of deference to its indigenous forebears, from a voluntary effort to pay rent to the Duwamish, who are not federally recognized, to conversation starters like the 2016 art exhibit You Are On Indigenous Land. That's some long overdue restitution for a city that banned Native people from its municipal limits in 1865.
But how does land acknowledgment resonate with an indigenous performer about to take the stage? I put that question to Katherine Paul, a rising indie rocker born and raised on the Swinomish Reservation in Skagit County. She headlines Olympic Sculpture Park tonight to close out the Summer at SAM series and plays again this weekend at THING festival in Port Townsend.
"I don't think it's meaningful at all unless Native people are involved and paid," Paul told The Stranger via telephone from her home in Portland. "If you get somebody saying oh, here's the land that we're on—yes you're acknowledging where we are, but also that's a perpetuation of white settler colonialism."
Paul made it clear that this observation is not a critique of her host, which pays all of its performers and teaching artists. SAM has opened every summer Thursday this year with an invocation by a Pacific Northwest indigenous musician. (Tonight is acclaimed flautist Paul Che oke' ten Wagner, a member of the Saanich Tribe of Southern Vancouver Island.) The museum maintains a robust collection of traditional and contemporary Coast Salish artwork. Indigenous themes course through the exhibit catalog, from Jeffrey Gibson's Like a Hammer show this year to last year's beguiling Double Exposure, which unseated the gaze of photographer Edwin S. Curtis by pairing his portraits of "noble" Natives with the work of today's living and working Native artists.
But the gesture—without the follow-through—is something that Paul has observed in her decade-plus career in indie music, ever since the Rose City's Rock and Roll Camp for Girls lured her away from the Swinomish Reservation and into Portland's thriving indie music scene, where she released her debut Mother of My Children last year and is swiftly following with her sophomore album, At the Party With My Brown Friends, on August 30 via Saddle Creek.
"A lot of indie artists have been really supportive of trying to do these land acknowledgments but everyone needs to do it in a meaningful way that isn't just a perpetuation of colonialism," she said.
For her part, Paul makes a point of acknowledging the land whenever she performs on Turtle Island (North America). "I'm someone who performs with my culture at the forefront of my music," she said.
For someone who wears that identity on her sleeve as she delivers mesmerizingly melancholic music that is propelling Pacific Northwest indie rock, she found a recent swing east to be a lonely and disorienting experience. "I grew up in a place where colonization took a while to get to us," she said. "Traveling to the East Coast, it is disturbing how white and settler colonial some towns and cities can be."
While the Northwest harbors a much more visible indigenous presence, indie rock is not exactly the medium that animates today's Native youth. "Sometimes I think about playing at my rez and about the fact that a lot of people like rap, hip-hop, and R&B," she said. "My music might not be the first thing that comes to mind when they think about wanting to listen to music."
That disconnect creates a challenge for an artist who hopes to cultivate a Native audience at her shows, a high bar in a music scene where just packing out a few-hundred-person club and making some money on a shoestring tour is the usual barometer for success. But as she tours, Paul has found her guitar-driven style connects with fans in the Southwest, where punk rock resonates with Diné (Navajo) culture.
Those kinds of experiences buoy her efforts to raise awareness of this continent's indigenous heritage in unlikely venues like basement rock clubs. "It is hard to acknowledge land when you are saying this to a room full of only white people," she said. "You feel alone—yet you have the power of a microphone and a tall stage to say the truth."
While indigenous creativity flourishes in other artforms in the Pacific Northwest—witness the spellbinding Preston Singletary: Raven and the Box of Daylight exhibit at the Museum of Glass in Tacoma through September 2—the local music scene is not flush with Coast Salish influence. Jazz-funk ensemble Khu.éex (also founded by Tlingit artist Preston Singletary) might just be the most prominent example.
Paul, who was nurtured by the DIY indie music hotbed of nearby Anacortes, home of local legend Phil Elverum (The Microphones/Mount Eerie), hopes one day to change that dynamic.
"I was one of the only kids on my tribe to trek over from Anacortes for shows," she said. "I never really thought about my identity with music and how radical that is—being an indigenous musician and playing in these mostly white communities until later in life."
While the rest of her classmates were absorbing Top 40 pop and hip-hop, Paul was diving deep into the K Records back catalog, an experience she hopes to pass on to the next generation of indigenous musicians.
"I feel like I'm the only Native person that is part of the music scene there," she said. "I wish there were more Native people involved, I'm not sure how to do that—maybe when I move back home there will be some inspiration on how to create and collaborate."