When you're coming up on one of those birthdays, a big one with a round number, you start to think back. And what I think about a lot is that I'm really fortunate, as a late-Gen Xer/elder millennial, that our drugs didn't have fentanyl in them. I'm very fortunate that the majority of my friends are still here. When we partied, we complained about our drugs being full of baby laxatives or speed. We mostly worried about how we'd behave, who we might accidentally sleep with, and what would come out of our mouths. When people did die, it was because the drugs were too pure or way too many substances were mixed.
I'm also at that age where a lot of people are choosing full or Cali sobriety, and we are really fortunate here in Washington to have that legal option. When consumed safely and responsibly, drugs can have a place in the artistic process. Fentanyl, however, makes every chance you take with street drugs a much, much riskier one. For the kids out there tonight, what can be done to protect them and ensure they can have fun and be as safe as they can be? Maybe we are never going to separate drugs from the nightlife, but we can reduce the harm. Project Night Light, the brainchild of Jamie Felton, aims to do just that.
"Project Night Light is dedicated to my coworker, Trevor Evans, at the Downtown Needle Exchange, who passed away in May," Felton explained over a pizza from Shady Lane Pizza and Pretzels inside Beacon Hill's Clock-Out Lounge. "It was through him that I was indoctrinated to the harm reduction ideology back in 2013, when I was a volunteer."
Felton began working for the Needle Exchange program as an education specialist after years of working in the service industry and nightlife.
"It technically started around that time that my coworker died of an overdose," she said. "This was when I was working at a bar on Capitol Hill, Corvus. I had Narcan in my car and I remember feeling really just sort of wracked with guilt that I hadn't thought to give it to my co-workers and my friends. That's when I decided I would start handing it out, especially to bar staff.
"That happened in probably 2017, but I didn't formalize it until during the pandemic. I had a lot more free time, obviously, and I really wanted to make sure Narcan was getting out to bars still. I also lost another friend during the pandemic to an overdose, and he also worked at a bar in Capitol Hill, so that's when I really wanted to formally protect my community and just really wanted to provide training. It's a way to grieve, kind of, and a way to protect my friends."
Felton trains bar staff in Seattle haunts on how to give Narcan to those experiencing a potential overdose. But Narcan in its nasal form, which is easier to store, administer, and faster acting than its injectable alternative, has been in short supply, making it more expensive and challenging to continue the work.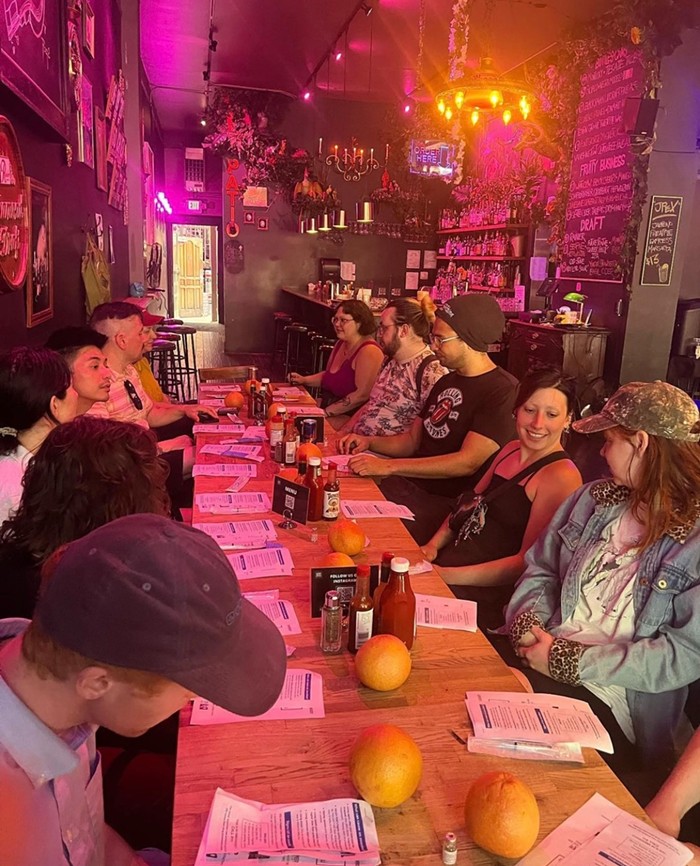 Felton would love to partner with other, better-funded organizations in the community, such as SMASH, MusiCares, Sonic Guild, or even KEXP. More funding and more helping hands would allow Felton to provide more training and maybe even expand her services to include items such as drink testing strips. For now, you'll find Felton delivering supplies to local bars herself, like she was doing at Clock-Out Lounge the night we met up.
The Clock-Out Lounge and its kitchen partners hold a special place for the Beacon Hill community. Kids are welcome until 8 pm and their concerts are often early and/or all ages. The neighborhood supported Clock-Out's previous kitchen partner, Breezy Town Pizza, through the pandemic with consistent take-out. Breezy Town Pizza decided to consolidate their locations down to Windy City Pie on Phinney Ridge in June, and Shady Lane moved in soon after and began slinging a new style of slice.
Shady Lane encourages customers to build their own pie, a necessity when trying to appease a group of picky eaters like kids, and they also have a handful of house-made selections. The pizza itself could be classified as Midwest tavern-style. The crust is stronger than a New York slice, though not as firm as Chicago or Detroit-style pizza, and it's not "bready." It's just a simple, sturdy crust firm enough to hold a variety of toppings and a generous layer of mozzarella.
Our custom sausage and shroom was delicious, with a bright sauce and all the TLC you'd expect from someone feeding their neighbors. Shady Lane is also using the ovens to fire giant pretzels that are served with a variety of sauces. I've been a couple times now and have sampled everything from the spicy horseradish sauce to beer cheese to hot honey to a homemade, dill-forward ranch.
I had bready pretzels on the brain when I was doing my weed pre-shopping. Gold Leaf Gardens' Peanut Butter Jelly Breath is a hybrid that helps with the hungries and balances a body and head high. Jamie really got the peanut butter taste and the purple kush body high. I found the pre-roll a helpful companion to downing half that pizza.
---
Donate to Project Night Light at projectnightlight.net.