📌
Happy midterm primary election night, Seattle and the Greater Seattle Area! (And an extra special hello to all of you who've been pushed out of the city due to disaster gentrification. See ya soon!) 
By 8:15 this very evening, we will FINALLY see some election results that should clear up a few major mysteries that we members of the Stranger Election Control Board have been thinking about all election season long. Namely:
Will a bunch of progressive Seattle insiders graduate to the State Legislature, or will a bunch of progressive Seattle outsiders upset the bureaucrats? 
Will the big bad red wave loom large over the state of Washington, or will it only lap the shores of the suburbs "with tremulous cadence slow," as the late great 19th-century English poet Matthew Arnold would have it?? (Please do not mock us for making use of our humanities degrees on the blog.)
Speaking of red waves: Which flavor of Republican will take on milquetoast moderate Rep. Kim Schrier in central Washington's 8th Congressional District? 
Will the progressives and socialists challenging the establishment Democratic U.S. House Reps in western Washington prevail, or at least do a little better than last time? 
As always, your faithful and immoderately stoned election correspondents have fanned out across town to bring you bite-by-bite coverage of the election night parties. Meanwhile, other members of the SECB will hop on the horn to provide live updates from parties around the state (Everett!), around the country, and even around the globe (State House hopeful Shukri Olow is in Turkey!!!). 

KEEP YOUR EYES ON THIS FEED. LET'S ROLL. 
---
WHAT RED WAVE?????
9:37 PM
The Democrats look fine statewide judging by nearly every indicator. Over the phone, Washington State Democratic Party Chair Tina Podlodowski said the expected red wave was "not even a red drip at this point."
She's right. Senator Patty Murray is way ahead of Republican challenger Tiffany Smiley.
Democratic incumbents are doing well in other Congressional races, too. None of the socialist challengers will advance, and the establishment Dems are way ahead.
Meanwhile, in the purple 8th Congressional District, where Republicans are spending a bunch of money looking for a win, Democratic Rep. Kim Schrier is leading the pack with 49% of the vote. Right now, it's looking like Republican King County Councilmember Reagan Dunn or failed Trumpy Attorney General Candidate Matt Larkin will make it through, but they're both hanging low with around 15% of the vote. This is maybe the scariest race for the Dems, but not a bad showing for Schrier.
In the State Legislature, Dems are looking fiiiiiiine as well. The party is leading in the swing districts it was worried about—the 26th (Bremerton/Gig Harbor), the 10th (the islands), 24th (Olympic Peninsula), the 30th (Federal Way), and the 47th (Covington). And up north in the 42nd LD, which covers Whatcom County, Dems miiight even be looking at pick-up opportunities. The results don't look THAT great for Dems there—none of their candidates pulled in more than half the votes, but time and attention in the area may repay efforts. "If this holds, we have the potential to pick up between one and four seats in the House, and at least one seat in the Senate," said Podlodowski. 
The general election tends to lean bluer, so if these trends do hold—and if Democrats keep knocking doors, hitting phone lines, and dumping gobs and gobs of money into Schrier's race—Washington's blue wall will stand tall. As for the rest of the country? Well, that's another post.
---
RANDALL SLAYS ON PRIMARY NIGHT
9:32 PM
Good news for the good people of Bremerton, Gig Harbor, and anywhere else in the 26th Legislative District who would like a Senator mature enough to be trusted with a district office. Incumbent Senator Emily Randall earned 16,541 votes (53.32%) which outpaced her Republican opponent Jesse Young's comparatively meager 13,215 votes (42.6%).
In a text that the SECB managed to decipher despite having lost track of the number of excellent Ballard Beer Company pints we'd imbibed at Julia Reed's victory party, Randall said the results proved her team's hard work paid off. On a night when even Kansans realized that the GOP has fully gone round the bend on abortion rights, Randall credited her unequivocal stand for reproductive rights as a key to her healthy lead.
---
THE STRANGER'S SLATE IS DOING QUITE WELL
9:05 PM
Let's take a quick little trip around Seattle:
Legislative District 34 (West Seattle)
Former Seattle Office of Housing director Emily Alvarado will very likely head into the primary with sexual assault survivor advocate Leah Griffin with a substantial lead. She's currently ahead 52% to 32.5%.
Legislative District 36 (Ballard)
Julia Reed is looking like an incumbent with 53% of the current vote share. As she mentioned to the SECB this evening, it helps that she picked up endorsements from the SECB and the Seattle Times. Administrative attorney Jeff Manson is coming in second at the moment with 15% of the vote, likely because he made it absolutely clear to everyone he met that he does not want to eliminate single-family zoning to build more housing in Seattle.
Legislative District 37 (South End)
Stranger-endorsed technology sibling and landlord (we explain ourselves here) currently leads the race with 40% of the vote. Emijah Smith, a well-known advocate in the district, comes in second with 34%. Hard to say where votes for Seattle LGBTQ+ Commissioner Andrew Ashiofu and educator Nimco Bulale will end up, since they all leaned progressive.
Legislative District 46 (Northeast Seattle)
In this expensive-ass race, physician and mental health advocate Leach Rave, who called for more "nuance" on the question of legalizing apartments everywhere in her interview with the SECB, leads this crowded field of progressives with 30.6% of the vote. But Stranger-endorsed candidate Darya Farivar is right on her heels with 27% of the vote. Either Melissa Taylor or Nancy Connolly could surge at the end, but with the Stranger's endorsement, our HUMBLE guess is that Farivar will make it through. If she does, she's gonna need plenty of money.
---
STEVE HOBBS LEADS, NEEDS TO RETURN TO DENTIST IN FOUR MONTHS
9:00 PM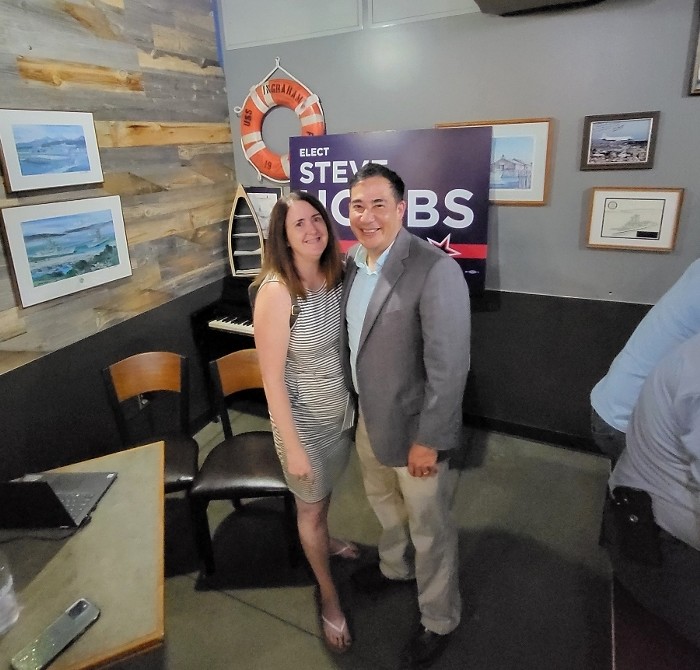 Last we saw Democratic Secretary of State Steve Hobbs he was laid up in a dentist chair getting ready for a tooth cleaning. After the election results dropped, we gave him a ring and asked him how it went. He reported "a little bit of soreness" in his gums and said his dentist scolded him and told him to come back in four months for another cleaning. "It doesn't help when your dentist is someone you went to high school with, so she can unload her dissatisfaction on me and my carefree teeth pretty easily," he said, laughing. NICE WORK, DENTIST! KEEP HIM HONEST.
Hobbs felt much better about leading a crowded field with 41% of the vote share. Hanging out with friends and family at Scuttlebutt Brewing in Everett, he said he took a swig of his IPA and celebrated a little.
"I was blown away," he said over the phone. "But it doesn't surprise me that people are picking the Secretary of State that has the experience of dealing with cyber security and misinformation and disinformation and focused on voter outreach and communication, because that's what we need now."
Second place is still anyone's guess, but former Pierce County Auditor Julie Anderson currently holds a slim lead over Bob Hagglund, who enjoyed prime placement on the ballot, with 13% of the vote. Even if Anderson doesn't get through, though, Republicans aren't looking great in this race. Tallied up, the Democratic candidates for this race are sitting at 49% of the vote, and the Republicans have 45% of the vote. If the general election leans bluer, which it typically does, then the Democratic lead here should hold.
---
SCHRIER LEADS THE PACK, DUNN OOZES BEHIND
8:54 PM
Absolutely nobody is surprised to see Dr. Kim Schrier way ahead of the pack in the 8th Congressional District. She's got 49.4% of the total vote, with the closest competitor, the loathsome Reagan Dunn, oozing far behind with 15.04%.
While we don't want to count all our chickens just yet, we're probably looking at an easy victory for Schrier in the general election, as Dunn is uniquely off-putting. In past elected positions, he had a reputation for missing a ton of votes, including on a bill he co-sponsored; he suggested he was practicing law when he wasn't a lawyer; he voted no on a resolution to support abortion access; and his big solution for homelessness is to build more walls around parks. Even the Times wouldn't endorse him. Down with Dunn! Here's a tour of his tacky mansion.
Earlier in the night, the Schrier camp sent us a pic of the campaign staff hanging out and enjoying a pizza, and it must have tasted very good indeed when paired with these results.
---
SERIOUSLY, JUST THE CHILLEST OF VIBES AT THE CHIPALO CAMP
8:48 PM
The vibe at Chipalo Street & Co.'s party at Tutta Bella was relaxed and joyous as the results came in. We, in fact, were the first to inform Street of his victory, as Team Chipalo crowded around our computer for a look at the numbers. (We hurriedly closed all our Slack windows to hide our colleagues' gossiping, lol.) Street nabbed 40.4% of the vote with Emijah Smith coming in second at 33.6%. Because the two other candidates—Nimco Bulale and Andew Ashiofu—didn't even crack 15%, it's looking like Street and Smith are going to duke it out in November. And the ever-cool Chipalo is visibly pretty stoked. "We couldn't ask to be in a better place, that's for sure," he said as he looked at the results on his computer.
As for the road ahead, Street and his campaign manager Travis Jones said the key to beating Smith in the general is knocking on doors and canvassing. Street is confident that his experience in tech—especially in the age of post-Roe state surveillance —as well as his labor associations are what's going to push him above Smith in November. For now, Street told us he has no plans to celebrate, just to get back to work. He's a super lowkey guy, c'mon. After the ballot drop, more of Chipalo's friends and volunteers filtered into the party, laughing and gossiping about how much money candidates raised in the 46th. To us, Chipalo admitted that despite the whole running for office thing, he actually doesn't like being the center of attention. But, boy, he should he get used to it!
---
NOT THE BIRTHDAY PRESENT LEAH GRIFFIN WANTED
8:47 PM
Heading into the general election down 20 points is enough to kill anyone's primary night vibe, but for Leah Griffin the disappointing results doubled as the world's worst imaginable birthday present for a political candidate. When we spoke with her earlier this afternoon before the results came in, Griffin told the SECB she was proud of the grassroots campaign she ran and appreciated every single one of her 500 donors for believing in her ability to make a difference. She stood by those comments when the SECB reached her by text after results dropped, promising to continue advocating for regular people by telling their stories.
---
KAUR V. KAUFFMAN WILL BE A SQUEAKER
8:38 PM
The 47th Legislative District's State Senate race is neck-and-neck: Satwinder Kaur has 4,519 votes (27.29%) and Claudia Kauffman has 4,633 (27.98%). It's too close to make any predictions, so the only thing we can say with any confidence is that Claudia will be treating herself to a steak at the end of the night.
This result is likely disappointing to Kaur, who had a more robust campaign and more money. The SECB went with Kauffman over Kaur in part because Kauffman has a long track record of success dating back to 2006, and had a better command of the issues in our endorsement meeting.
Whichever manages to pull ahead will go up against Bill Boyce, the Republican who was endorsed by The Seattle Times (and one of the obstructionists who prevented a housing bill from passing last session). He's currently got 7,380 votes (44.76%), which is less than Kaur and Kaffman's combined total, but not much. A real nail-biter on the Dems' side, though! Whoever wins will be replacing Senator Mona Das—very big shoes to fill.
---
STATE RESULTS HAVE DROPPED
8:31 PM
Find them here. Stand by for analysis…
---
OLOW TRAILS STEARNS IN THE 47TH 
8:28 PM
It's not looking good for Shukri Olow in the 47th Legislative District, who's clocking in at 2,969 votes (17.96%) compared to incumbent Chris Stearns with 5,953 (36.01%).
"I'm grateful for everyone who took time to fill out their ballots and vote, and grateful for the people who supported me and offered their kindness," Stearns says following the first ballot drop. "I'm feeling really grateful."
Olow came into this race having never held an elected position, but quickly assembled a robust infrastructure for her campaign—one of the reasons we endorsed her. Stearns may benefit from some name recognition as an Auburn City Councilmember, but his positions aren't as inspiring: He's less eager than Olow to reduce freeway dependency, and Olow would come to the job with some particularly strong expertise regarding family services. He also raised less money than Olow.
Meanwhile, over on the Republican side, Barry Knowles managed to pull off a victory (so far) over Seattle Times-endorsed Carmen Goers. Barry is, of course, dreadful; his website opens with a message about how public schools are sending 13-year-olds to get "transgender therapy, abortions, birth control." Barry's leading the Republican pack with 17.89% of the vote, with Ted Cooke (also dreadful) pulling in 14.13% and Carmen trailing in third place with 13.88%. Nelson-laughing-dot-gif.
Barry Knowles is, let's not mince words, a real weirdo, and his rambling misspelled manifestos and conspiracy theories will hopefully be a turnoff to most voters in the general election. But who knows!
"Most of the 47th Legislative District is in the 8th Congressional District, and that's a national target," says Stearns. "It's going to be a battle. I know it's going to be tough."
---
AN UNDERDOG VICTORY FOR FARIVAR
8:24 PM
Darya Farivar arrived at her election party around 7:30 pm. She said hi to the SECB right away. She said she was trying not to think too much. She stood right next to us as we scrolled through the results, then mysteriously disappeared, probably to go happy-dance, because by the look of the initial drop, the underdog fucking did it.
Before the ballot drop, Farivar had told the SECB that she was worried about her smaller pot of money, but said she wouldn't rule herself out because her campaign had already "shattered expectations." Lelach Rave has raised more money than any House candidate in the state besides Republican Minority Leader J.T. Wilcox. Melissa Taylor has also brought in a shit load of money. Still, Farivar earned second place in the initial drop with about 27%, which is MUCH closer to first (Rave at 30%) than third (Taylor at 19%).
Some partygoers had called it, including Farivar's mom, who said even before the results came in that her daughter's campaign served as proof that a young woman with the right ideas and enough spunk can win without raising hundreds of thousands of dollars.
When Farivar took the mic, all she could say was "Thank you." As soon as she wrapped up her brief initial remarks, her friends, supporters, and campaign manager ran up to hug her.
---
REED EARNS COMMANDING LEAD
8:23 PM
After some brief but tense technical difficulties with a projector no one seemed to know how to operate, Reed's crowd of supporters erupted in cheers upon learning she held a nearly 40-point lead heading into the general election. Reed thanked her supporters for tolerating her incessant (but successful) fundraising asks, along with her campaign interns and staff who helped her knock all those doors.
She gave each of her family members in attendance heartfelt thank-yous, shouting them all out by name as a crowd of several dozen strangers made them each the center of attention in turn. She wrapped up her remarks with a twinge of regret for choosing to hold the event at a brewery, since there were no shots on hand for her to share with her supporters or (presumably) the SECB.
Based on her dominating performance in the primary night ballot drop, no one at the Ballard Beer Company seemed to regret any of the lavish spending on the evening's celebrations. Reed's mom seemed particularly overjoyed, and told the SECB that watching her daughter come out victorious was the most proud she's ever been, even ranking ahead of the time Reed brought her to meet President Obama in the White House.
---
RESULTS HAVE DROPPED FOR KING COUNTY
8:16 PM
Find them here. Stand by for analysis...
---
CHARACTERISTICALLY CHILL VIBES AT CHIPALO STREET'S PARTY IN COLUMBIA CITY
7:48 PM
Despite have to take TWO buses to get to Tutta Bella in Columbia City, we somehow arrived before a soul to 37th District Position 2 candidate Chipalo Street's Election Day fête. We were nursing a German-style ale and making friends with the bartender (renter to renter), when the Microsoft tech manager and his crew finally rolled in around 7:20 pm. After inhaling the rest of our candied hazelnuts and ale, the SECB got a chance to talk to him. And to literally no one's surprise, Street was unbelievably chill. Like, I've got this in the bag-type chill. As we questioned whether Street was more stoned than we were (he wasn't) the candidate invited us to eat as much of the fluffy-yet-crispy pizza as we'd like.
Reflecting on the race, Street said he and his team spent the day responding to constituents and text-banking. Street felt confident that he'd put in the work, and now was simply the time to see the fruits of his labor. "I'm just cautiously optimistic," he said in the most unbothered way possible. Street hedged when asked who he expected to round out the top two with him—he'd noticed that Nimco Bulale has a strong social media game, but had actually seen Emijah Smith's people out canvassing. "Each candidate has their own strength," he said, leaning up against the table and looking as calm as anyone we've ever seen running for office. The intimate gathering feasted on pizza and Caesar salad, laughing and gabbing with one another in a way that made the SECB feel like they were imposing on a friend group hang. Someone pondered aloud when results would come in. We'll have whatever they're having…
---
KANSAS REJECTS ABORTION AMENDMENT
7:38 PM
The AP is calling it and so are we: Kansas is keeping its state-level protections for abortion. We are happy for Kansas.
---
WHO DOES THAT?
7:30 PM
An update from the Kauffman camp: "It was great to sign-wave; however, a man in a vehicle threw a rock at one of my volunteers sign-waving for me! It hit her!"
---
SMALL YET FANCY WEDDING VIBES FOR DARYA FARIVAR
7:00 PM
Candidate for the 46th Legislative District Darya Farivar hosted her election night celebration at her parents' beautiful Lake City home whose view of Lake Washington finally made the neighborhood's name click. ("Oh, LAKE City! Huh!") The only downside: Not a ton of transit or parking. Farivar was kind enough to suggest a parking spot and we were stupid enough to ignore her. We did not ignore her very sweet neighbors, who directed us to Farivar's party when we looked very obviously lost. They said: "We hope she gets a lot of votes tonight." Don't tell that to the other neighbors with the Rave sign.
Despite all our misadventures we showed up 20 minutes early and enjoyed a mostly empty front yard venue that could have hosted a small yet fancy wedding. Farivar's dad offered us iced tea (or a hit from the keg) and swore "the kids" would be there any minute. In the meantime, we settled in for a nice chat on the lawn furniture. Farivar's dad is excited for her, but doesn't know why anyone would want to be in politics. She's worked so hard that she has a callus on her finger from door knocking.
The parking became a larger problem then the SECB initially anticipated. According to party gossip, the candidate got blocked in by another car! And the kids did not get there soon!
---
KANSAS ABORTION AMENDMENT LOSING SO FAR
6:40 PM
We love to see it.
---
LINE AT THE BOX
6:00 PM
On our (two-bus!!) route to Chipalo Street's get-together in Columbia City, we noticed this line forming at the drop box near the Garfield Community Center. If you haven't voted yet, there's still time!!! Find a
drop box
by 8 pm. Here's our
cheat sheet
to make it easier.