Indie-rock supergroup Boygenius called upon more than 27,000 bisexuals this past weekend, flooding the Gorge gates with Doc Martens and winged eyeliner galore. The group (consisting of Phoebe Bridgers, Julien Baker, and Lucy Dacus) recently hit the road for the Tour, which follows the March release of their debut full-length album, The Record. Who goes on a massive international (and largely sold out) tour just months after releasing their first full album? Boygenius, that's who.
Opening for Boygenius was LA-based Illuminati Hotties and Canadian singer-songwriter Carly Rae Jepsen. Illuminati Hotties was anything but satanic, yet that's the irony of the Tour and an ever-evolving "metal but cute" aesthetic. Jepsen left me pleasantly surprised as she came out swinging with a new '80s-pop-inspired sound. (I say "new" as someone who hasn't listened to CRJ since "Call Me Maybe" was shoved down all our throats in 2012, but apparently, she's made quite the comeback with over 9 million Twitter followers?) Either way, she nailed it and I was pleased to see such explosive relevance more than 10 years later. 
Before Boygenius took the stage, Native storyteller, musician, and activist Dan Nanamkin welcomed concert-goers to the Gorge. Nanamkin, whose Native name k'oup?lus enim kl'a means Thunder and Lightning, encouraged attendees to honor the Indigenous land they were standing on. This expression of gratitude and appreciation toward Native territory set a moving intention for the remainder of the evening.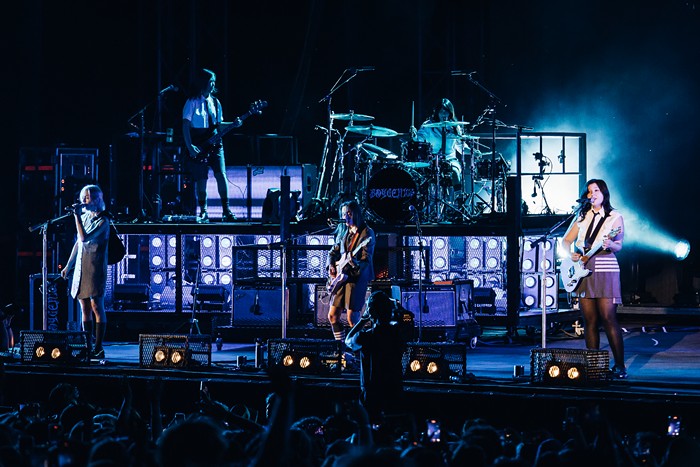 After Nanamkin's welcome, Thin Lizzy's "The Boys Are Back in Town" began playing over the speakers. The crowd roared before quieting for the opening track of The Record, a sweet and harmonious a cappella song entitled, "Without You Without Them." "WYWT" is a platonic love song about thanking prior generations (regardless of how shitty they were) for bringing two friends together. It is as if to say "Without them, there would be no you. And without you, there would be no us." (I'm not crying, you're crying).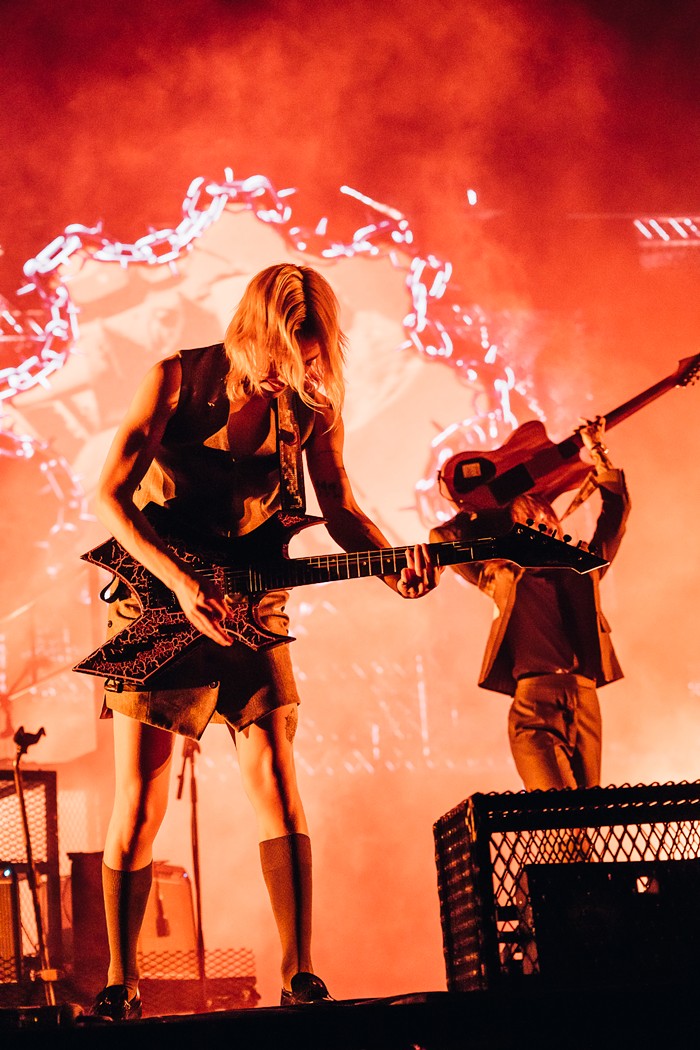 As the group emerged from behind a screen, I grew increasingly concerned about the longevity of my hearing. Thousands of people began sobbing behind me and I was reminded of that time in 1998 when I saw *NSYNC and peed my pants. Speaking of pee, I am 95% sure that there was a decent amount of pants-wetting when Bridgers blasted her mating call in the group's second song of the night, "$20." (If you know, you know). 
As the sun began to set, Boygenius' power grew. Each performer was dressed in their finest business attire, as a boy genius does. The group played their full discography, including six tracks from their self-titled 2018 EP. In addition to all 12 tracks from The Record, the group also played one unreleased song, as well as one song from each of their own discographies. Throughout the 90-minute set, Our Lord And Savior Phoebe Bridgers incited friendly banter between Baker and Dacus. With such casual demeanors, I felt like I was hanging out at an extraordinarily polished band practice with a lot of really hot people.
About halfway into their set, Bridgers gave a shout-out to all the boyfriends in attendance. "We love you. Also, you're all probably dating bisexuals." The group giggled as they began their unreleased track "Boyfriends," a fast-paced outtake from The Record. I would like to have a word with Boygenius' producer as "Boyfriends" is certainly album-worthy and I am deeply offended I'm unable to stream the song, but we can look past that for now. Other musical surprises included Dacus's "Please Stay," Baker's "Favor," and Bridgers's "Graceland Too." 
Amongst the three of them, there is no lead singer. Boygenius does not have a frontperson. All three have their moments, their songs, their talents. As a supergroup should, the trio operates as a cohesive unit. Boygenius serves as a reminder that you don't have to compete with your contemporaries. What if, instead of giving in to intimidation, we worked together to create greatness? The unbreakable bond among the trio is part of the appeal of the group. I wish I had this example of female comradeship growing up, but I find solace in the platonic love movement Boygenius has resurfaced.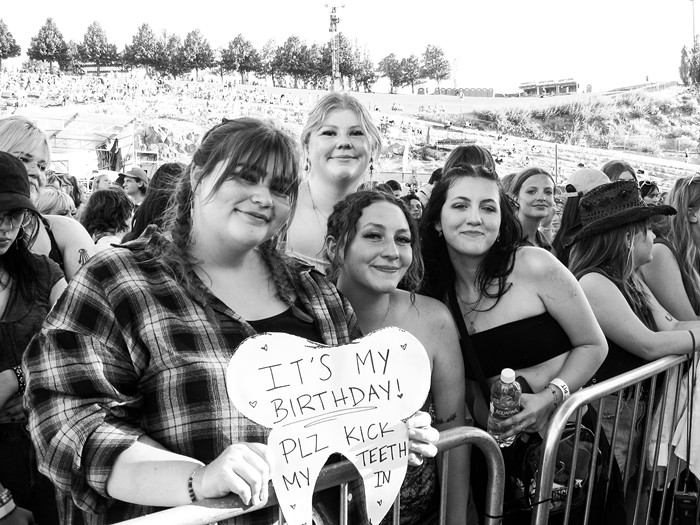 Boygenius fans are like Taylor Swift fans but they're all on Lexapro. Instead of heels and sequins, it's Burks and overalls. Instead of "shake it off" bracelets, it's "fuck boygenius" beads. The excitement and screams were just the same, but the mood was different. More relatable, to me, anyway. With merch covered in hardcore font, "ironically aggressive" was the new pink. Boygenius is fun and indie, but they're also sad and indie. It was comforting to see a group of people show up, ready to reclaim their emotions. When the group performed "Not Strong Enough," a track about overcoming the insecurity and limitations of self-doubt, I felt like I was at the Megachurch Of Boy. In unison, the crowd yelled one of my favorite lines from The Record, "Always an angel, never a God." Like a cathartic group therapy session, misery loved company at Boygenius. My Docs left dirty, but my heart left full.