On Tuesday night at the Moore Theater, Seattle's Gen X population congregated to honor the 30th anniversary of Liz Phair's sacred text, Exile in Guyville. 
As I walked into the theater, I was immediately blasted back to high school with a healthy dose of Hole, Fiona Apple, and the Pixies blaring through the speakers. To make things even weirder, among the crowd was my deeply loathed high school language arts teacher—whom I was seated directly behind. "Should I put gum in his hair?" I texted my sister, my best friend, and my dad. The majority said, "Don't do it." 
With plenty of teenage angst in the room (and a stick of gum burning a hole in my pocket), I took in just how large the turnout was. I have seen Liz Phair twice before. The first was in 2016 opening for the Smashing Pumpkins. Having bought the tickets to see her specifically, I was disappointed at the crowd's chatter during her acoustic set. A few years later, Phair headlined the Crocodile to support the re-release of her Girly-Sound tapes. And, like the demo tapes, the show felt casual, cozy, and intimate. I couldn't help but feel proud of the scale of this anniversary tour, given our history.
Liz Phair's presence in my life is like a cool aunt who has been there through my purest joys and roughest patches. I was seven years old when her self-titled pop album was released. Fueled by a cocktail of Fruit Roll-Ups and Sprite, I danced around my room to "Why Can't I?" on repeat until I collapsed into bed. As a teen, I found my dad's copy of Exile in Guyville and cried in my car to "Fuck and Run" and "Divorce Song." In college, I dug deeper into the archives. I downloaded her Girly-Sound demo tapes from a questionable online forum and became obsessed with deep cuts like "Ant in Alaska" and "Batmobile." I've had phases with every single one of her albums, but Guyville is her magnum opus.
By entering the fictional land of Guyville—a land of guys with unpretentious "short, cropped hair, John Lennon glasses, flannel shirts, [and] work boots" Phair explained in an interview with NPR's All Things Considered in 1993—she captures the nuances of womanhood and the precociousness of youth in a way that no other album can (or will).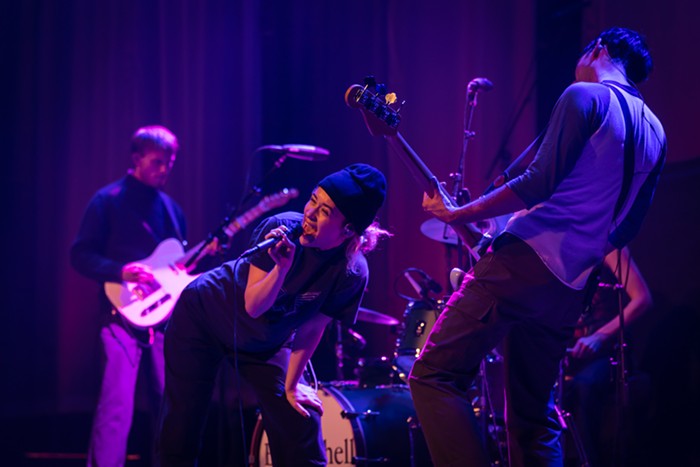 Before arriving in Guyville Tuesday night, LA-based alt-rock artist Blondshell took the stage with songs from her debut, self-titled album. "Veronica Mars, 2004" were the first words out of her mouth when she opened with the song "Veronica Mars"—fitting the nostalgia of the evening. Backed by a tight three-piece band, Blondshell sang with the ferocity of an arena concert, carrying her voice far past the last row of the theater. "Kiss City" stood out as an instant classic, bringing to mind the dreamy, horny, sweaty shoegaze of the 1990s (such as Pale Saints "Kinky Love").
With a spotlight shining in the front of the stage, Phair entered in an all-black ensemble complete with 1960s-style thigh-high boots and a bold-sleeved turtle neck sweater that gave her a striking triangle-shaped silhouette (à la Klaus Nomi). There was immediate talk amongst the crowd about how "great" she looked. And she did—it was hard to see any signs of aging from the day that Guyville came out 30 years ago. Yet, whenever a woman walks onto a stage and the crowd's first thought is "how young" she looks "for her age"—I find myself wincing.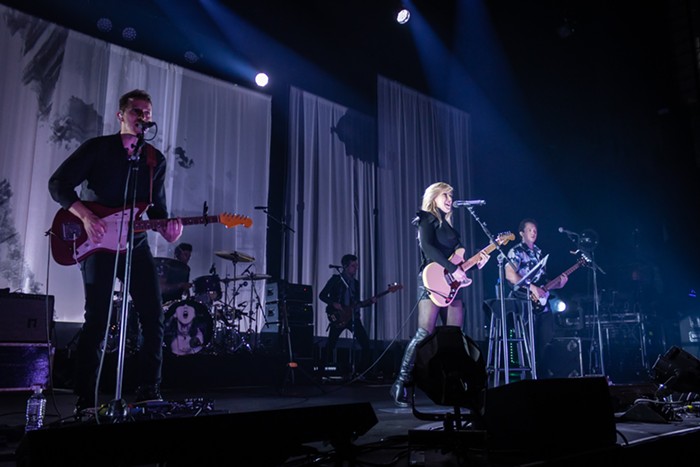 Starting with the album's opening track "6'1"," Phair and company went straight into the album, playing it as true to the original recording as possible. Phair's vocals sounded excellent and it was incredible to see her signature bar-chords in action (my fingers got blisters just by watching her). 
I realized pretty quickly that this crowd was not the sing-along type. During track four, "Dance of the Seven Veils," I scoured the audience as I attempted matching Phair's falsetto, "I only ask because I'm a real cunt in spring"—one of the album's many iconic lines. And to no avail, I saw no mouths moving. When we arrived at the much-anticipated "Fuck and Run" I thought surely that would change. Still nothing. The energy from the crowd didn't seem to pick up until her first encore track "Supernova" making me wonder, "Who are these people?!" Ah, right, they are primarily 50-somethings who are too nervous to say the word "cunt." 
Anniversary tours for beloved albums are a very delicate thing. Artists age, voices change, and they gain emotional distance from the songs that once shined with rawness. What I saw on Tuesday night was an incredibly talented and mesmerizing woman who played her songs flawlessly. However, I also saw a woman who grew far past the feelings felt as a 20-something. She seemed more focused on the sound itself than the emotions attached to the lyrics. Nevertheless, it was a delight to see Phair play this treasured album in its entirety with lesser-played experimental songs given the same attention as her radio hits. 
Track 14, "Flower" is a real doozy and one that you wouldn't typically get on a Liz Phair setlist. It's a song that has scandalized me since I first heard it at the age of 13. And, much like the breast growth chart in American Girl's The Care and Keeping of You, I often skipped past it with embarrassment or secretly consumed it in fear. "Every time I see your face, I get all wet between my legs" Phair harmonizes atop wobble-y guitars. "I want to fuck you like a dog and take you home and make you like it." Have you ever wondered what 1,500 blushing people look like? Go to a Liz Phair concert.
Closing out the night, Phair played a few non-Guyville tracks including her biggest hits "Supernova" and "Why Can't I?" She also squeezed in "Go West"—from her 1994 album Whip-Smart—which felt like a gift just for me. It includes one of my favorite Liz-isms: "Stepping down off my platform shoes / 69 in the afternoon." 
Like many, I have a personal relationship with every song on Exile in Guyville. It speaks on the realities of womanhood with all its sexual curiosity, daydreams, and desire for power. Like a child playing dress up, Phair takes these tattered male tropes out of the cedar chest and tries them on in earnest. The album often gets praised for its diaristic, honest lyricism, yet Phair herself has said the album isn't about her at all. "That stuff didn't happen to me, and that's what made writing it interesting," Phair said in a 1994 interview. Sure, lyrics like "I want a boyfriend" (from "Fuck and Run") resonate with many, but the everlasting charm of Guyville goes beyond lyrical content. The album evokes, as Phair put it, the "magical, liminal space" between childhood and adulthood.