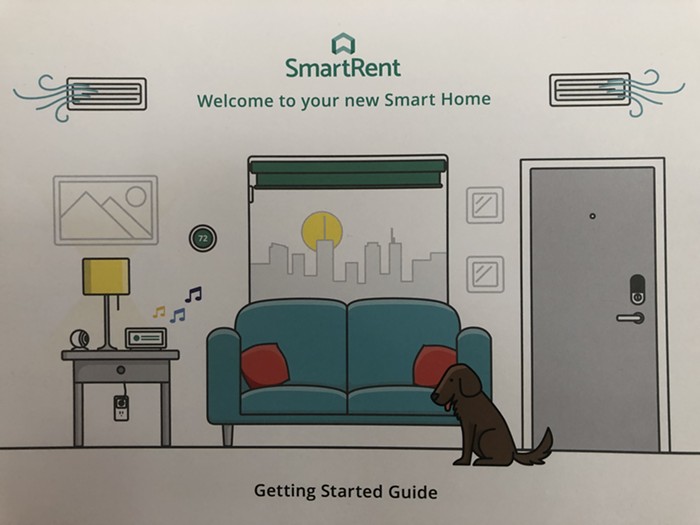 On July 6, property managers at CityLine, a 195-unit apartment complex in Columbia City owned by UDR Apartments, sent an email inviting tenants to attend a SmartRent launch party.
At the party, a company representative would introduce tenants to a new package of "home automation" devices that would soon be installed in all of CityLine's apartments.
"WELCOME TO YOUR SMART HOME EXPERIENCE," read an email sent by the CityLine Team later on. "Starting today, your property will begin receiving Smart Home packages…"
The "smart home experience" involves outfitting apartments with a smart lock from Yale, two water sensors, a touchscreen thermostat, a smart plug for appliances, and a wireless hub from Alloy to connect all the devices.
Tenants can also purchase additional devices online, including SmartRent cameras "to make sure Fido isn't jumping on the couch while you're at work!"
Tenants control all of these devices through an app available on Apple's App Store and on Google Play. The app allows users to operate their door lock, and adjust the thermostat and the lighting. They can also connect the system to voice assistants such as Alexa or Google Home.
"It Made Me Feel Powerless"
After reading between the lines of the introductory note, one tenant realized the invitation was actually a dictate from property owners wrapped up in the sunny language of tech marketing.
"My general feeling was that they were forcing this 'smart home experience' onto all the tenants, with little knowledge around the product release," the tenant said in a phone interview. (The tenant requested anonymity for fear of retaliation.)
"I immediately started worrying about data hacking, and any sort of network connection that would put my information in a place where I have no control over it," the tenant added. "So it made me feel powerless to do anything."
Residents who could not attend the SmartRent "launch party" took to the building's message board.
Some expressed concern about people hacking into the lock or the hub and then breaking into their apartments or messing with the temperatures on their thermostat. One person posted a video of someone hacking into a Yale smart lock.
All your houses are belong to us!@INIT_3 and I have fully owned the smart hub controlling this lock. The lock is just to demonstrate that we can open your door if we get onto your network, or we live in your apartment building. Disclosure and blog post in the works. pic.twitter.com/YQEBrkMcpE
— Chase Dardaman 🐎 DerbyCon (@CharlesDardaman) March 1, 2019
Some worried about environmental impacts, while others worried about data sharing between SmartRent and the third parties that create the devices. One person asked if this forced install represented a change of terms in the lease. That person threatened to leave if installation was mandatory.
Others, however, embraced the technology, claiming that smart locks were better than manual systems. They were more afraid of a random burglar kicking down their door than a random hacker busting through a firewall. (Incidentally, this argument echoes a line SmartRent representatives use when asked about smart lock security.)
Eventually, a CityLine manager logged onto the message board and directed all questions and concerns to SmartRent and CityLine representatives.
As it would turn out, short of moving, the tenants were basically powerless. CityLine residents could not opt out of the install. The landlord was forcing everyone to take this technology into their apartments. On August 2, CityLine management taped printouts to doors announcing that the SmartRent products would be installed in 24 to 48 hours. By August 5, all the hardware was in.
If tenants were worried about exposing their front doors to the internet, they could choose not to use the app. Instead, renters would have to get up off the couch if they wanted to adjust the thermostat, or punch in a four-digit code if they wanted to unlock their door. Going manual prevents their data from being exposed to the internet, but SmartRent and the landlord can still access some information from the devices.
According to a report from CNET, SmartRent "does not share data on tenants" with advertisers and "the data is wiped every 30 days." Other smart-home companies, however, do. "Zego, Stratis and Vivint...boast more than 250,000 upgraded units," reports CNET, and those companies share data.
Neither SmartRent nor UDR returned requests for comment, but I'll update this story if I hear back from them.
The tenant I spoke with felt "relieved" after realizing he didn't have to plug his apartment into the internet, but he was still a little wary. "Ultimately, they're trying to protect their assets. They don't care about the damage it causes to you," the tenant said.
But then there was the rent hike.
On July 23 a worker at the CityLine leasing office told the tenant that there would be no additional costs to residents for the SmartRent services. However, when the tenant got a lease renewal a few days later, the property owner had hiked the $1,900 rent by $250.
Not insane by Seattle standards, but still significant.
What's more, according to the tenant, UDR already requires residents to purchase renter's insurance that covers up to $100,000 in damages. The fact that UDR was apparently doubling down on damage control made the tenant think the company didn't trust its own residents. "And now they're installing this system and it's unclear how effective it is," the tenant said.
Welcome to the Future of Apartment Living
According to Reuters, investors think a lot of this technology "will become standard at apartments." Analysts predict the home automation market will grow to a $53.5 billion industry by 2022, doubling its size from 2016.
The devices help "boost profit margins and generate new revenue streams." They also "reduce operating costs, including insurance premiums to cover water damage, which can run to more than $10,000 per occurrence."
Installing smart locks means owners don't need to hire as many (or any) property managers to ferry keys to maintenance workers, show apartments, or even check people in and out of units in person. Landlords wouldn't have to manually install a new lock if they wanted to evict someone—they could just change the code. (As a bonus to Seattle's ultimate landlord, Mr. Jeff Bezos, the locks also solve a problem for Amazon's same-day delivery drivers, whose packages are featured heavily in SmartRent promos. Giving them temporary codes to unlock the door would allow them to drop off packages much more efficiently.)
The water sensors alert landlords to possible leaks, which allows them to act and save on repairs without having to wait for a tenant to report the issue—a tenant who might be too nervous to put in a maintenance request for fear of retaliation.
Having the ability to control a thermostat remotely could save on energy costs, and stressed-out tech workers looking to optimize their life while minimizing human contact might be attracted to the convenience a smart-apartment offers.
Though the systems are costly—SmartRent runs anywhere between "$900 to $1,000 a unit"—the savings are apparently worth it. In June, according to Reuters, a UDR spokesperson said the company "generated a 25-30% return in a pilot program…and expects to have SmartRent installed in 20,000 units by the end of summer."
UDR runs 15 luxury apartment complexes in the greater Seattle metropolitan area, including the Olivian downtown, the Lightbox, and the Kennedy Building.
"It Should Be the Tenant's Choice"
Though these devices offer certain conveniences for wealthy tenants with compatible smartphones, they also present some drawbacks, particularly around the issue of privacy.
Shankar Narayan, technology and liberty project director at the ACLU, said tenants should be concerned about their data even when companies say they're not going to sell it.
"We only have the say-so of the companies that they won't share the data, and that's really hollow," Narayan said.
He also said the hacking concern is "a real one."
"Public infrastructure and private infrastructure such as smart meters and smart-home devices have been subject to frequent hacking. Data breaches can happen despite those, and it should be the tenant's choice to determine whether they take on that risk," Narayan said.
We have tenant protections against rising rents and certain eviction procedures, but we have no regulation on the issue of landlords imposing tech on tenants. "We clearly need to do that," Narayan said, "Litigation under existing statutes is unlikely to solve this problem, unfortunately."
Narayan hastened to say that "merely calling it a privacy concern significantly undersells the challenge we're seeing."
He connects smart-homes and smart-apartments to the larger issue of smart-cities, where these "smart" technologies that could be used for surveillance are all rapidly being implemented, particularly around marginalized communities, and without a public conversation.
"Though the company is careful to say they won't use the data for advertising, the problem isn't just ads," Narayan said. "It's this massive array of decision-making based on data, which impacts how you get a job, how much housing costs, how you're getting policed, and whether or not the state comes and takes your kids away."
The ACLU has long feared the surveillance potential of smart-metering electricity, which has "been shown to paint a detailed picture of how you do your life," Narayan said. Smart meters can show whether you watch television for 14 hours a day, and whether you cook in a microwave or use a stove. If that data gets to a health insurance company, then rates can rise.
In 2018, Seattle passed "the nation's strongest law protecting utility customer's personal data," according to KING 5. That was a step in the right direction, but the ACLU wants to see the city take more steps to protect tenants.
"You shouldn't have to choose between living in the place you want to at an affordable rate and sacrificing your data in ways that will come back to haunt you," Narayan said.
Nevertheless, Narayan imagines a not-too-distant future where renters pay a premium for their privacy.
Because This Is Seattle, It All Comes Back to Bikes

The CityLine tenant I spoke with said he'll stick around for a while, despite his concerns. The tenant sees the devices as an "indulgence," just one more so-called amenity the company can market to potential customers.
Still, the tenant thinks the decision to install SmartRent was misguided. "CityLine has had a rampant issue with people stealing bikes. And yet they're focusing their efforts on putting locks on individual doors and apartments," the tenant said. "They could put their resources into a better alternative to bike storage, but instead they're putting their money into something that nobody asked for."