Toyko-born painter and soft sculpture installation artist Junko Yamamoto earned her Bachelor of Fine Arts degree from Cornish College of the Arts and currently lives and works in Seattle. Her upcoming show at J. Rinehart Gallery explores "the energy that binds together all of existence, from the vast to the microscopic, to make it one." In our interview, we talk about quantum physics, craft vs. art, and enjoying the Seattle summers.
What attracts you to the concept of a united, holistic energy that binds the universe with an invisible fascia?
I have always been fascinated by the essence of our world and what it truly represents. At first glance, it appears to be very three-dimensional, and society trains us to excel in this realm. However, deep within, I believe we are all intricate spiritual beings. Growing up in a culture where everything has a spirit (Eight Million Gods/Yaoyorozunokami), I embraced the idea that everything consists of energies. Although I'm not a physicist, the recent theories and studies in quantum physics resonate deeply with me, as they suggest that everything is made of the same vibrating and resonating substance. In essence, we are energy itself.
I'm seeing what looks like an affinity for cacti. Is that just my Arizona background showing?
I love incorporating identifiable elements like pillows, clouds, bubbles, and sometimes cactus-like shapes. Cactus-like shapes are part of cell division-inspired imagery. Despite not having an Arizona background, I am intrigued by the deserts.
How do you imagine your art practice would be different if you were still in Japan?
There are so many craft and hobby cultures in Japan, making it definitely harder to differentiate that realm from fine art. My practice could have been very similar to what it is now, perhaps on a smaller scale. The number of opportunities I gained here in the States is unparalleled and incomparable.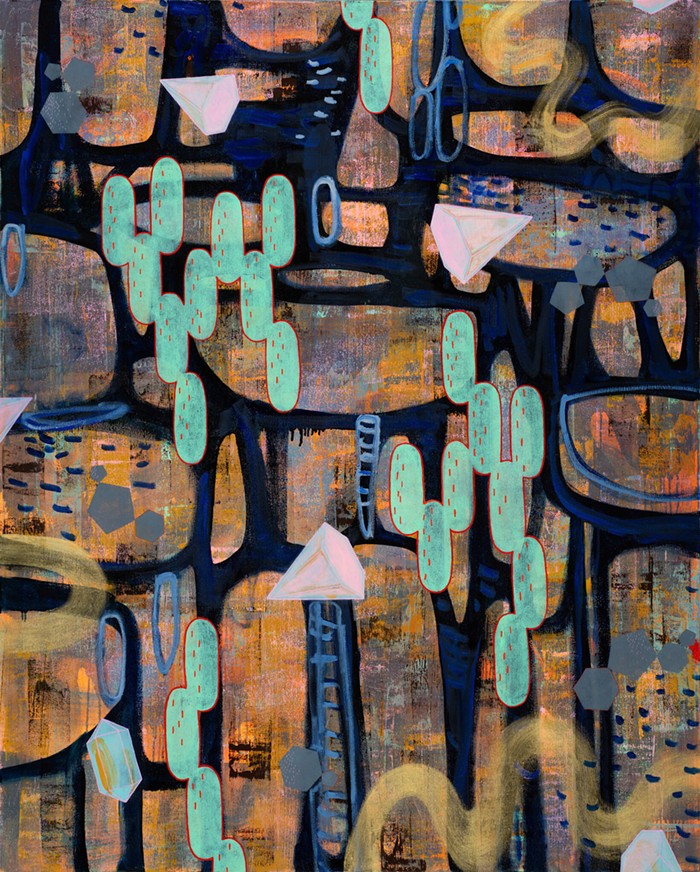 Can you talk about materials and process for your soft sculpture installations?
For decades, I've worked with painting and printmaking as my primary mediums. I used simplified versions of my painting motifs as vinyl stickers, which were later transformed into versatile printed fabric sculptures for installations. My soft sculptures add three-dimensionality to flat images printed on fabric through sewing, complementing the depth in my paintings on canvas. The feedback loops between my paintings and soft sculptures convey a connection with the universe—a central theme in my work, meditating on the binding energy that unifies everything, from the vastness of the air and Universe to the microscopic world of molecules and cells.
What else is on the horizon for 2023?
I can't talk about one project yet. Maybe in a couple of weeks. Other than that, not so much because of two back-to-back solo shows (Gallery 4Culture and J. Rinehart Gallery), I need a break to recharge and enjoy Seattle summer! 😊
---
Junko's new show Cosmic Web runs August 3-26 at J. Rinehart Gallery. There will be an opening reception during First Thursday on August 3 from 5-8 pm.
Find more of Junko's work at junkoyamamoto.com and follow her on Instagram at @junkoyamamotostudio.