📌
Hello and welcome to The Stranger's 2022 general election night coverage!!! In the next few hours, we'll better understand just how far America will slide toward fascism this year. 🙃
Nationally, if Democrats lose control of both the House and Senate, which would align with historical trends, then we can all look forward to Republicans holding the government hostage while the world melts. If you didn't block out the last two years of Obama's last term, it'll be just like that—except this time with election-deniers. 
Closer to home, we'll begin to learn whether Washington will send one or two election-deniers to Congress, whether state Democrats will reinforce their blue wall in Olympia, whether King County voters will reboot the war on drugs, whether Seattle voters will change the way they vote in primaries, and much, much, more!
As always, you will not be alone with your nerves and your doom-scrolling. Tonight, Stranger Election Control Board members will pack their pre-rolls and head out to election night parties all over town. Expect wall-to-wall snack coverage! Gossip! Tears! Cheers! More tears! And lots of cussing. 
Okay, buckle up, let's go! 
---
FETTERMAN WINS, OZ LOSES
9:55 PM
BREAKING: Democrat John Fetterman wins U.S. Senate race in Pennsylvania, NBC News projects. https://t.co/NqjTEpNhkv pic.twitter.com/34lAQYk4KR

— NBC News (@NBCNews) November 9, 2022
John Fetterman just won Pennsylvania's Senate race, defeating Dr. Oz.
"We held the line," he said in his acceptance speech. "I never expected that we were gonna turn these red counties blue, but we did what we needed to do and we had those conversations across every one of those counties.
"And tonight that's why I'll be the next US Senator for Pennsylvania. Thanks to all of you!"
---
APPROVAL VOTING HAD A BABY
9:43 PM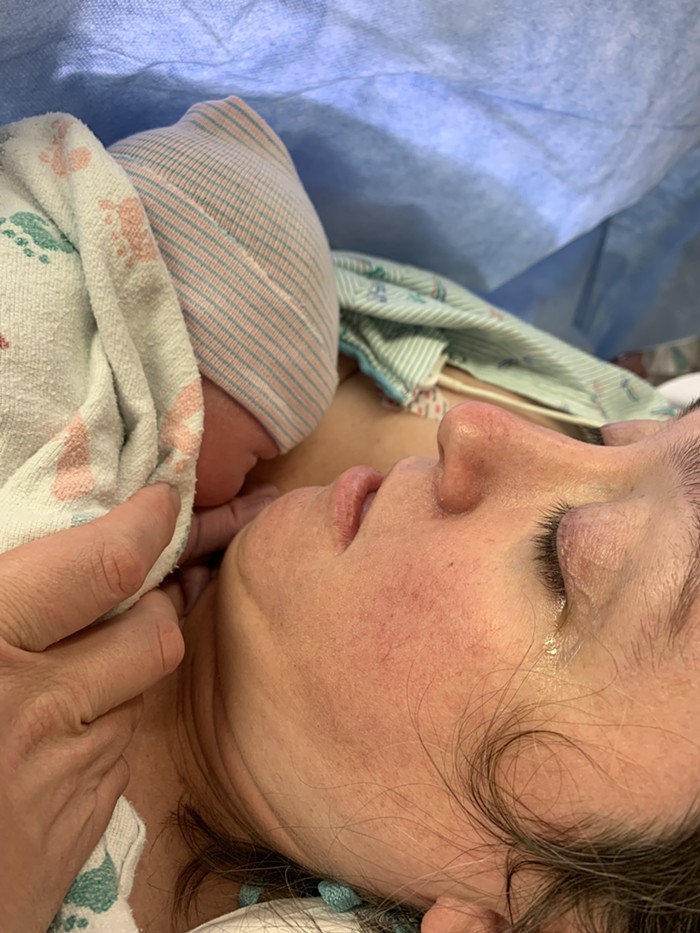 Though Seattle Approves campaign manager Logan Bowers didn't secure a win for her preferred voting reform, he and his wife, Jerina Pillert, did welcome Maximus to earth about half an hour after election results dropped. He's 8 lbs 9.2 ounces, and he and mom are doing "fantastic," Bowers said in a text.
"He already has opinions on voting reform," he added.
---
SCHRIER AND HOBBS ARE FEELIN' PRETTY DARN GOOD
9:40 PM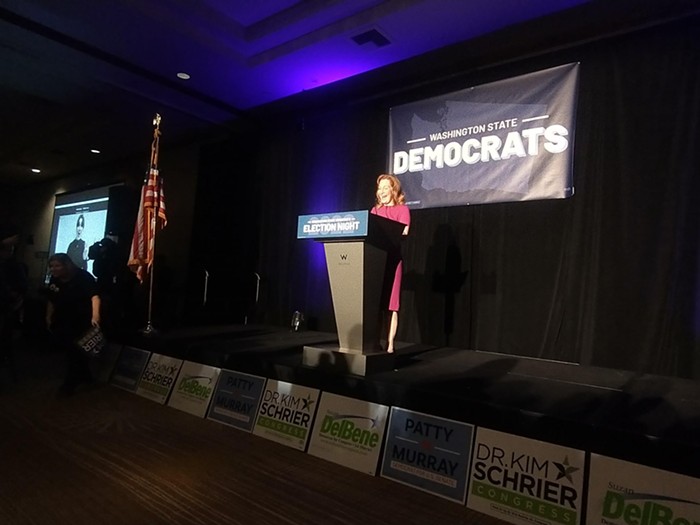 "There are lots of votes to count, but at this moment, we're feeling pretty darn good," said Democrat Kim Schrier, the pediatrician who represents Washington's 8th Congressional District, which ranges from suburban Redmond to sagebrush Chelan county. A cheer filled the Bellevue Westin ballroom at the relatively surprising result (and defeat for the man with the corniest tagline: Matt "Make Crime Illegal Again" Larkin). Washington Democrats looked like they will be sending a solid slate to the House, including a strong showing by Marie Gluesenkamp Perez, who was leading pro-Trump troglodyte Joe Kent in Washington's 3rd District in Southwest Washington.
Meanwhile, Democrat Steve Hobbs was excited to become the new Secretary of State, overseeing elections in Washington state at a time when election officials are the nationwide target of rightwing chuds. "I gotta tell you, I was really nervous back there, I really was," Hobbs said, noting that he was getting emotional (but in a pretty deadpan way) and then highlighting his Japanese American heritage. Washington voters seemed ready to throw in the trash can the argument that the Secretary of State's office should be nonpartisan (which his opponent Julie Anderson claimed was a better approach). 
The SECB felt a wave of relief coursing through the packed ballroom. Washington did its part to prevent a Republican red wave of blood-soaked trauma from flooding across the country.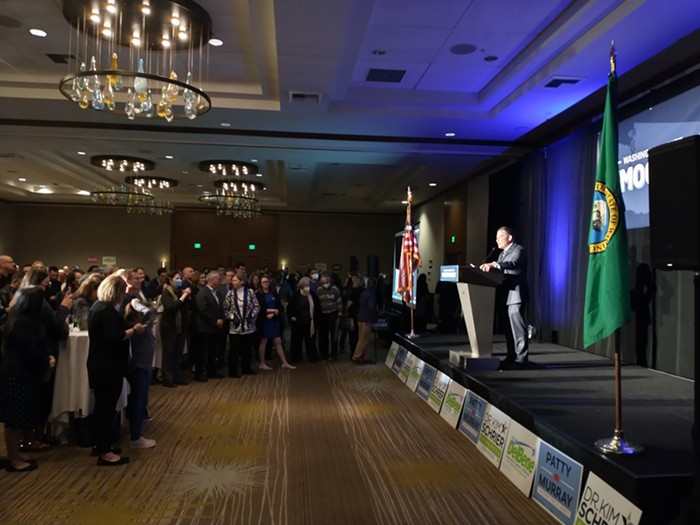 ---
DARYA AND HER DAD DANCE FOR JOY
9:30 PM
As if we were going to lead this wrap-up of Stranger-endorsed Darya Farivar's election night lead over Lelach Rave with any other anecdote, please. Once the results came in and showed Farivar up 56 percent to Rave's 43 percent, Farivar said her dad "dragged her around the party, dancing for joy." We have no choice but to stan, Mr. Farivar.
In a phone interview, she told the SECB that she felt "excited, overwhelmed, and humbled" by her campaign's success. Farivar attributed her victory to her campaign team's passion when speaking with voters, after leading by nearly 4,000 votes despite getting outraised by nearly $150,000. "You can't put a price tag on passion," she said.
Farivar said she hopes her victory provides a model for other young women of color to take the plunge and run for office in their communities and expressed hope that her win could signify a limit to the power of money in politics. We haven't checked the latest federal results while writing this blurb, so we're going to breathe in some of Farivar's hopium and ride that high through the next several days until we know whether the insurrectionists took control of Congress.
---
SEATTLE DOESN'T APPROVE OF SEATTLE APPROVES
9:21 PM
Seattle Approves's volunteer co-lead Troy Davis said he felt disappointed about his preferred election reform trailing ranked-choice voting (RCV) by 48 points in the first ballot drop, but he's proud of the work he, campaign manager Logan Bowers, and the whole approval voting crew has done. "People have been talking about voting reform for two decades, but we actually acted, and as a result, it looks like some voting reform will pass here in Seattle this year."
With the "yes" vote for election reform only trailing by a point, he might be right. But if Seattle does end up deciding to change the way it votes in primary elections, he hopes other cities are watching and learning from the contentious battle that played out between both the approval voting and RCV campaigns.
He called the City's decision to pit the reforms against one another "unfortunate." He pointed to polling from nine months ago that showed 72 percent of voters expressing approval of approval voting, which is much higher than the 26 percent vote share the reform pulled on election night. He figures RCV would probably poll higher than the 49 percent the "yes" vote is getting right now.
"We all kicked sand on one another, and that doesn't serve voters well. Hopefully, future voting reform can happen collaboratively and not between adversaries. That doesn't do anyone any good," he said.
---
CHIPALO STREET TAKES A 10-POINT LEAD OVER EMIJAH SMITH
9:20 PM
It's looking good for Chipalo Street, the one landlord SECB's ever met that we like, but things could still change. (With the vote, that is. We'll still like him.) For now, he's got a healthy lead over Emijah Smith, 54 percent to 44 percent. But only a quarter of the ballots have been counted, so who knows what the future holds?
Street planned on gathering with supporters this evening at Taste of Caribbean, and we suspect he might've tucked into the rum punch a little early because he's been unresponsive to calls and emails. Whatever, he's earned a break from talking to nosy reporters.
No matter how this race winds up going, we're fortunate that both candidates are pretty strong. Street won the SECB over by speaking from personal experience with police violence and dealing with outdated zoning laws, but Smith expressed a healthy appetite for taxing the rich to pay for social services. If we have to say bon voyage to Kirsten Harris-Talley, at least we've got some pretty worthy candidates vying to step into her shoes.
---
MURRAY SPEAKS IN BELLEVUE
9:16 PM
Democrat Patty Murray, elected to represent Washington for another six years in the Senate, arrived in the Bellevue Westin ballroom hugging her family and supporters (she has a LOT of family, being from a family of nine she told the crowd). The diminutive, white-haired defender of abortion rights and supporter of gun control limits said President Joe Biden called to congratulate her on her sixth term in office: "Thanks Joe, and by the way, we need to get childcare done," she said she told him.
"I want to thank all of you who donated and texted and did everything you could to throw yourself into this fight to keep our democracy a democracy," Murray said. 
Murray noted she would continue to work to protect abortion rights and protect the social safety net.
"Do you believe that climate change is real? Do you believe that everyone should be able to count on Social Security? Do you think Mitch McConnell should be the [majority] leader? We're gonna make sure he isn't."
The SECB isn't sure the muppet-mouthed Republican won't be denied this cold-blooded ambition, but at least Washington state can't be blamed if he does.
---
JUDGE SHADID IS HEADING TO MEXICO TO CELEBRATE
9:15 PM
Incumbent Seattle Municipal Court Judge Damon Shadid said he was "unbelievably thrilled with the results" of his nearly 40-point lead over Nyjat Rose-Atkins, who works as a prosecutor in the Seattle City Attorney's office.
"My opponent decided to make this a referendum on community court and therapeutic courts in general, and the city of Seattle has shown they're solidly behind my programs," he added.
In the short term, he and his wife will breathe a "sigh of relief" and enjoy their trip to Mexico next week. In the long term, he plans to "double-down on therapeutic courts as the way forward for criminal justice in Seattle."
---
POOJA VADDADI'S FAITH IS RESTORED
9:10 PM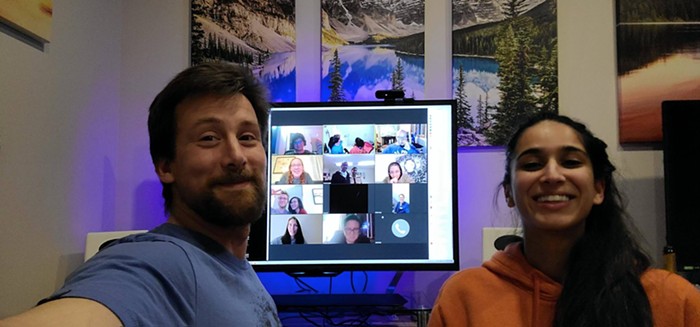 Reached by phone, public defender Pooja Vaddadi described her 13-point lead over incumbent Seattle Municipal Court Judge Adam Eisenberg as "amazing, surreal, just absolutely insane."
"I'm also maybe two or three glasses of champagne into the evening, so things might feel a little extra ordinary," she added.
As she celebrated her strong initial showing with her husband and her campaign staff on Zoom (thanks, COVID), she praised the city that may very well elect her.
"I just have restored faith in Seattle. People believe in restorative justice, people believe in second chances, people believe in what works. Seattle wants better, and I'm better. That might be the champagne talking," she said, laughing.
"She really is better, and that's me talking!" her husband, James Barker, chimed in.
She hopes her big election night lead will inspire other lawyers to challenge judges, whose races so often go uncontested. "Maybe in the next four years we'll see a fully contested Seattle Municipal Court ballot. Wouldn't that be something," she said. It certainly would be.
---
CLAUDIA KAUFFMAN'S SUPPORTERS CHEER HER EARLY LEAD FROM A SEAFOOD PARTY IN KENT
9:09 PM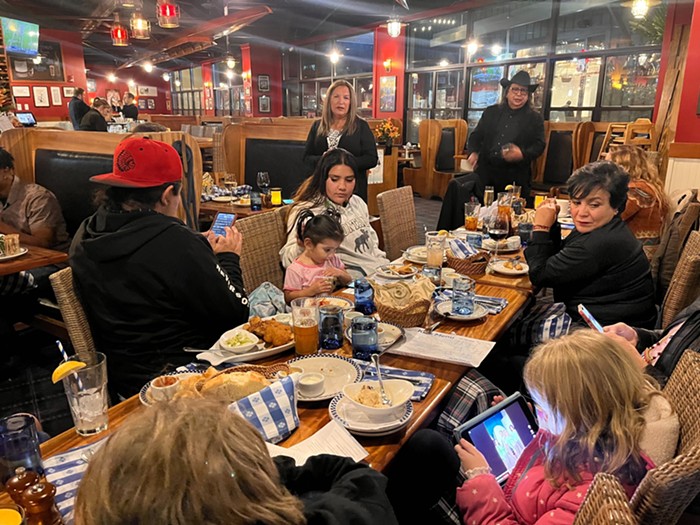 You can feel cautiously optimistic about Claudia Kauffman in LD 47, where she's taken the lead with fifty-three percent to Bill Boyce's forty-six. But only 28 percent of ballots have been counted so far, so don't pop your champagne corks yet.
Kauffman was busy meeting with supporters at a gathering in Kent this evening, but sent along a generally upbeat statement: "I am honored that the voters of the 47th District send a clear message about their trust in me to do the people's work in Olympia," she wrote. "Their trust is an honor of a lifetime."
Aside from Kauffman and Boyce, 37 votes went to a write-in—not 37 percent, 37 total, or about fifteen-hundredths of a percent. So, if you were hoping that a write-in would carry the day, welp, better luck next time, weirdo.
---
ALL BUT ONE STRANGER-ENDORSED CANDIDATE IS LEADING RIGHT NOW
8:49 PM
In the open State House seat in the 47th Legislative District, Auburn City Council Member Chris Stearns is way out ahead of Stranger-endorsed candidate Shukri Olow. Everyone else we picked is leading. Just sayin'.
---
WINE-SOAKED CHEER AND HUGS FOR MURRAY
8:47 PM
A wine-soaked cheer went up at the Bellevue Westin ballroom when MSNBC announced that Sen. Patty Murray is expected to hold her seat for another six years. Results from the Secretary of State's office were pretty striking in Murray's favor, especially after a few gut-check recent polls showing her losing ground in the final days. Murray was leading with 544,755 (62.5 percent of the vote) over Tiffany Smiley, with 325,089 (37 percent).
Meanwhile, in the race for Secretary of State, Democrat Steve Hobbs was narrowly leading with 808,255 votes (50.39 percent) over nonpartisan candidate Julie Anderson who had 747,775 votes, (46.62 percent). 
As expected, the 8th Congressional District's Kim Schrier, the Democrat, was in a close race with challenger Matt "Make Crime Illegal Again" Larkin, with 102,017 votes for Schrier (52.7 percent) versus 90,950 for Larkin (46.99 percent).
So, it's clear there was a huge collective sigh of relief Washington wouldn't be giving another senator to the Republicans. On the other close races, well as the old saw goes, "it's too close to call." Though I will call the snacks here abysmal.
---
NBC PROJECTS MURRAY VICTORY, WA DEMS LEAD CONGRESSIONAL RACES
8:43 PM
Washington's 30-year incumbent, Patty Murray, is leading Republican Tiffany Smiley by 16 points. In the final few weeks, dumb poll averages made this race seem tighter than everyone knew it was, and everyone seems to be right for now. NBC already called it for Murray:
BREAKING: Democrat Patty Murray wins re-election to the U.S. Senate in Washington, NBC News projects. https://t.co/MytYyh5ZHC pic.twitter.com/DwOJPzNCNI

— MSNBC (@MSNBC) November 9, 2022
In the two swing Congressional Districts, US Rep. Kim Schrier leads Trumpy Matt Larkin by about 11,000 votes, 53 to 47. And somewhat amazingly, Democrat Marie Gluesenkamp Perez leads extreme right golden boy Joe Kent by about the same margin, 53 to 47. Places outside King County typically shade a little red over time. We'll see how these go.
---
---
KING COUNTY ELECTION RESULTS ARE LIVE
8:08 PM
Read them here. We'll be processing shortly. Check statewide results here, but be aware that not all counties may be reporting.
---
THE APPROVAL VOTING CROWD IS CASUALLY PLAYING BINGO
7:50 PM
The members of the Seattle Approves campaign who are not having a child at the moment are drinking booze out of owls at Olmstead on Capitol Hill as they casually play BINGO and watch the east coast results come in.
When asked if any of them had won a BINGO game yet, Troy Davis, the campaign's volunteer co-leader, said he was "not playing actively enough, alas." He blamed conversation and the national results.
"Definitely endorse Olmstead bingo, though," he added.
Meanwhile, at the hospital, campaign manager Logan Bowers reports that the baby will enter the world "any minute." Lol if baby Max drops when these results drop, then we're going to buy him a ballot box
---
CAUTIOUS EBULLIENCE AND SAD POPCORN
7:49 PM
The snacks at the Democratic Party campaign event at the Bellevue Westin sat lonely in a corner, dry and non-offensive, ignored and introverted. Only someone desperate for a few calories to offset the effects of pinot noir or IPA would grab a handful of the sad popcorn, pretzels, or trail mix. Apparently, the Dems saved the money to send out a couple more mailers for Patty Murray.
The mood was fairly ebullient but cautious. None of the major candidates are expected to give speeches tonight—along with Senator Murray, the 8th Congressional District's Kim Schrier, and Secretary of State candidate Steve Hobbs aren't expected at the Westin ballroom until later in the evening.
Hana Tadesse, press secretary for Rep. Schrier, was cautious and guarded in her enthusiasm, saying that the campaign doesn't expect to call the race tonight. "This is a very purple district, a very competitive district. It's a mix of urban and rural, kind of like a little United States." Tadesse wouldn't say if she supported ranked-choice voting, but when asked how she would rank pie, ice cream, and cake in a close race, she gave a very diplomatic answer, finally coming in strong for 1. pie (sweet potato tips this one for her), 2. ice cream, and 3. cake. ("Though a good sheet cake from Costco can be very good," she said.)
Washington State Democratic Party chair Tina Podlowski was also cautiously optimistic, even if the rest of the country could be making a slow descent into fascism (ugh, J.D. Vance is leading in Ohio, oof). She was encouraged, however, at reports from a voter registration center at Lumen Field: "What's making me excited is the fact that there's a two-and-a-half hour wait at Lumen Field for people to register. They've moved people inside. They're given folks chocolate and water and anybody who's in line still has an opportunity to vote. So don't leave the line!"
She also noted that there was a line at the Ballard vote box (that may be one of the most Seattle things I've ever heard of—a patient line of people waiting to put their ballots in a vote box). She was cautious about predicting Sen. Murray's chances but said that if early numbers come in below 50 percent for Murray, that wouldn't be a good sign.
When asked by the SECB about ranked-choice voting, she noted county Democrats defied the SECB's endorsement (such impudence!) and urged Seattle folks to vote yes for ranked-choice voting (1B). And on the important question of ranking ice cream, pie, or cake, she ranked them 1. cake, 2. ice cream, 3. pie. "You know, crust can be really dry."
Meanwhile, while the focus has long been on Senator Murray's footwear (again with the tennis shoes?) the award for best footwear at the Westin ballroom goes to Olivia Teague, who works for the Washington State Democratic Party. On the glorious pink sequin Uggs she received 10 years ago as a kid, she says, "I like to wear them at special events."
---
WE'RE JUST DOING GOOD NEWS STUFF RIGHT NOW
7:38 PM
BREAKING: Democrat Josh Shapiro wins Pennsylvania governor's race, NBC News projects. https://t.co/wrzeMhSpST pic.twitter.com/DNyTuKiNB4

— MSNBC (@MSNBC) November 9, 2022
NBC called the Pennsylvania Governor's race for Josh Shapiro, which is very good news for those of us who still want to try out this whole democracy thing for a while. Trump-humping, election-denying, antisemitic-consulting Republican Doug Mastriano went down in a ball of fucking flames. Good riddance. The Senate race between Fetterman and Oz is too close to call, though progressive-leaning election watchers see some home in Fetterman's performance in some rural Pennsylvania counties.
In other good news, Virginia's 7th Congressional District re-elected Democrat Abigail Spanberger to the US House of Representatives. After redistricting, and after the state's Republican Governor won the district last year, the GOP was foaming at the mouth for this one.
---
FERRELL TRIES TO "CONFOUND EXPECTATIONS" IN A COP BAR FULL OF EXACTLY WHO YOU'D EXPECT
7:26 PM
After burning down an entire 10-pack of pre-rolls to subdue the anxiety of spending an entire evening with Seattle Police Officers Guild president Mike Solan's favorite candidate in a bar that looks like a set from The Wire's Irish wakes, the SECB caught up with Federal Way Mayor Jim Ferrell as he waited on tonight's results with his wife and son.
Ferrell said he spent the morning sign-waving in West Seattle with some of his supporters among Seattle's more conservative building trade unions and got lots of (presumably) positive honks of support. With Solan perched on a stool over his shoulder, we had a bit of a hard time focusing on Ferrell's pablum of generic statements about running an "issue-focused" campaign that he feels good about going into tonight's first drop of ballots. Then we remembered that we live in a civilized state (for now) where being obviously blazed while interviewing a law-and-order cop isn't something for which Solan's buddies in blue could send us to the slammer.
The SECB also got a few minutes with Ferrell's campaign manager before he realized our eyes were glazing over in boredom while he struggled to make it through a sentence without contradicting himself. While calling GOP voters "a bunch of crazies" who held their ballots until election day due to rampant conspiracy theorizing among right-wing media, the staffer said the campaign had no compunction about raising "all the Republican money we can" before uttering a fervent prayer for incumbent Democrat Patty Murray to pull out a victory tonight. Apparently not even inhaling a metric shitton of Seattle's finest herb can make a centrist's politics make sense…
---
MOMMA FARIVAR'S NACHO BAR MAIN ATTRACTION IN LAKE CITY
6:53 PM
After pounding the pavement on the campaign trail for nearly a year, Team Farivar is ready to kick back and celebrate—as soon as they finish setting up their election night party, that is. The SECB reached Darya Farivar by phone in the midst of some last-minute preparations, but she reassured us that her mom's nacho bar (with chicken, beef, and vegetarian options for other election night guests with the munchies) would be ready by 7 pm sharp.
Farivar practically beamed with pride when discussing her team's work over the last 12 months, and said they've done "everything they can possibly do" ahead of tonight's results. Regardless of how the early returns from tonight's drop turn out, Farivar and her squad are ready to crack a bottle of champagne to toast all that hard work.
When we asked what the candidate herself would be knocking back to cut loose after ballots dropped tonight, Farivar clearly had more important things on her mind. "Gosh, I am the wrong person to ask this question to," she said. While she couldn't name the Washington wines and beers she said a campaign staffer had secured for the evening, she showed no hesitation in praising the empanadas she'd been snacking on from local Argentine bakery Seatango, a mainstay at all Farivar campaign events.
---
TEXAS ELECTS BAD GOVERNOR AGAIN
6:40 PM
BREAKING NEWS: Gov. Greg Abbott will remain in the Governor's mansion for a third term. He defeats high-profile Democratic candidate Beto O'Rourke. https://t.co/4zyNWFbTBM pic.twitter.com/EmyNsi8HBd

— Fox News (@FoxNews) November 9, 2022
Oy. Fox News called the Texas Governor's race for Greg Abbott. You know, the guy who signed the bounty hunter abortion bill into law, the guy who claimed he'd "eliminate rape," the guy who sucks at running the election grid? That guy. Good luck, Texas.
---
STILL A LONG LINE AT LUMEN FIELD, BUT REFRESHMENTS HAVE ARRIVED
6:29 PM
"An anonymous hero" showed up with five or six boxes of Papa John's pizza to feed hungry people waiting in line to vote and addressing ballot issues at King County's Lumen Field voting center, according to Meg van Huygen, the Stranger's Last Word cocktail columnist and food writer extraordinaire. There were also boxes of Top Pot donuts for dessert.
To give you a sense of how fast the line is moving, Meg arrived at the voting center at 3 pm and finally voted at 6 pm. She says the line is "still very long," with several people waiting outside in the 40-degree cold. At around 6:26 pm, officials announced they were moving everyone inside so they didn't have to wait in the cold.
In a Tweet, King County Executive Dow Constantine told people to stay in line if they can. "Your vote will count as long as you're in line by 8 pm." The elections department says it is dispatching staff to the center to help out. Stay strong!!
---
MASSACHUSETTS GOT ITS FIRST GAY AND FIRST WOMAN GOVERNOR
5:52 PM
Democrat Maura Healey became the first openly gay governor in Massachusetts' history. She is also the first woman elected governor of Massachusetts. https://t.co/VmdLpMcTjF pic.twitter.com/7jgL88lZOZ

— The Associated Press (@AP) November 9, 2022
Polls are closing on the east coast, and we're getting some expected good and bad news.
First up: Maura Healey beat a Trumpy little freak to be the next governor of Massachusetts, according to a projection from the Associated Press. The Democratic Attorney General will also be the first Democrat to run the state in eight years. Yay, Healey.
Democrat Wes Moore will also become Maryland's first Black Governor, according to the Associated Press. Thanks for flipping Maryland blue, Moore!
Democrat Wes Moore was elected as Maryland's first Black governor. Only two Black politicians have ever been elected governor in the United States. https://t.co/ht4f5wyrxb pic.twitter.com/pHvbfGj6dn

— The Associated Press (@AP) November 9, 2022
Meanwhile, AP projects Ron DeSantis to win his reelection as Governor of Florida, and Marco Rubio beat Democrat Val Demings to keep his US Senate seat. But what can you do—it's Florida.
---
JUDGE SHADID'S WIFE MAKES THE BEST MANHATTANS
5:05 PM
The SECB caught up with the incumbent Seattle Municipal Court (SMC) judge while he was at the PCC picking up bitters for his wife. "My wife makes the best Manhattans in the world," he said. Tonight he plans to be sipping one or two of those alongside his family at home while he waits for the results to drop.
His kids, who are aged 10 and 7, have gotten a crash course in democracy this year as he's attempted to best his challenger, Nyjat Rose-Akins, a prosecutor under Republican City Attorney Ann Davison and liaison to the Seattle Police Department. "They'll be very excited to see how daddy does this election," he's said—as will his in-laws.
With endorsements from the Seattle Times and the Stranger, he should do okay, but who knows. That endorsement in the Times wasn't exactly flattering. In the face of the paper's seemingly reluctant support, Shadid said he was "absolutely thrilled to have their endorsement" and similarly "thrilled about the homework they put into it."
Aside from his own race, he's got his eye on the other SMC court battle on the ballot, which pits his colleague Adam Eisenberg against public defender Pooja Vaddadi. He's also looking at the Northeast District judge race between Stranger-endorsed Judge Michael Finkle and his challenger Joshua Schaer, who's an assistant attorney general. Shadid praised Finkle for his mentorship and work on therapeutic courts, but says he may be "facing some headwinds" given the general political environment.
---
APPROVAL VOTING IS HAVING A BABY
2:45 PM
Seattle Approves campaign manager Logan Bowers will miss all the election night "fun" tonight due to the fact that his wife Jerina Pillert is, well, due. 
"We've got two projects shipping today," Bowers said of his forthcoming baby boy and the approval voting initiative, one of two competing election reform measures on Seattle's ballot. 
Bowers said the couple will either name the kid Max or Avery. Pillert put the choice up for a vote on Twitter—"sadly it couldn't be an approval poll"—and they're currently leaning toward Max. 
Twitter friends: we have ~3 weeks to go before Baby B ships and 4 potential names! @loganb and I need your vote or he might end up named Baby Boy Bowers until he can talk and choose his own. 😂 vote 👇

— Jerina Pillert (she/her) (@Jerinap) November 4, 2022
As for his other project, he thinks "it'll be an interesting one."
"We're in as good a place as we can be given that we were outspent by dark money 3 to 1 in the last closing month of the election," he said. 
"Regardless the outcome," he added, "One thing is clear: having two voting reform groups fight in public is not good for voting reform. We have taken the L as vote reform enthusiasts. For the price that FairVote paid to fight with us, they could have passed voting reform in three Seattles or 20 towns in the state." 
Though he's not planning to spend much time looking at election results tonight, Bowers may try to sneak an old-fashioned in the birth room. "No one will mind if I drink a cocktail while I watch," he said. 
---
RANKED-CHOICE VOTING WOULD LIKE TO THANK RADIOLAB
2:40 PM
"This day feels incredible," says Stephanie Houghton, managing director of FairVote Washington, the organization behind this year's ranked-choice voting campaign. "It feels like we have a team taking us over the finish line."
It's a day that Houghton has spent years waiting for. Back in 2019, she says, she was working on a thirteen-way race that included one candidate who was running specifically to prevent her candidate from winning. "I just thought there's got to be a way to run on ideas," she said. "You can't just run against a person."
That's when she heard an episode of the podcast Radiolab about ranked-choice voting. "I thought, 'That's going to be really tough to implement,'" she said, "and then I found myself at FairVote Washington and saw people are working on this, and we've got a real shot."
One of the most promising signs of the campaign came early on, when they held a conference call to announce their plans and sixty people showed up. "I've worked on campaigns for a decade, and getting sixty people to show up on a call at the last minute is no small feat," she said. "That's the moment I was like, 'Oh, wow this is something special.' I've been carrying that this whole time."
The campaign will convene at Comet Tavern on Capitol Hill tonight to watch the results come in. Houghton's been so focused on the race that it was only during a call this afternoon that she realized she has no idea what drink she'll order. "Oh gosh, I have not thought about that, which is mortifying," she said. "I probably won't have anything until late tonight. But I will have a glass of something ... that's as far as I've gotten."
6:09 pm update: Houghton says she will be drinking "bubbly." 🍾
---
CHIPALO STREET FINALLY CHECKS HIS MAIL 
2:35 PM 
Chipalo Street is of two minds today. "The analytics side of me is optimistic," he said this afternoon. "The candidate in me is a ball of nerves."
His campaign for an open State House seat in South Seattle's 37th Legislative District has been harrowing at times, he said, recalling an incident during his door-to-door canvassing involving a homeowner who didn't believe he was a candidate for office and threatened to pull a gun. "No matter how many campaign flyers I showed her . . . she was still very hesitant" to talk, he said. 
Other memorable interactions from the campaign included a conversation with a voter whose politics were very progressive except for one: she was staunchly anti-abortion. "Having that conversation was really interesting," said Street, who listened to the woman describe how she'd lost her progressive friends over the issue and felt isolated. "I am one hundred percent pro-choice, but out of all the anti-abortion folks, I had the most empathy for her."
He'll be spending this afternoon trying to keep his nerves at bay with some busy-work: sorting the mail that's piled up over the last three months. Then he'll be heading to Taste of the Caribbean for a get-together around 7 pm, where his drink of choice will probably be a rum punch.
"I'm optimistic about how this race plays out," he said, though he's nervous about the rest of the country. "I have a bad feeling, like it's a little like 2016."
---
 CATS, CHAMPAGNE, AND VIDEO GAMES
2:30 PM
Pooja Vaddai WANTED to throw a big election party tonight with staff and others to watch the results come in, but then the COVID got her husband, James Barker, an attorney at the video game company Bungie.
To prevent the spread of a deadly respiratory virus, they're now planning to stay in with champagne, tacos, and a game of Destiny II on deck as they wait to find out if Vaddadi might upset Seattle Municipal Court Presiding Judge Adam Eisenberg in one of the two local judicial races on the ballot. 
Barker said he felt as if the campaign had "put it all out on the field," and that they'll have a "very decent shot" at victory. 
If she ends up winning, Vaddadi will celebrate with a bottle of champagne, video games, and a vow to plan her actual wedding. (She and Barker recently wed for his health insurance, and also "for other reasons, too" she said, laughing.) Her first order of business on the bench, though, will be to improve morale at the Court so it runs more efficiently and to renew the Court's commitment to restorative justice practices. 
No matter what happens, Vaddadi hopes her candidacy will lead to more contested judicial races. "I don't like that more often than not these races are uncontested. It makes judges too comfortable ... makes them take their job for granted ... and [the job] stops being a civic duty and more like an entitlement," she said. 
In the meantime, Vaddadi, who teaches law as an adjunct instructor at Seattle University when not working as a public defender, said she'll calm her election-night nerves in the classroom. This afternoon, she's teaching a class on persuasive legal writing. 
---
LONG LINE AT LUMEN FIELD VOTE CENTER
2:27 PM 
If you're looking to register to vote or fix a problem with your ballot, the elections department recommends trying one of the county's other voting centers. 
Hey folks, we've heard the line at the Vote Center @LumenField is long. If you're unable to wait in that line and seek assistance at a Vote Center, we have five other Vote Centers where lines are currently shorter. https://t.co/HB5N6ecxTr

— King County Elections (@kcelections) November 8, 2022
---
KAUFFMAN'S FEELING CHIPPER
2:15 PM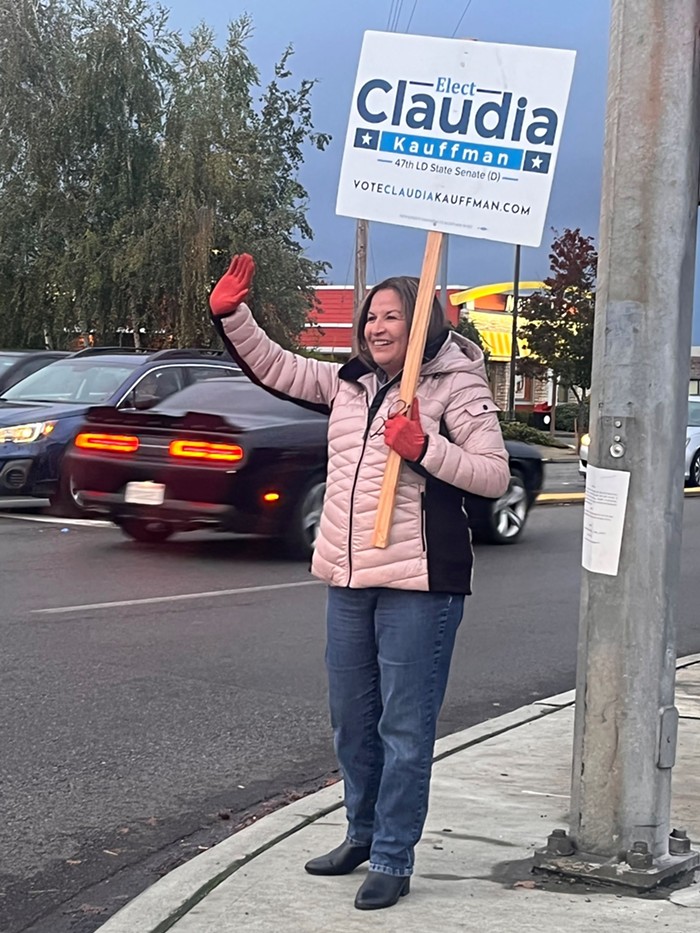 Claudia Kauffman, the Stranger-endorsed Democrat running against a Republican in one of King County's only swing districts, is in a pretty chipper mood today. She spent the day meeting with volunteers and waving signs, and she plans to relax for a few hours before results start coming in.
"I'm optimistic," she said. "I've been working so hard and knocked on thousands of doors and met with so many people."
How did she keep her energy up? "It was really my dedication to public service that got me into this race," she said. "And then winning the primary race was so invigorating. It really strengthened my resolve to move forward and continue."
This evening, she'll be gathering with friends at Duke's Seafood in Kent and toasting her campaign volunteers. "This is truly an opportunity for the volunteers ... who've dedicated so many hours to the campaign," she said. "That's the intent of tonight, to thank all my supporters for an outstanding race."
Her drink of choice? "I don't know," she said. "I think I'll just have some iced tea for tonight."
---
TURNOUT LOOKIN' LOWER THIS YEAR
2:00 PM
King County Elections (KCE) expects 72% of registered voters to cast a ballot in the election, which is down from the last few even-year elections. When Trump was on the ballot in 2020, the county saw 87% turnout. In 2018, we saw 76% turnout. Right now we're sitting at 43.4% turnout. 
The department plans to drop 430,000 ballots tonight. Subsequent drops will hit at 4 pm every day this week. If it all plays out the way it has in the past, then Wednesday's drop will show little movement, Thursday's drop will reveal trends in the later ballots, and Friday's drop will reveal how big those trends are. King County's results typically shift bluer over time due to later ballots leaning progressive, and the rest of the state typically shifts redder over time.