Welcome to Unstreamable, a new weekly column that recommends films you can't currently find on major streaming services.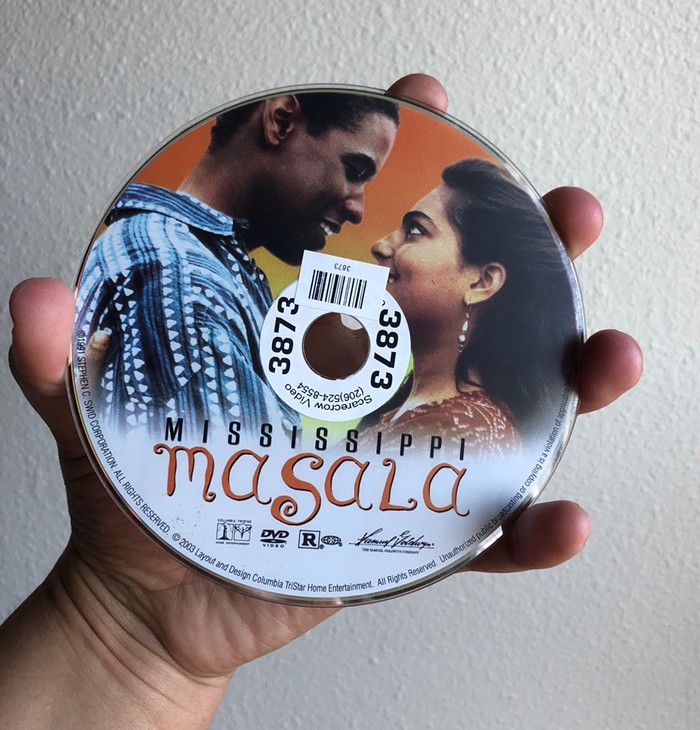 In 1972, Ugandan dictator Idi Amin expelled approximately 80,000 South Asians from the country, wanting to make way for "ethnic Ugandans." Displaced, this Asian minority had nowhere to go.
Mississippi Masala
follows a Ugandan-Indian family who ends up in Greenwood, Mississippi, living in a motel owned by their extended family. The father grapples with having to forcibly leave his home, but his daughter Mina (Sarita Choudhury) acclimates to the American lifestyle—she likes dancing, drinking, and eventually falls in love with a very hot black carpet cleaner named Demetrius (Denzel Washington!!!). Does the film have a beautiful, complex interracial relationship where both characters learn, grow, and have hot sex? Yes! Does it dissect the very real, racist dynamics between minority groups often pitted against each other in a way that's neither condescending or boring? Yes! Does it understand the concept of home and belonging as a displaced person twice over? Yas! People, I'm crying over this film!!!
JASMYNE KEIMIG
***
Sarcastically taglined as "A Heterosexual Film by Gregg Araki,"
Doom Generation
is a steamy misunderstood bisexual piece of trash. In
The Scarecrow Video Movie Guide
, Matt Lynch argues that "this film should be wiped from existence—the negative burned, all tapes and DVDs destroyed, and any memory, good or ill, of this piece of shit exiled into the void for all eternity." A sizzling take I disagree with but love. Thankfully, Scarecrow didn't take his recommendation. The film's plot is like Sartre's
No Exit
, but with hot bi boys with pouty lips who bone a volatile early-career Rose McGowan—and each other. All together! It opened a few months after
Clueless
and it's helpful to think of this ennui-filled mess as a foil to that pop sensation. While most filmmakers aim to create films that are the pinnacle of their genre, Araki is comfortable exploring a genre's very bottom, its nadir. And we all know bottoms need exploration, too.
CHASE BURNS
***
I lived in Spain for two years, so when
The Stranger
's resident poet Rich Smith recommended this film, I hoped it could fulfill a type of homesickness for the country that Spaniards call morriña. Plus, I always listen to poets. Directed by Julio Medem, the film is pretty bizarre as far as (straight) love stories go. For one, Otto and Ana become step-siblings pretty quickly into the movie. For two, this relationship doesn't stop either from admitting their love for one another nor from fucking nor from keeping their relationship hidden for most of their adolescence. When a death separates them, they find their way back to each other inside the Arctic Circle. Under the midnight sun. It's dreamy and weird. Once the credits started to roll, I drafted a love letter to a man I loved in Spain. I wrote his address on the envelope but I didn't send it.
JASMYNE KEIMIG
***
I've been dreaming about this movie ever since Scarecrow recommended it as a part of their
SPLIFF stoner movie shelf
earlier this year. Alternating between live-action and animation, the film follows a fascistic conductor as he creates a knock-off Italian
Fantasia
. Unlike
Fantasia
, this is clearly for adults. The cruel conductor forces—hilariously—a gaggle of jailed grandmas to perform in his orchestra. A genius animator is basically chained to his drafting table. And then the animation: The first act has boob candles, boob trees, and a sad horny goat. The animation leaps into another dimension by its third and fourth acts. There are cats on acid who miss the past, Coca-Cola bottles that crash to Earth and start evolution, devils, snakes, butts. I fell in love with this movie then fell asleep at 3 AM watching its bonus features. I'm sad it took me so long to learn about director/animator Bruno Bozzetto.
CHASE BURNS
There is an illegal copy on YouTube, but the quality isn't the best. I recommend you go to Scarecrow Video. There's a $200 deposit because this shit is hard to find. You get it back as long as you don't fuck it up. Don't fuck it up. The movie is worth it.