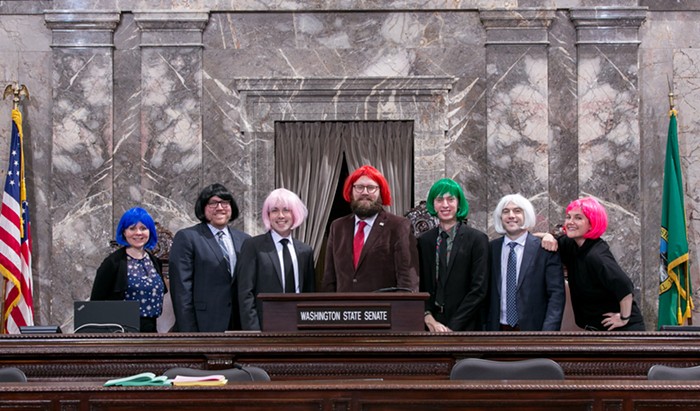 With a historically large LGBTQ caucus in the House and Senate, Olympia is gayer than it has ever been. After securing marriage equality, banning conversion therapy, and passing hate crimes legislation in previous years, this session lawmakers focused on passing a slew of bills designed to make systemic change in state law on LGBTQ issues.
"You see this in all civil rights movements," said Senate Majority Floor Leader Marko Liias (D-Lynwood). "First you tear down really explicit discrimination, and that takes time. Now we're trying to tackle the unseen discrimination, the unseen barriers, and getting better equity."
Last week I sat down with Liias in his office and got the rundown on the list of bills they passed (and didn't pass) in order to achieve those goals.
The LGBTQ Commission
On Tuesday the Senate passed a bill, sponsored by Sen. Claire Wilson, establishing the Washington State LGBTQ Commission. Governor Inslee is expected to sign it into law soon.
Commissions study the entire constellation of problems affecting marginalized populations and then recommend solutions to them to the Legislature or to the Governor. Members of the Women's Commission, for example, have been studying the gender pay gap and testifying before committees about ways to close it.
Liias, who helped draft the bill, points to several possible avenues of consideration, including looking into how to provide culturally competent care for LGBTQ seniors and elders as they age, preserving LGBTQ history by memorializing people lost to the AIDS crisis, along with many others.
With 15 members, the LGBTQ Commission will be the largest minority commission in the Legislature, reflecting the diversity of the queer community across the state. "I advocated for that especially because the queer community is so broad and diverse," Liias said. "Other commissions have seven or nine members. But the idea that seven people could represent the breadth of the queer community in Washington would really be a struggle. I don't want there to be one trans person, for instance, I want there to be a number of trans people."
To broaden and deepen the work of the commission, Liias also wants it to intersect with other minority commissions—e.g., the African-American Affairs Commission, the Governor's Office of Indian Affairs, the Washington State Commission on Hispanic Affairs—to tackle the particular needs of Native American LGBTQ people, for example.
The commission will also have an executive director, a state employee who can represent the community within state government. When the state is holding meetings on the minority and women business program to attract diverse contractors, the director could be in that room talking about queer businesses and how they fit into the program's efforts to have more diverse businesses.
"Establishing this commission is a measure of the maturity of the LGBTQ community and our political force," Liias said. "Is it going to change something overnight? No, but it creates a convening space to really begin systematically tackling some of these big issues."
Trans Bullying Bill
After three years of work, it's looking like the Governor will finally sign Liias's trans bullying bill, which would make the Washington State School Directors' Association's model policy protecting trans students mandatory in all schools across the state. The model policy compiles best practices for addressing the unique needs of trans students surrounding student records, privacy, and restroom/locker room access. The legislation also requires every district to have a point person in charge of implementing this model policy, so trans students or parents/guardians of trans students have a person to contact if they're having a problem.
The bill moves all bullying laws for all students over to the civil rights department at the Office of Superintendent of Public Instruction, which has the ability to withhold state funding from schools who fail to create a safe environment for kids.
According to the 2015 U.S. Transgender Survey, over half of trans kids say they've been verbally harassed at school. A quarter of them say they've been physically attacked, while 13 percent say they were sexually assaulted. If this kinda thing keeps happening, the superintendent now has a few more sticks to go with the carrots to make districts comply.
Furthermore, though education secretary Betsy DeVos is working to cancel Obama administration guidelines to protect transgender students, Liias's bill codifies all these protections into state law. So even if DeVos removes the guidelines, and even if we elect some horrible superintendent who also wants to remove the guidelines, Washington trans kids can continue to rely on these protections.
Liias argues that making schools safe for transgender kids will have the net effect of making schools safe for other kids.
"My radical belief is that schools should be the safest place in our society for kids," Liias said. "We can't guarantee that people aren't going to be assholes outside of class. But lets at least make sure that kids are okay when they're in school and they're growing and developing as human beings."
"Also, if we teach the other kids not to be assholes to the trans kids while they're in school, that will carry forward," Liias added. "We're setting social norms that say this kind of behavior isn't acceptable, period, end of sentence, and I think that will have the net effect of making our communities safer not just for us but for everybody."
Higher Fines for Hate Crimes
For some reason, state law in Washington refers to hate crimes as "malicious harassment." This bill, sponsored by Rep. Javier Valdez, changes that language to "hate crime."
The bill also allows hate crime victims to be rewarded up to $100,000 in punitive damages. "If you fine a hate organization $100,000 a couple times, they'll have to find a new business model and move on," Liias said. "So that was a big deal."
Adding a Nonbinary Option on State Records
The Washington State Department of Health has already added a nonbinary option on state records, but this bill, sponsored by Sen. Jamie Pedersen, codifies that into state law.
If in the future some new governor wasn't going to allow that anymore, they wouldn't be able to do that thanks to this law.
Reproductive Health Care Bill
Some health insurers have been denying trans people treatment based on their gender. In committee, Liias said, someone testified that a health insurer denied a claim for a broken arm because, they argued, if the patient hadn't transitioned they wouldn't have been playing the sport they were playing when they broke their arm. The claim was therefore a transition-related injury, which they didn't have to cover.
This bill, sponsored by Sen. Emily Randall, basically ensures that private insurers can't do that anymore. It also ensures access to reproductive health services to trans people. A trans man, for instance, might need birth control, and the bill would make sure he could get that.
Right now, the Senate has formally asked the House to remove the bad amendments it tacked onto the bill. Those amendments would remove requirements for family planning programs for undocumented immigrants and remove the requirement for "medical assistance and state and school employee health plans" to fully cover STI screenings. Sen. Randall is actively negotiating with the House to find a resolution, according to a spokesperson for Senate Democrats.
Stuff They Didn't Cover and/or Bills That Died
The Senate missed the boat on a couple of things Liias said he wanted to accomplish this year.
People who "knowingly transmit" HIV can still be charged with a felony. Liias wants to change that discriminatory law. "It's a relic of the AIDS crisis. We need to destigmatize HIV," he said.
Some people also claim a "trans panic defense" or a "gay panic defense" when they're accused of assaulting LGBTQ people. It doesn't happen often, but it's a technical defense that some people can raise. Some states have banned that, saying you can't claim as a defense before a jury that your homophobia forced you to assault someone. "We'll have to come back to that next year," Liias said.
And then, of course, there was the comprehensive sex ed bill. They'll have to pick that one up next year again, too.