I'd never even tasted Chef Lakea Osias's food before she was my favorite new follow on Instagram. 
Everything this lady posts just slays: her videos trolling her mom for eating snacks too loud, her stand-up-lite bits on how come you gotta start coughing the second you get into an Uber, her showcase on the deviled eggs she freestyled out of some random stuff she had in her hotel room. As she displays the deviled eggs, Osias's voiceover cuts in. "Look. If you're not impressed, you should be, because… what the fuck have you ever made like this in a hotel room before?" she intones, then cracks up.
The other night, I tuned in as she was making dinner on IG: a stunning, fork-tender Mississippi pot roast, over which she poured a jar of Mazzetta peperoncinis. Her next story was about what's on the left burner: a pot o' beans, bubbling away. "You know I gotta have the smoked ham hock in there," Osias announces, then quickly adds, "And I don't care if you eat pork or not! I do. Swine is just fine." She somehow manages to at once be authoritative while speaking in rhyme. 
It was a photo, though, that got me off the dinnernet and into Rose Temple, where Osias pops up as Lakea Cooks on Friday nights and again for drag brunch on Sundays. More specifically, this very arresting photograph of her mac and cheese, replete with the prurient cheese pull.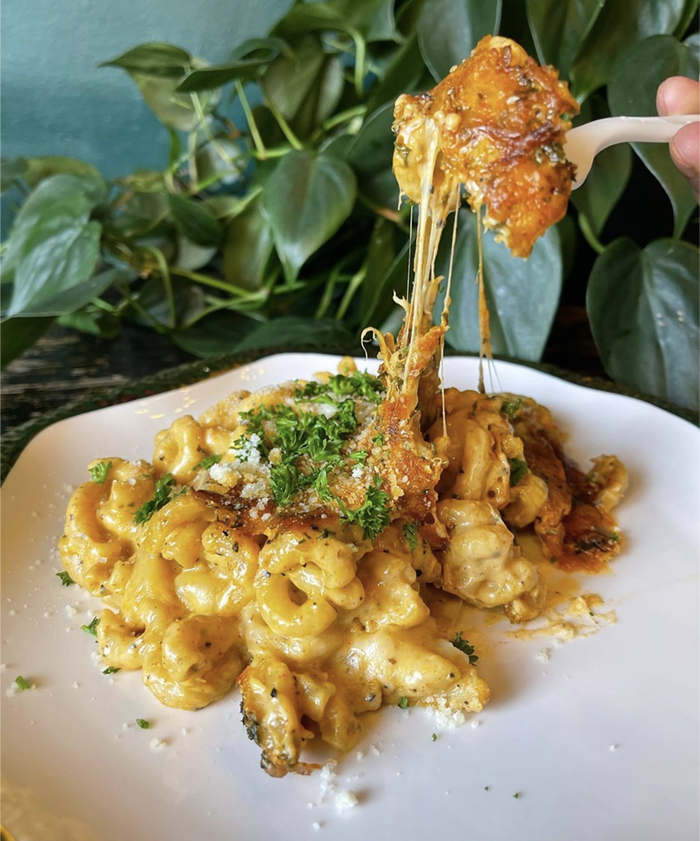 "It's my most popular dish for sure," Osias says. "Man, I've made so much macaroni and cheese!" When asked about her process, she replies, "I always start with a roux, but then it's many, many different cheeses in there. Sometimes aged gouda, Gruyère, extra-sharp cheddar—whatever I feel like. I change out the cheeses on the mac all the time." 
It's as voluptuous as it looks. There's some sultry caramelizey texture and crackle happening, and that mélange of cheeses wakes up a snoozy little part of your brain and changes up your expectations of what mac and cheese can be. Lakea's version is a little sluttier than the normal version of this dish, and you feel a little zang about it while you eat. Oh, my. This isn't like other mac and cheese. It's wearing a little outfit and looking at you special.
Osias—that's pronounced "Oh-SEE-as," with a long EE that echoes the vowel in "La-KEE-ah"—has been a chef since childhood. Since ditching a career in the medical field about 10 years ago, she's made her living this way, first in catering at a hotel and later as a private chef. "I was basically born a chef," she laughs, "My dad's a chef, and his dad was a chef, so I've been cooking since I was a little kid. My dad and I used to go for walks and forage and then cook together, and by the time I was about 11, I was doing the full Thanksgiving dinner by myself. He would just trust me. He'd be like 'Make the ham.' I was like 'Well, how do I do this? Mix these things together and, uh… put it on there?' He'd guide me if I needed it, but he knew I would figure it out, and it built my trust in myself."
Born and raised in Seattle's Beacon Hill neighborhood, Osias likes to add in some hometown Pacific Northwestern flavor to her dishes, which skew toward Cajun and Creole. A great example is her Cajun salmon skewers. Slathered in cayenne-flecked butter sauce and herbs and then drizzled with hot honey, they're easily my pick for best bite in the city right now. You don't usually think of salmon as drunk food—folks treat it so delicately that it's usually reserved for pristine fine dining—but Osias's take is just lascivious, with generous portions of fish absolutely dripping in rich, spicy sauce. There's huge flavors here. No one else in the city is making salmon like this.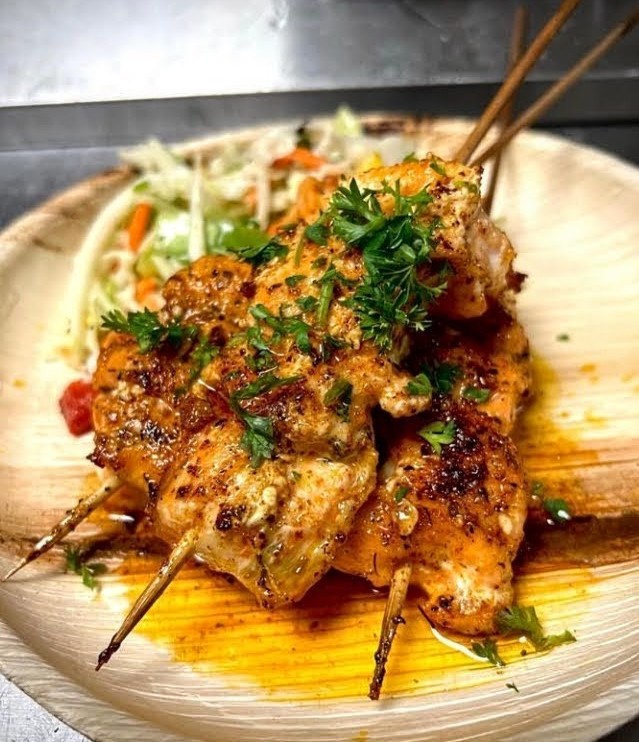 Her collard greens with smoked pork neck bones, meanwhile, don't veer too far from the classic recipe, but they don't need to because they're flawless. The complicated pot likker is immaculate and I want to drink it over a big rock with a dram of scotch. Collards feel like a weird thing to order at a bar, but look, you need to do it.
***
There's not much that'll get me out of bed before 10 am on a weekend, but I DRAGged myself out to the godforsaken Hill last Sunday to get a load of Osias's lineup at drag brunch… and it was another album of pure bangers. Shrimp and grits were no. 1 with a bullet. Possibly better than Communion's, and I'm sorry—you know I love you, Communion. (I don't think Communion still has shrimp and grits on the menu these days anyway.) But the smoothness that is going on here. The sheer opulence.  
 "I put a little Boursin in the grits," Osias confided, sotto voce, as I vacuumed them up with my face. "That's why they're so good." Christ, what a genius. 
I'm not really a dessert person, and sure as shit not a dessert-for-breakfast person, but Osias's Belgian waffle has changed my belief system. Deceptively blonde in color, she does it liege-style and kits it out with apple compote, pralines, and vanilla bean-speckled whipped cream. The waffle itself is as light and airy as a madeleine, with the same crispy exterior. It's gentle on the sugar and not like eating half a birthday cake for breakfast, as a dolled-up waffle like this can often be. Osias also does a peach cobbler rendition of this waffle, and I can't believe I'm about to tell you that I'm going to the Hill again on a Sunday morning, but I fucking am. I need it.
***
Back to Friday night at Rose Temple, where Osias has just debuted her new fall dinner menu. The mac and cheese has temporarily fallen off, and she's added vegan chili, Philly cheesesteak sliders, "Rasta pasta," and wings. ("The mac will come back soon," co-owner Austin Polley promises. "She just needs a little break from it. You wouldn't believe how much mac and cheese this woman makes.")
That's okay because we have Rasta pasta in lieu, the new coloratura on stage. Inspired by a trip Osias took to Montego Bay, Jamaica, it's penne dressed with alfredo, sauteed bell peppers, a scratch-made jerk spice compound, and huge curls of parmigiana. You can opt to add bacon, salmon, or fatty jumbo prawns, all doused in the jerk treatment—I went for the last option and it was hard to imagine the dish without them. The jerk spice mix isn't dumbed down for northern people either—Osias uses real scotch bonnets, and the fruit, heat, and earthy facets are really on full flamboyant display. Don't get fooled by the playful name; this dish is powerful. It's got its chin out and it's telling you something.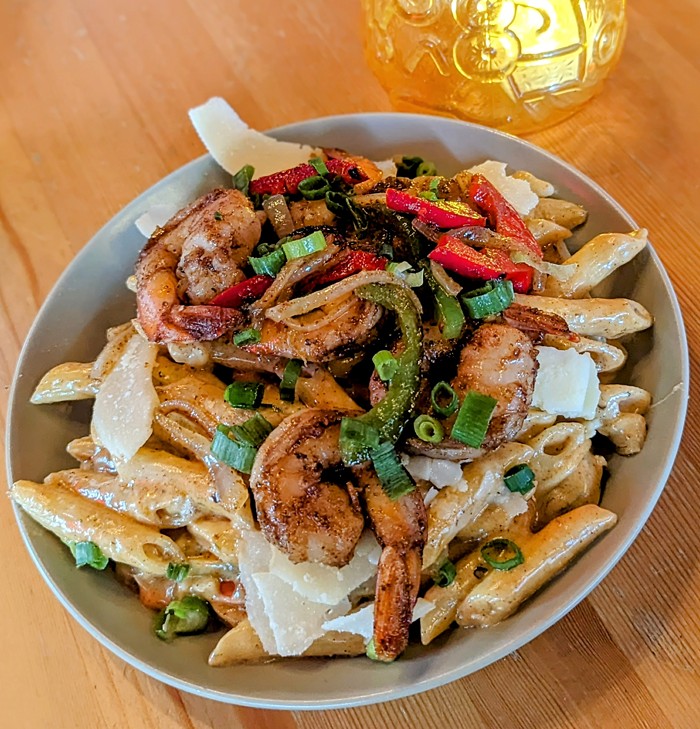 Another dish not to be slept on are her small but mighty cheesesteak sliders. Pickled peppers cut through the richness of the thin-sliced ribeye and handmade wiz, served on a twinset of toasty Hawaiian rolls, and the scent turns you into a cartoon wolf floating through the bar. You might not have thought to use a sweet roll for a savory cheesesteak, but it fucks. The three-bean chili, meanwhile, held up surprisingly well next to the creamy pasta and the luscious cheesesteak twins. It's pretty spicy itself, thanks to a blend of guajillo, Hatch, and pasilla ancho chiles, and can hold court as either a side or a main course. You should order all of these things.
***
When a young chef is this talented, "brick and mortar" is invariably the first thing on everyone's mind, but Osias has something else on hers right now. 
"Okay, what I'm working on next is a supper club experiment," she says. "So, I travel a ton, and most of my trips are inspired by the food culture in each place. Like, I recently went to the Amalfi Coast of Italy just to eat food, and I went to Spain a while back for the same reason. So I want to choose a culture and host a dinner featuring its cuisine, and then focus on art and music from that culture too." 
 

 

View this post on Instagram

 
She says she'd start with New Orleans, where her dad's side of the family is from, and begin the evening with a talk on the African, French, Spanish, and other elements of the melting pot. "Then we'd have a whole immersive experience for the senses with each course, enjoying art and food music together, then talking about culinary history and giving folks a chance to join in and discuss that. That's what I'm dreaming of."
As she goes on, it all sounds gorgeous. The supper club is still in the idea stage, though. For now, she's tweaking the new menu, with a nascent plan to add that beloved gumbo to the lineup. "I think it just needs to get a little bit colder outside first!"
Lucky for me (and you), those sexy, salacious salmon skewers are still on the list. "Yeah, I had to keep the salmon on the menu for fall," Osias explains. "I kinda feel like salmon's a summer thing, but I've been selling out every week, so I think people will stick with it."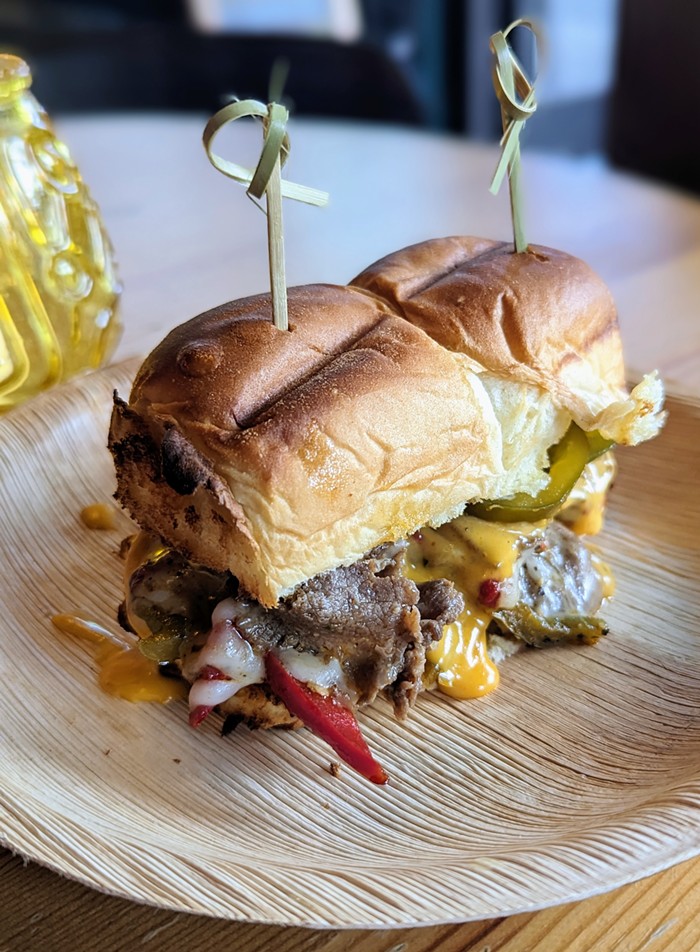 I promise to help. Every time I think of Osias's food, I remember what I've come to think of her very pertinent catchphrase, which recurs throughout her Instagram reels: "Listen, when I go out to eat, I don't tell myself no—I'm going all out and getting everything I want!" Yeah, see, funny she should say so, because… this menu is everything I want. I'll take one of each.
---
Follow Lakea Osias's lush gastro-content and chef-comedy stylings at @lakeacooks on Instagram. Then, go see her in person on Friday nights and Sunday afternoons at Rose Temple Bar on Capitol Hill at 1801 E Olive Way. Then, order everything.